Best trail running shoes 2022: pick out your ultimate trail running essential
All of the best trail running shoes to support your feet on different terrains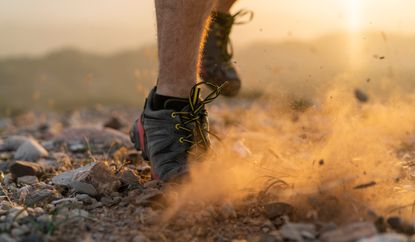 (Image credit: Getty Images)
With the best trail running shoes, reaching new heights will be easier than ever. These designs prioritize the comfort of your feet and ankles. Whether you're new to trail running or a seasoned professional, good trail running shoes can make a big difference in boosting your performance, which is why we've ranked all of the top options below.
Trail running can open up incredible experiences and views, giving you the opportunity to challenge yourself whilst also being immersed in nature. But you'll need the right equipment to do it, meaning you should invest in a dedicated pair of the best trail running shoes, which are more equipped for outdoor training as opposed to the best cross training shoes which are better suited to a gym. Given the terrain you'll be running on, trail shoes include designs that prioritize grip, cushioning, and durability, so that you can enjoy even the most challenging of routes.
Since some shoes can be very expensive, we've rounded up the best trail running shoes that are built to last, so that you can rely on them for years to come. Find all of the options we've tried and tested below to get the full picture of which pair will suit your needs.
The best trail running shoes you can buy right now
1. On Cloudventure
The best trail running shoe for most people
Specifications
Built for: Off road training on technical terrain
Weight: 295g
Drop: 6mm
Reasons to buy
+
Trail worthy yet double up for on-road
+
Great on dry, rocky trails
+
Lightweight considering high comfort level
Ons are super trendy right now, but don't be fooled, they're also highly capable. The On Cloudventure are one of those quite rare pairs of trainers that you can throw on right out of the box and enjoy a blister- and niggle-free 20km trail run. They have an almost forgiving and relaxed fit, yet your foot is still snug in the shoe.
On's distinctive 'clouds' (the brand's name for the holey bits on the outsole) will not only give you a comfortable yet responsive ride, but the zigzag placement of each of these lugs provides brilliant traction. This makes them a great platform for trail running on loose and rocky terrain, but equally the forgiving nature of the 'clouds' means they would double up for occasional road work too – always good to know your trainer is versatile. The upper is made from a two-layer breathable material – so no hot and sweaty feet issues in these – and the inner has a premium feel and a small amount of padding around the ankle which works nicely. The heel collar comes slightly higher around the achilles, but fortunately not too much to be niggling.
2. HOKA One One Evo Mafate 2
The best premium running shoe
Specifications
Built for: Those wanting a super cushioned and sure footed ride
Weight: 292g
Drop: 4mm
Reasons to buy
+
Tons of cushioning
+
Great grip
+
Roomy fit
Reasons to avoid
-
Expensive
-
Tall stack height
Hoka One One is synonymous with chunky midsoles, and if you're after a comfortable, cushioned ride, the Evo Mafate 2 is your best bet. Despite this tall stack height, they have a slightly wider footprint thereby still offering a stable feel – although if you're prone to rolling your ankles, perhaps think twice about choosing Hoka at all. The upper is made from a really durable kevlar-infused material, and there is some good room in the stretchy toe box too.
Even on technical trails, the durable and grippy Vibram Megagrip rubber outsole and 5mm lugs give them awesome grip in both wet and dry conditions. Given they're not the lightest or most responsive, they're really well suited to long trail arduous trail runs – think marathon distance and upwards – where that extra cushioning comes in handy. Equally for regular training sessions too if you don't want to hammer your body too much. These are the most forgiving on your joints and will help to keep you in good shape.
3. Saucony Peregrine 10
The best budget running shoes
Specifications
Built for: Off road training through to ultra marathons
Weight: 303g
Drop: 4mm
Reasons to buy
+
Super grippy rubber outsole
+
Light and comfortable upper
+
Moderate cushioning and responsive
The latest Peregrine release, first debuted in 2011, will have you very sure footed on nearly every off road surface. The outsole is made from a soft rubber which makes it really really grippy, and when paired with the 5mm lugs you'll be all set.
In terms of cushioning, albeit this isn't super plush it has adequate cushioning in the midsole, so it has a firm yet comfortable ride. This makes you feel connected to the ground so you know what's going on underfoot. It has a thin and lightly cushioned mesh with synthetic overlay upper offering a nice level of breathability too as well as durability. A really nice feature is that it's fitted with a rockplate in the forefoot protecting you from sharper rocks. Albeit this isn't the lightest shoe, they don't try to over complicate things – particularly the upper where other brands can overly tinker – and it offers a very well planted and comfortable ride.
4. La Sportiva Bushido II
The best middle distance racing shoe for tackling technical terrain
Specifications
Built for: Racing and technical trails
Weight: 305g
Drop: 6mm
Reasons to buy
+
Aggressive lugs for great traction
+
Responsive
+
Durable build with forefoot rockplate
Reasons to avoid
-
Not the most cushioned
-
Lugs too aggressive for tarmac running
This Italian outdoor gear brand is now over 90 years ago, and is a very familiar sight in continental Europe. They have a wide range of very capable mountain going trainers, and the Bushido II is a more minimal offering (stack height of 19mm at the heel and 13mm at the toe) with great stability and support on all trails. Unquestionably, one of the biggest draws of this shoe is its immense traction, be it gravel, mud, snow, rocks – you won't need to hold back for worry of slipping. Note the distinctive pairs of lugs that wrap around the midsole – as well as making them look the part, this is great for added grip and cornering.
Your foot is nicely protected, as they are fitted with a rock plate in the forefoot, decent toe cap and the breathable upper is reinforced with TPU which adds great durability. The heel collar doesn't ride too high so there's a low chance of it rubbing your achilles or ankles.
5. Salomon S/Lab Ultra 2
The best running shoe for trail races or off-road running
Specifications
Built for: All-terrain mountain trail shoe
Weight: 285g
Drop: 8mm
Reasons to buy
+
Responsiveness and agility
+
Perfect level of foot protection
Reasons to avoid
-
Less breathable upper
-
Longer term outsole durability
Salomon's updated top of the range shoe offers a cushioned yet firm and responsive ride with decent foot protection. The S/Lab Ultra 2 is ideal for medium to longer length trail runs – and for trail races – although for some of the colossal distance ultras out there, perhaps consider something with a little more cushioning. A striking looking red design, The upper is quite formidable and has overlays on the sides as well as a nice rubberized toe bumper to withstand any stubbing into rocks.
It features a nice stretchy tongue that is secured to the sole of the insole so it won't budge out of place, and the laces are secured via an adjustable toggle so super quick to put on and off. The outsole is durable, and great for mixed terrain, offering great grip plus the lugs aren't overly excessive so will be great on compacted terrain too. Given they have an 8mm heel drop, they lend themselves well to undulating terrain or a more heel striking runner. A note on the sizing – for most they tend to run on the larger side, so consider dropping down a half or even a full size.
How to choose the best trail running shoe
When looking for the best trail running shoe for you, first up consider the type of terrain you'll likely be running on. Is it compacted trails, or more bolderous? Will it be mostly dry, or do you expect to be running in wet muddy trails? Look closely at the level of grip offered by the sole – for example, Vibram Megagrip is used in top end options. There's also the size of the lugs – nearly all will have at least 5mm which will give good great grip in loose terrain – and whether you want a waterproof Gore-Tex option suitable for wetter conditions.
Secondly, consider what distances you'll be covering. Perhaps it's an hour's jog around the local wood, or maybe you're taking on a grueling ultra marathon over a number of days. This will affect the amount of cushioning you need – if it's the former a more responsive and lightweight shoe is ideal, but for long distance runs some extra comfort will be very welcome.
Also, if you will be racing, weight is a crucial factor, and you'll be wanting something sub-300g. If not, this isn't such a consideration, as comfort should be your number one priority, don't worry about this too much, just make sure you find something that fits you well and is right for you.
Also known as Adventure Ferg, outdoors and fitness writer Fergus is always eyeing up his next ride, run, hike or swim – the longer and tougher the better. Having rowed the Atlantic in 48 days, Fergus loves a challenge and also has his own adventure blog where he tells the story of his travels. Fergus is also an ultra-marathon runner as well as an endurance athlete.