Best trail running shoes 2022: picks from Nike, Merrell and more
We've tested out the best trail running shoes for tackling tough terrain – here are our favorites.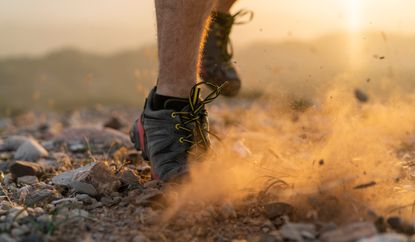 (Image credit: Getty Images)
The best trail running shoes are incredible pieces of kit, able to take you from country trails to mountain tops in comfort. Their versatility makes them perfect for runners who love to venture off the beaten track, offering ample cushioning, superb support and great grip as you explore new routes.
If you're wondering how to choose the right running shoes for you, know that the best running shoes will do the trick if you usually train on roads, running tracks or treadmills. However, if you're partial to adventurous sessions, you'll want something more heavy duty.
If you fall in the latter category, the next question you might ask is: "What are the best trail running shoes for me?"
That's where we come in. Our Fit&Well testing team has got its hands on some of the best trail running shoes money can buy and put them through a rigorous review process. We've racked up the miles and traversed all manner of terrains in a range of impressive pairs to provide you with first-hand feedback on their strengths and weaknesses, as well as recommending a selection of other top options available on the market right now.
Read on below to find out which of these robust running shoes is right for you.
The best trail running shoes you can buy right now
The best trail running shoe for most people
Specifications
Built for: Distance runners tackling technical terrain in fair weather
Weight: 295g
Drop: 8mm
Reasons to buy
+
Premium performance on road, gravel and muddy footpaths
+
Extra cushioning for longer distances
+
Clever new FlipRelease system is great for swollen feet
Reasons to avoid
-
Grip slipped in wet conditions
-
Narrow fit
The On Cloudultra's position at the top of this list is hard-earned. Our tester found the versatile trail running shoe delivers durability, generous cushioning and good grip in most conditions, all without weighing over the odds. So, even those partial to seriously long distance sessions will remain comfortable and light on their feet in the latter stages of their run.
Having worked on the design with ultrarunners Katie Schide and Germain Grangier, On has also included some innovative features sure to benefit avid off-road runners. One of the most noteworthy additions is the devilishly clever, yet surprisingly simple, FlipRelease mechanism. Designed with the likes of ultrarunners in mind, this clasp at the foot of the laces can be flipped to release some tension in the shoe – ideal for swollen feet.
This isn't the only feature that will delight trail running aficionados. The combination of the brand's customary CloudTec cushioning (the honeycomb-like structure in the sole) and a layer of spongy Helion foam provides a plush ride that protects your feet from sharp stone surfaces. And the inclusion of a robust MissionGrip Outsole, rather than the gappy undersides of most On shoes, stopped stones becoming lodged in our tester's shoes.
We found there was some slipping on wet surfaces – the only black mark on a remarkably blemish-free scorecard – but worked well on a range of surfaces in damp and dry conditions.
What the users say
The On Cloudultra trail running shoes have an average rating of four out of a possible five stars on the On Running website, from more than 100 reviews. Happy customers describe them as "lightweight and robust", while fitting true to size. Some buyers do mention a lack of grip on wet and slippery surfaces.
---
Best value for money
Specifications
Built for: Runners and walkers who sometimes venture off the beaten track
Weight: 312g
Drop: 8mm
Reasons to buy
+
Plush cushioning
+
Versatile
+
Air Zoom unit in the forefoot offers 'cushioned responsiveness'
Reasons to avoid
-
No weatherproofing elements
-
Quite heavy for a running shoe
While not a bona fide trail running shoe, when we tested the Nike Air Zoom Structure 24 we were blown away by its versatility. Taking them off piste – namely, to the damp dirt tracks and dewy grass of a nearby nature reserve – our tester found their hard wearing rubber outsole offered fantastic grip that let them plant their feet without fear of slipping.
What's more, while they have an MSRP of around $130, they can usually be picked up for a snip thanks to some significant discounts available online.
The shoe's thick stack offers a comfortable, cushioned ride suitable for longer runs and easy miles. And, while it may not be built for speedsters, the more responsive Zoom Air unit (a cushioning system made from pressurized air and tightly stretched fibers) does offer a slightly more responsive feel if you want to push the pace. This feature may split opinion, as our tester found it delivered a slightly lumpy feel in the forefoot.
At 11oz (312g) they are on the heavier side, which we found was noticeable once we passed the 10km mark. However, this weight comes from additional padding around the heel and tongue, providing a sock-like secure fit and out-the-box comfort. For this reason, we found we could wear the Nike Air Zoom Structure 24s for fair-weather countryside walks – though don't expect any trail shoe-specific features like waterproofing.
What the users say
The Nike Air Zoom Structure 24 scores 4.5 stars, on average, from over 50 reviews on the Nike website. Many people say they like the sneakers for everyday wear, whether they're walking or running, crediting them with impeccable comfort for a range of activities from 5Ks to frisbee in the park. A few wearers say they found the ample stack too soft and not responsive enough for runs, but most people enjoyed the extra cushioning.
---
Best for durability
Specifications
Built for: Trail runners looking to tackle a range of terrains, with occasional road runs
Weight: 300g
Drop: 6mm
Reasons to buy
+
Pioneering graphene sole will last much longer than most
+
Ideal for running a mix of trails and roads
+
Protective and breathable
Reasons to avoid
-
Expensive
-
Slightly bulkier than most running shoes
-
Not designed for mud or gravel
This shoe can save you money – here's how. Many people will say you need two pairs of running shoes, one for roads or city sessions and another for off-road routes. But with the Inov-8 TrailFly Ultra G 300 you get the best of both worlds in one smart package. And that's not all.
Based a stone's throw from the undulating topography of the UK's Lake District, the brand knows a thing or two when it comes to building a robust shoe that can handle testing terrain, and the TrailFly Ultra G 300 is no exception. It features a strong graphene sole – tech pioneered by Inov-8 – which combines great grip and flexibility with unrivaled durability. Our tester found the sole "effectively never wore down", so these running shoes are sure to go the distance (and then some).
This isn't the only way Inov-8 has cleverly used graphene in its shoe either. The graphene-enhanced G-Fly foam midsole is built to be more hard-wearing than other foams on the market, while offering 25% more energy return. Our tester found the support offered by this innovative midsole was "as good as it gets", helping their feet feel fresher for longer.
The initial investment may be more than your average set of running shoes, but this pair offers premium performance and incredible durability, making them a thrifty purchase in the long run.
What the users say
The Inov-8 Trailfly Ultra G 300s enjoy a near-perfect 4.7 star rating from upwards of 180 reviews left on the Inov-8 website. Of these, at the time of writing, almost 150 buyers awarded the shoes a full complement of five stars. Several customers advise ordering a size up for the right fit, with many applauding the Trailfly's comfort and durability. One avid runner said they had completed over 500km in their pair, and had been unable to find fault with them.
---
Best for speed
Specifications
Built for: Faster routes on roads and dry tracks
Weight: 236g
Drop: 4mm
Reasons to buy
+
Lightweight
+
Excellent energy return
+
Surprisingly durable
Reasons to avoid
-
Designed first and foremost as a road running shoe
-
No weatherproofing
-
Firm feel won't suit those seeking plenty of cushioning s
Built for those with a neutral gait and a need for speed, the Saucony Kinvara 12s are extremely lightweight running shoes which provide plenty of energy with every stride.
Their inclusion in this list might surprise you, as they aren't your typical all-terrain shoe. But our tester said they were surprisingly durable, thanks to the addition of extra rubber in high-wear zones on the outsole. We wouldn't recommend subjecting the thin upper to boggy ground or wet conditions, but if you're after a fast shoe for a fair-weather run over well-worn tracks then the Saucony Kinvara 12s are a great option.
We found the upper, while thin, is quite rigid which offered our tester extra support for their arch and ankle. The shoes' touch points are also layered with slightly thicker, softer fabric to avoid rubbing, so you can rack up the miles in comfort.
Neither of these were our favorite feature of these shoes, however, That honor goes to their excellent energy conversion. Belying their slim profile and relatively thin midsole, this offered a bounce sure to put a spring in your step.
They're also on the affordable side of the running shoe market, with discounts often available from several online retailers. There's a newer Kinvara 13 available but we still rate this older (and cheaper) model.
What the users say
The Saucony Kinvara 12 running shoes score 4.⅗ stars on the Saucony website, with more than 380 customers leaving reviews. They are praised for being "springy," lightweight and comfortable. A few reviewers say they would have liked more cushioning, but these sneakers are designed with more emphasis on speed than support.
---
Best for wider feet
Specifications
Built for: Experienced trail runners who want to run in all weather conditions
Weight: 268g
Drop: 4mm
Reasons to buy
+
Quick-dry construction to shrug off sudden downpours
+
Vibram Megagrip outsole for traction on all terrains
+
Breathable upper
Reasons to avoid
-
Too wide for narrow fit
-
'Gaiter' product required to keep out debris
-
Thin midsole and lack of cushioning
Merrell may be better known for their walking boots, and rightfully so (just look how impressed our tester was with these Merrell Moab 3 shoes). It's for this reason that we can't think of anyone better to build a trail running shoe capable of taking on all elements and terrains.
The brand claims this snazzy-looking sneaker is the "ready-for anything elite trail runner", and that certainly seems to be the case. It has a FloatPro Foam midsole designed to thrive on long runs and the upper is crafted with "quick-dry construction" so you can shake off a sudden shower in no time. The upper, made from mesh and TPU, also has a breathable lining, so your feet won't overheat when the sun comes out.
The MTL Long Sky 2s have a Vibram Megagrip outsole, which Merrell say does what it says on the tin in both wet and dry conditions, and the brand has even included an NXT lined footbed to prevent odors building up - something, we're not ashamed to admit, we can definitely see the advantages of.
Our tester found that the shoe was quite roomy, so ideal if you have wider feet. They praised the lightweight design and environmentally-friendly materials. However, the wider fit does mean that this shoe is best worn with a gaiter (a garment designed to keep out debris) which is an additional cost to factor into your purchase.
What the users say
The Merrell MTL Long Sky 2 trail running shoes' admirable performance has seen them earn a 4.1 star rating from buyers on the brand's website. Reviewers say they excelled when running through jungles, over mountains and through streams, with their tough build withstanding mother nature while delivering grip and comfort over long distances. A few users said they experienced tears or breaks in the upper after testing runs, but these experiences appear to be in the minority.
---
Unisex Under Armour HOVR Ridge Trail Running Shoes
Best for adventure
Specifications
Built for: Tackling the toughest trails
Weight: 280g
Drop: 8mm
Reasons to buy
+
US HOVR cushioning to reduce impact forces on your knees and ankles
+
Robust Vibram outsole for great grip
+
Lightweight and breathable
Reasons to avoid
-
Some users say they have a narrow fit
-
Wearers have found them hard to clean
There's trail running, and then there's trail running. These hardcore sneakers from Under Armour are definitely designed for the latter activity, built to take on the toughest terrain. Like many of the best walking shoes, they feature a trusty Vibram outsole which has a hard-earned reputation for durability, flexibility and grip. But, unlike your average walking boot, they have a lightweight, breathable mesh upper, so your footwear won't weigh you down as you explore new trails.
The shoes also benefit from responsive US HOVR cushioning, which is designed to reduce impact forces (good news for your knees) and offer energy return to propel you forward with each step. On top of this, strategically placed 3D overlays have been added to offer a more secure fit and lock wearers' feet into position.
What the users say
While there are only a smattering of reviews left on the Under Armour website, the feedback is largely positive, resulting in an average rating of 4.3 out of five stars. Satisfied customers say they have tested them on mountain rocks in Portugal and even worn them for an ultra marathon, with the shoes excelling when it came to comfort and grip. One buyer said they found them too narrow, but this was an isolated comment.
Editor's note: We are currently reviewing this shoe and will update the guide when our testing process is complete.
---
Best for uneven terrain
Specifications
Built for: Long distances over testing terrains
Weight: 290g
Drop: 4mm
Reasons to buy
+
Breathable and lightweight
+
Quick drying
+
Effective grip
Reasons to avoid
-
Snug fit may cause rubbing
-
Unreliable in muddy conditions
-
Feels hard on the road
Scarpa is best-known for climbing shoes. The Golden Gate ATR model is a fairly successful attempt from the company at making a new type of trail running shoe. We were impressed with its grippy qualities and its rugged Presa rubber sole, which provided a lot of reassurance over uneven terrain. We also found that the propulsion system and stacked midsole in the shoe encouraged speed and a bouncy gait while we were running and the lightweight upper dried quickly in wet conditions.
This model sells itself as a 'road to trail shoe,' but we're not so sure it fits in that category. The stacked midsole is useful when you're pounding over trails, but it can start to feel intrusive on hard road surfaces. We found it pretty uncomfortable even over short distances, so we'd only recommend using the shoe for uneven terrain runs.
The integrated collar and tongue on the shoe makes it a snug, supportive and secure fit, which is what you want on the trails. You will need to wear above-ankle socks to avoid rubbing here, but it's a small price to pay for this security.
Overall, this isn't the softest ride we tested, but it's great if you want something that feels solid and secure over rough ground.
What the users say
Reviews are fairly scarce for this shoe, but there are a handful curated by Google. The model has been rewarded a 4.6 star rating overall, with people praising its quick-dry material and snug fit, which keeps out debris.
---
How we test running shoes
Our testing team has been tasked with putting some of the top trail running shoes to trial, taking them on all manner of runs (long and short distance) on a range of terrains – from hard-packed dirt tracks to sodden, mud-covered surfaces.
For each pair we tried, our team provided detailed feedback on areas such as their price and features, design and technology, fit and comfort, support and performance, using their experiences in each field to award the shoes with an overall score out of five stars.
How to choose the best trail running shoe
So, you've settled the debate of trail shoes vs running shoes and set your heart on a new pair of off-road sneakers? Great! Now, there are a few things you should know as you start your search for the perfect pair of off-road runners.
First, think about what sort of running you are going to be using the shoes for, and what type of terrain you will be taking on?
If you're a dedicated trail runner with a penchant for boggy routes, you'll want a purpose-built trail shoe like the Merrell MTL Long Sky 2. These have weatherproofing features (such as Merrell's quick-dry construction) to keep you comfortable in all weather conditions, as well as hard-wearing uppers and "lugs" on the soles. These are knobbly protrusions not present on regular running shoes, which are designed to provide great grip on everything from gritty tracks to muddy grasslands.
However, if you like to split your time between trails and city running, you might want to look for a hybrid running shoe that can fill both roles – like the Inov-8 TrailFly Ultra G 300. These shoes can offer the responsive sole, energy return and lightweight design of a regular running shoe, while still providing the stability features and impressive grip needed to take your training into the wild.