16:8 diet plan: lose up to 7 pounds in one month
Looking to lose weight with intermittent fasting? Give our 16:8 diet plan a try for lasting results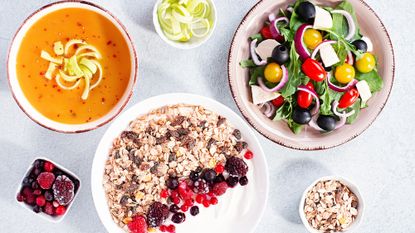 (Image credit: Getty Images)
Searches for how to lose weight by fasting are still big news, never more so than in January when many are feeling they might have overdone it in the previous month.
It's not surprising, given that many fasting diets claim they're an effective way to lose weight quickly if adhered to for a period of time. But imagine if you could get the benefits with less effort - and no starvation days. That's exactly what the 16:8 diet plan offers.
So if you're looking to slim down, this could be the diet plan for you. Below you'll discover more about how the 16:8 diet works and how to follow it, plus a handy five-day meal planner to help you get started - all complied by registered nutritionist Angela Dowden.
How the 16: 8 diet works
Recent research into fasting diets has found that restricting all of your daily eating to a window of eight hours (and fasting for at least 16 hours overnight), makes weight loss easier, even if you don't change what you eat.
Slotting all your daily food intake into this smaller window seems to activate the body's brown fat – the type that burns calories effectively.
Restricting your eating hours also helps reduce high cholesterol and diabetes, because the body's blood sugar and insulin aren't constantly raised. If you choose healthy foods and watch the size of your portions as well, the health and weight loss benefits can be particularly impressive.
16: 8 diet guidelines
These are the simple 16:8 diet rules to follow to lose at least seven pounds (half a stone) in a month:
After you've eaten your last food of the day, wait 16 hours (or a minimum of 14) before you eat again. For example, if you have your last mouthful at 7pm, that means not eating again until 9-11am the next morning.
Drinking water is fine, but do not consume any other drinks or snacks.
Eat two or three square meals. Either go for brunch and dinner, or breakfast, lunch and dinner, depending on what works best within your eight-hour window.
There's no need to count calories – but do aim to reduce highly processed foods. Choose whole grains like wholemeal bread rather than white, and try to fill one half of your plate with fruit and vegetables.
16: 8 diet plan meals
Here are five days' worth of 16:8 meal ideas to try. Remember, the key thing is to lengthen the window you go without food. Fourteen hours is the minimum overnight fasting period, but you're aiming for 16. Eat brunch in place of breakfast and dinner if it suits your schedule better.
16:8 DIET BREAKFAST IDEAS
- 2 poached eggs on wilted spinach, and then a banana.
- 2 slices of German-style dark rye bread with 2.1oz (60g) light soft cheese, plus a bowl of blueberries.
- A bowl of porridge made with 1.4oz (40g) oats and 220ml reduced fat (semi-skimmed) milk, served with strawberries.
- 2 poached eggs on spinach and a banana as above, plus a sausage and tomato sandwich (2 slices of wholemeal, 2 reduced-fat sausages, spread of ketchup and a large sliced tomato).
- Free-range egg and roasted tomato baguette, a pot of Activia strawberry yogurt and 2 mini mandarins.
- Cold poached salmon fillet with a big handful of watercress and 1 tomato, a slice of German-style rye bread, and 1tbsp of balsamic dressing.
- Baked sweet potato topped with 1⁄2 a chopped small avocado, 2tbsp tomato salsa and 1tsp soured cream. Served with green bagged salad.
- 10.6oz (300g) bowl of tomato and basil soup served with 1 slice of wholemeal topped with a spread of mustard, 1 oz (25g) sliced cheddar cheese and a large handful of watercress.
- Chicken Caesar salad bowl and a small apple.
- Prawn mayonnaise sandwich and an apple.
- 1 wholemeal pitta with 2.1oz (60g) reduced-fat humous, grated carrot and loads of watercress or bagged salad.
- Grilled salmon steak served with jacket wedges (made from 1 large skin on potato, cut into wedges, parboiled and roasted with 2tsp sunflower oil). Serve along with diced carrots and spinach.
- Healthy spaghetti bolognese. Cook 1 small onion, carrot, celery stalk and garlic clove cooked in 1tsp olive oil until soft. Add a handful of sliced mushrooms, 7.1oz (200g) canned tomatoes, 1tbsp tomato purée, herbs and 200ml of vegetable stock. Simmer for 10 mins, then add 3.5oz (100g) vegetarian ground 'meat' (such ass Quorn) and heat through. Serve with 5.1oz (150g, boiled weight) of wholewheat spaghetti.
- Two lean grilled lamb cutlets with mustard, 3 small boiled new potatoes, and a pile of stir-fried green vegetables, such as sugar snaps, leeks and kale.
- Roast 3.5oz (100g) chopped butternut squash, 1⁄2 a red and 1⁄2 a green pepper, 1 sliced courgette and cherry tomatoes in 2tsp olive oil. Serve with 1 small grilled skinless chicken breast and 3.5oz (100g) boiled brown rice.
For a leaner way to grill your meats, check out our guide to the best health grills.
And if you're looking for more diet inspiration, take a look at our guide on how to lose weight with the keto diet, our flat tummy diet plan and our Nordic diet plan.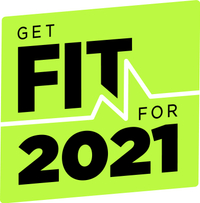 Get Fit for 2021 with Fit&Well
As the sun rises on a brand new year, Fit&Well is here to help put last year behind you and make 2021 your happiest, healthiest yet. Here at fitandwell.com, we'll be bringing you a wealth of workouts, diet plans and expert advice throughout January to help kick-start your health and fitness goals.
Get the Fit&Well Newsletter
Start your week with achievable workout ideas, health tips and wellbeing advice in your inbox.
Launched in 2020, Fit&Well.com is all about helping you meet your health and fitness goals in ways that are fun and achievable. With news and features on fitness, weight loss, running, nutrition, yoga, wellness and more, we're committed to helping you wherever you are on your fitness journey. We break down the best fitness tech, with reviews, buying guides and the latest deals on fitness and wellness kit, from dumbbells to diffusers.
We cater for all difficulty levels here. It doesn't matter if you're a beginner in the world of fitness or you're gearing up for your tenth marathon: we're all moving towards the same goal – creating a healthier, happier you. From guides on getting started doing walks around the block, to creating the perfect work-from-home space, to eating to fuel your first triathlon. It's all here.