Flat tummy diet plan: lose up to 3 pounds in just one week
This simple flat tummy diet plan can help you lose belly fat by this time next week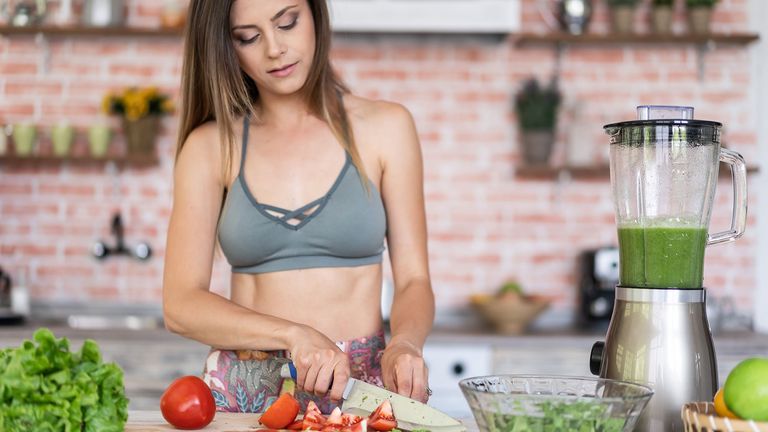 (Image credit: Getty Images)
If your jeans are suddenly feeling a tad tight around the middle and you're wondering how to get a slim waist, we're here to help. Our easy flat tummy diet plan saves calories, boosts your metabolism, and takes advantage of foods scientifically proven to burn belly fat.
What's more, you can expect to lose up to three pounds a week, depending on your age, how active you are and how much you need to lose.
In addition to following the diet plan outlined below, we also recommend following an exercise schedule that is designed to burn fat (try a HIIT workout) and target the core - see our guides to the best exercises for weight loss and best workouts for abs, or give our 30 day ab challenge a try.
How the flat tummy diet plan works
We've kept things really simple. Just choose a breakfast, lunch and dinner from the list below, plus two snacks a day. There are six options for each of the three main meals, so there's enough variety to keep things exciting and avoid boredom - a diet plan's worst enemy.
Matcha is also a pivotal part of the diet plan to lose belly fat. Each morning at breakfast, and once as part of your snacks, enjoy a matcha latte. Simply whisk 1⁄2tsp matcha powder into 150ml cold or hot skimmed milk.
Matcha is powdered green tea, which is rich in a substance called epigallocatechin gallate (EGCG). Studies have shown this catechin compound enhances fat loss, particularly around the belly (opens in new tab).
Flat tummy diet plan: breakfasts
A wholewheat bagel: spread with low-fat cream cheese and a little smoked salmon.
2 Weetabix: topped with 1 chopped pear and 1tbsp flaked almonds, served with 150ml skimmed milk.
A slice of granary toast: with 2 scrambled eggs and 1⁄2 a grilled tomato. One orange.
40g jumbo oats: soaked in 100ml pure apple juice overnight. In the morning, mix with 3 chopped Brazil nuts, 1⁄2 a grated apple and 2 tbsp fat-free greek yogurt.
Open sandwich: a slice of granary bread, thinly layered with low-fat olive spread and topped with 1 sliced tomato, a few sprigs of watercress and 1 sliced hard-boiled egg.
Smoothie bowl: made with 150ml skimmed milk, 1 small banana, 1tbsp sesame seeds, 1⁄2tsp ground cinnamon and 1tsp honey (optional). Whizz it all together in one of the best blenders.
Flat tummy diet plan: lunches
A small spicy-marinated chicken breast: shredded, served with salad leaves, and dressed with 1 tbsp reduced-fat salad cream, in a wholemeal pitta bread. One piece of fruit.
A small tin of tuna in brine: tossed with a salad of cherry tomatoes, celery, cucumber and baby leaf, with 2 oatcakes. One orange or pear.
A prawn and salad sandwich: dressed in reduced-fat salad cream, in wholemeal bread with 3 cherry tomatoes. One satsuma.
A 10cm piece of French bread with 1oz (25g) Brie: 12 grapes and one pear. One small slice of malt loaf.
A spicy mixed bean salad: with low-fat dressing, served on a bed of baby gem lettuce. One slice of melon or watermelon.
Rice salad: made with 1.4oz (40g) brown rice (uncooked weight), 3.5oz (100g) torn chicken or turkey, one diced pepper, one sliced spring onion, one diced and de-seeded cucumber, 5 halved grapes and fat-free vinaigrette.
Flat tummy diet plan: dinners
5.3oz (150g) tuna steak: grilled, with 4 tbsp mixed vegetable couscous, green beans and a large mixed salad.

Frittata: made with 2 eggs, 1tsp dried mixed herbs, ground black pepper and a pinch of salt, and 3 sliced cooked baby new potatoes. Serve with mixed steamed veg or salad.
3.5oz (100g) chicken breast: dusted with cajun spices, bake at 200°c/gas 6 for about 20 mins with mushrooms, tomatoes, onion wedges, chunks of red pepper and courgette. Serve with 3 baby new boiled potatoes, broccoli and carrots.
3.5oz (100g) lean steak: grilled and served with 5.3oz (150g) baked potato wedges, grilled mushrooms and tomatoes, and a large mixed salad with fat-free dressing.
Quorn or vegetarian cottage pie under 450 calories: plus plenty of steamed carrots and broccoli.
Two grilled 95% fat-free or vegetarian sausages: served with 3.5oz (100g) potatoes, mashed with 1tbsp fat-free greek yogurt, and ground black pepper, 2tbsp fat-free gravy, carrots and cabbage.
For a healthier way to prepare the meats in this list, consider using one of the best grills, which help excess fat drain away - making it a better option than traditional grilling, roasting or pan-frying.
Flat tummy diet plan: snacks
Enjoy a matcha latte plus one the following daily:
A cereal bar under 110cals
A bowl of veggie sticks with 2tbsp low-fat humous for dipping
4 dried apricots
2 Brazil nuts
2 crispbreads sandwiched together with 2tbsp low-fat cream cheese
1 apple cut into wedges with 1tbsp peanut butter for dipping
3.5oz (150g) pot fat-free fruit yogurt
To help you stay on track with the flat tummy diet plan, we've created this handy visual guide to all the meal and snack options. Save it to your device for quick reference when out shopping or in the kitchen!
Flat tummy diet plan tips
Too much salt causes water retention that can give you a bloated, puffy look. We get most of our salt from processed foods, so cook from scratch, and shop for the foods with a green traffic light for salt.
Consider taking a probiotic supplement
Probiotics are beneficial bacteria that help crowd out the harmful gut bacteria which ferment and can contribute to a bloated belly.
Also, look out for foods rich in prebiotics. Onions, garlic and artichokes are naturally rich in them, and you can also buy prebiotic-fortifed foods.
Slouching can give you a pot belly, even if you're the ideal weight. Stand tall and hold in your tummy! Pilates is great for posture, as well as the core muscles around your abdomen that give you that fat look.
Get Fit for 2021 with Fit&Well
As the sun rises on a brand new year, Fit&Well is here to help put last year behind you and make 2021 your happiest, healthiest yet. Here at fitandwell.com (opens in new tab), we'll be bringing you a wealth of workouts, diet plans and expert advice throughout January to help kick-start your health and fitness goals.
Launched in 2020, Fit&Well.com is all about helping you meet your health and fitness goals in ways that are fun and achievable. With news and features on fitness, weight loss, running, nutrition, yoga, wellness and more, we're committed to helping you wherever you are on your fitness journey. We break down the best fitness tech, with reviews, buying guides and the latest deals on fitness and wellness kit, from dumbbells to diffusers.
We cater for all difficulty levels here. It doesn't matter if you're a beginner in the world of fitness or you're gearing up for your tenth marathon: we're all moving towards the same goal – creating a healthier, happier you. From guides on getting started doing walks around the block, to creating the perfect work-from-home space, to eating to fuel your first triathlon. It's all here.