6 essential oils for health and wellbeing worries
From headaches to weight loss, you'll find an essential oil that can help fix it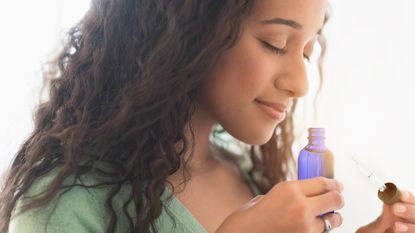 (Image credit: Getty Images)
Many people turn to essential oils for health and wellbeing worries as an alternative or supplement to traditional medicine.
Whether administered via a diffuser, a carrier oil or a homemade remedy, or else applied directly to the skin (always check before doing this), aromatherapy can have a positive impact.
Here are six essential oils that can be used to tackle common issues...
1. Lavender - best essential oil for headaches
Lavender has soothing and calming properties, and is believed to help ease stress-induced tension headaches. 'Essential oils work on both the emotional and physical level,' says Arwen Bardsley, wellbeing practitioner from evenstarwellbeing.com. 'The hypothalamus region in the brain is triggered by the smell of essential oils, producing hormones that you need for sleep, relaxing, energy and mood.
'These hormones act like chemical messengers and rush to specific parts of your body, ensuring that the internal processes are kept balanced and working as they should.'
To use, add 15 drops of lavender essential oil to 2tbsp of a base massage oil, such as sweet almond oil, to apply to the site of your pain – between eyebrows, at your temples and so on. Or massage directly into the headache acupressure spot – the space between the base of your thumb and index finger. Apply oil here and press down firmly using a circular motion for three minutes to help relieve muscle tension.
2. Rose - best essential oil for boosting mood
The sweet floral fragrance is a great morale booster. Make your own shower melt for the aromatherapy benefits of a bath bomb in your shower.
Mix 2 cups of bicarbonate of soda with 1 cup of citric acid in a large bowl and set aside. Mix 2tbsp of water with 30 drops of rose essential oil in a jug. Slowly drizzle the water and oil into the dry mixture a little at a time, stirring until it resembles wet, mouldable sand. Tightly pack into a silicone ice-cube tray and leave for at least 12 hours. Remove and store in a tin or glass jar. Then simply pop a melt into the shower tray as you step in to have your shower, and breathe in the lovely fragrance. Alternatively, try The Body Shop British Rose Shower Gel.
Also good for mood is geranium. It's stimulating, uplifting aroma is believed to help rebalance hormones. Make your own room spray with 60ml of water, 30ml of alcohol (such as vodka) and 20 drops of essential oil. Or buy Neal's Yard Aromatherapy Room Spray Calming.
3. Eucalyptus - best essential oil for blocked sinuses
This cooling and refreshing oil makes a great natural decongestant for stuffy noses. Add four to six drops of the oil into a bowl of steaming hot water. Lean over the bowl with a towel over your head and breathe deeply for three minutes. Or add one to three drops to an oil burner for an air freshener.
4. Peppermint - best essential oil for concentration
Peppermint is a fantastic stimulant. Use it to help overcome tiredness and boost your creativity and focus. Studies also suggest that rosemary helps boost concentration and memory, and jasmine can make us more alert and focused.
Give a bottle of peppermint essential oil a good sniff before any event when you need to stay focused and energised. Studies in Iran even found that sniffing peppermint before a workout helped to stimulate muscles to enable you to perform better.
5. Grapefruit - best essential oil for youthful vigour
According to studies at The Smell & Taste Treatment and Research Foundation in Chicago, when men sniffed a grapefruit scent on a woman, they took five years off her age. In the same study, men perceived a woman wearing a oral smell to be 12lb lighter than she really was. Go figure!
The citrusy oil is also a great energizer, skin cleanser and toner. Add 2tbsp of grapefruit oil to a base massage oil or scentless body lotion and massage into your skin.
6. Ylang-ylang - best essential oil for anxiety
The exotic scent of these delicate flowers is an effective stress reliever. Add one to three drops to a diffuser or burner, or try Puressentiel Stress Roll-on.
Get the Fit&Well Newsletter
Start your week with achievable workout ideas, health tips and wellbeing advice in your inbox.
Tanya has written about health, fitness and lifestyle for the past 20 years. She is currently Health Editor of Woman's Weekly and writes regularly for women's lifestyle titles including Woman & Home, Woman and Woman's Own. She has also written for newspapers such The Express and Australian titles where she spent a year travelling and working. Tanya is an avid runner, and is a particular lover of parkruns and half marathons. She completed the London Marathon in under four hours – but that was 20 years ago, and she hasn't been brave enough to run that far again since. Although she thinks next year might be time! She's also a keen tennis player and walker who has climbed Kilimanjaro and the UK's three highest peaks (Ben Nevis, Snowdon and Scafell Pike). Post-lockdown, Tanya walked half of the 100-mile South Downs Way, "dragging" her family - two teenage daughters, one husband and a loopy Weimaraner called Luna - with her. She plans to walk the other half soon – when the rest of the family are back talking to her!