Fitbit Versa 3 vs Versa 4: which Fitbit smartwatch should you by?
Is it worth forking out for the latest model? Here's what we think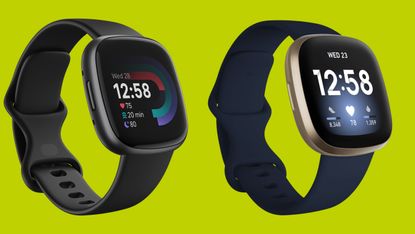 (Image credit: Fitbit)
Ever since the latter's release in September this year, Fitbit fans have been weighing up the pros and cons of the Fitbit Versa 3 vs Versa 4. We're big fans of the former, awarding it the coveted title of best Fitbit (opens in new tab) after putting it through a rigorous review process. So the question now is: which one should you buy?
Many retailers will discount the older Fitbit Versa 3 now there's an upgraded model out, but both of them are some of the best fitness trackers (opens in new tab), making it hard to decide whether it's worth the extra money to switch to the latest model.
If you were a big fan of the Versa 3 and are worried that Fitbit has ruined it with radical changes, never fear; many of the features that made the Versa 3 so popular remain.
Instead, the differences between the two are subtle, with the latest release having small updates to the operating system and a new side button. Find out more about what separates the two models below.
The Fitbit Versa 3 is an excellent watch-like fitness tracker, but isn't a fully-featured smart watch
For
Built-in GPS
Bright screen
Similar features to Versa 4 at lower price
Against
So-so heart rate sensor
A little slow at times
Limited on-watch workout options
Some features require monthly subscription
The Versa 4 offers incremental improvements over the Versa 3 with a physical side button and support for Google Pay
For
Has a physical side button
Six-day battery life
Supports Google Pay
Against
Doesn't offer stress-tracking
Integrated speaker is poor
No on-board music storage
Fitbit Versa 3 vs Versa 4: price and release date
The Fitbit Versa 3 launched in September 2020 with an MSRP of $230 (or £199.99) in the UK. Two years later, to the month, the Fitbit Versa 4 arrived for the same price. However, both models often find themselves discounted at various time, including around Black Friday/Cyber Monday and in the run up to the New Year fitness drive.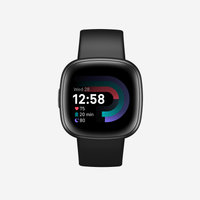 (opens in new tab)
Fitbit Versa 4 | was $229.95, now $155 at Amazon (opens in new tab)
The Fitbit Versa 4 was released recently – so it's encouraging to see that it's already got an impressive discount applied. The lightweight tracker comes with six months of free access to the Fitbit Premium platform.
Fitbit Versa 3 vs Versa 4: style and design
The original Fitbit Sense and the Versa 3 shared the same rounded square chassis, and the Versa 4 does the same with the Fitbit Sense 2.
The Versa 4 is actually a little heavier than its predecessor, the Versa 3 – but you're unlikely to notice the additional 2g difference. It's a little slimmer, too, measuring 1.2mm thinner than the Versa 3.
Outside of that, the main difference is a physical side button in place of the touch-sensitive one offered on the Versa 3.
Fitbit Versa 3 vs Versa 4: health tracking
Everything included in the Versa 3's huge toolkit of fitness tracking features can still be found on the Fitbit Versa 4. That includes everything from the standard step and calorie tracking, to heart rate and blood oxygen sensors. You still won't find the stress-detecting EDA scanner of the Sense lineup on either model.
Fitbit has doubled the number of preset workout programs from twenty to forty, with additions for the likes of weightlifting, CrossFit, dance, and more. It's been a long time coming, particularly if you're a fan of any of the new additions.
Fitbit Versa 3 vs Versa 4: features
The Fitbit Versa 4 follows on from the Versa 3 by offering a premium fitness tracker that's some way off of a "true" smartwatch.
The upside means that you can get around 6 days of use out of either model, including sleep tracking, without a charge.
The downside is that everything runs through the Fitbit app, so there's no scope for installing third-party apps. There's also no onboard storage for music, something that sadly didn't make the jump from the Versa 2 to the Versa 3.
While Google's Wear OS hasn't been added to Fitbit devices yet, Google Pay has – and it's a more consistent way of paying using your device than Fitbit's own version was. Still, Google Assistant is expected as a post-launch addition.
You can use Fitbit Premium with either, too, to gain access to additional metrics, workout and diet plans, and the Daily Readiness Score.
Fitbit Versa 3 vs Versa 4: verdict
The Fitbit Versa 4 is much the same as its predecessor, with a few small increments. If you're not interested in the additional fitness modes, a physical button, or the addition of Google Pay, there's very little to differentiate the two.
That means the Versa 3 is a much more affordable, and almost as capable, alternative that's well worth a look.
Lloyd Coombes is a freelance technology and fitness writer and reviewer for Fit&Well, with bylines at other Future publications, including Live Science, TopTenReviews, Space.com, and TechRadar. He regularly tests out the latest gadgets, including fitness trackers, headphones, and gaming accessories. When he's not reviewing hardware, Lloyd writes about video games at Dexerto.com.