Fitbit Versa 3 review: a lifestyle watch that does a bit of everything
The Fitbit Versa 3 is an easy-to-use fitness watch with a great range of features, but it has a few drawbacks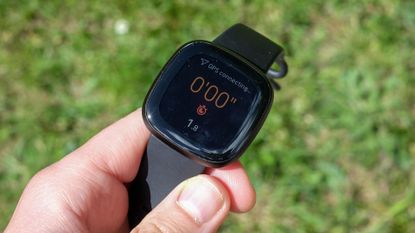 (Image credit: Andrew Williams)
Fitbit's middle-weight watch is the one to get if you want the best spread of features you'll appreciate every day. There are some smarts, GPS makes it a better runner's watch than its predecessor and you don't have to pay the premium for Fitbit Sense features you may not use that often. But there are some issues.
Reasons to buy
+

Friendly 'lifestyle watch' interface

+

Bright screen

+

A solid breadth of features
Reasons to avoid
-

So-so heart rate sensor

-

A little slow at times

-

Limited on-watch workout options

-

Frustrating side button
Confused by Fitbit's wearable line-up? The Fitbit Versa 3 is a bit like the Fitbit Versa 2, but with added GPS. Or like the Fitbit Sense minus a couple of sensors that make that top-end tracker more of a 'health' watch than just a fitness one.
It's a real all-rounder. The Versa 3 battery lasts much longer than even some of the best fitness trackers and you still get smart features like Google Assistant support, downloadable apps, and wireless payments.
After using the Versa 3 and Sense back-to-back we don't miss the Sense's ECG heart and EDA stress sensors too much at all. We find the Versa 3 easier to recommend to most people, especially as it costs $106/£80 less.
However, there are some issues to note. The Versa 3's heart rate sensor isn't as good as that of an Apple Watch or Garmin Venu 2, and neither are the on-watch workouts.
Both of those watches are more expensive, of course. But we think they are a better fit for those who count exercise as a major hobby, not just something to do a few times a week. If you're specifically looking for something to track your runs, check out the best running watch guide.
Fitbit Versa 3 review: price and availability
Fitbit announced the Versa 3 in August 2020. It costs $229/£199, letting it sit in a fairly comfortable middle ground.
It's cheaper than an Apple Watch or the most desirable Garmins, by a significant amount too. The closest rival is probably the Garmin Venu Sq.
That Garmin has a Versa-a-like square screen and costs either a little less than the Fitbit Versa 3 if you buy the version without music support, or slightly more with the music feature. Which should you get?
The Garmin Versa Sq is better for pure sports tracking but the Fitbit Versa 3 is better-looking, has a better screen, and has more friendly-looking software.
Fitbit Versa 3 review: features
The Fitbit Versa 3 is an all-purpose wearable. And while we'll cover some of the issues this brings up, it's important to consider whether you'll actually care about them.
Being able to enjoy using a wearable is often much more important than pinpoint accuracy or ultra-advanced techy features.
Swiping up from the Versa 3 clock display gives you a good primer on what this watch is about. Here you'll find a scroll of everyday health and lifestyle stats.
Some of these are classic things you probably already associate with Fitbit. There's a count of your daily steps, how many flights of stairs you've climbed, and your activity minutes. Setting daily goals for these that you can tick off like items on a to-do list is classic Fitbit fodder.
There are also fields for manually logged things like how much water you've drunk, your calorie intake, and your weight. Lean into all of these, which granted does take some effort, and the Fitbit Versa 3 becomes a wrist-worn health platform.
This is why we'd argue that, for most people, the Versa 3 is just as effective a 'health' watch as the Fitbit Sense. Sure, the Versa 3 does not offer electrocardiogram heart rate readings or a sweat-sensing stress monitor. But all the health factors you have direct control over are still here.
Fields like your heart rate and your exercise session count for the week are where the Versa 3 takes a few steps beyond the classic step counter.
The Fitbit Versa 3 has a few important smartwatch features. It doesn't have anywhere near as many downloadable apps as an Apple Watch, but you can get apps for music streaming services Spotify and Deezer.
Unfortunately, the Spotify app does not let you download playlists and albums, ruling it out for phone-free runs with music or podcasts. You can't sync files to the watch manually either.
The Versa 3 will receive notifications, and you can reply to messages using canned replies. There's also support for Google Assistant and Alexa. You choose which one to use. And you can make card-free wireless payments with Fitbit Pay.
This doesn't feel like a full-on smartwatch most of the time. And it's not nearly as slick as a Samsung Galaxy Watch 3 or Apple Watch Series 6. There are pauses as you jump around the interface and when you load apps, which is disappointing given how simple the Versa 3 interface appears. But, again, we don't think this is necessarily a deal-breaker when we're comparing the watch to more expensive rivals. Still, it's something Fitbit needs to address in future watches.
Fitbit Versa 3 review: fitness tracking
The Fitbit Versa 3 is not a flat-out runner's or hiker's watch, but it does have the core ingredients of one. There's a heart rate sensor that tracks not just during exercise but 24/7. And there is GPS, which was not present in the Versa 2.
Fitbit was pretty slow to roll out GPS location tracking to its watches, even fairly pricey ones like this. We are very glad it's here.
The Fitbit Versa 3 will automatically start tracking exercise when you, for example, start a longer walk. But if you manually start an outdoors session in the Activity app, GPS will start logging your location so you get a detailed, fairly refined, map of the route to look at afterwards.
For your regular runs, you'll probably want to do this. For walks to the store, probably not.
GPS accuracy is fairly good. We saw perhaps slightly more refined results from the rival Garmin Venu 2, but it's only something we'd pick out from a direct comparison.
The watch's heart rate accuracy is more noticeably limited. One day we took the Fitbit Versa 3 on a four-hour hike. It seemed to miss out on a few of the exertion spikes, particularly in the latter half of the walk. And on 5K runs the Fitbit Versa 3's results were more 'noisy' than those of a chest strap sensor.
Fitbit doesn't seem to want us to read too much into the Versa 3's heart rate readings during exercise either, because the heart rate graphs posted in the Fitbit app are drawn with a pretty thick line. You can't easily tell what your heart rate actually was at point X during your run.
Even much cheaper Huawei bands make this much easier to do, and many of them record cleaner-looking heart rate curves.
The Fitbit Versa 3 isn't made for those who want to keep a keen eye on their heart rate performance, but is great for those that are happy just to look at the peak and average in a run report and go on with their day.
Fitbit Versa 3 review: guided workouts
The Fitbit Versa 3 has 20 tracked exercise most built-in. These include the usual essentials like running, cycling, and walking, as well as specifics such as elliptical, golf, and circuit training.
However, you shouldn't expect too much from the 'bespoke' modes. If they don't use GPS to track your location, their stats are going to be based on the same raw data. That means things like your cadence, based on the motion sensor jolts of your footfalls and heart rate.
For example, there's no elevation stat in the Hiking mode, and no rep counter in the Weights one. The Golf mode is notably quite thin too, particularly compared to Garmin's, which has a huge database of courses from across the world that can use GPS to tell how far you are from the hole. Neat, right?
The Garmin Versa 3 patches up some of this with an app called Fitbit Coach. This offers basic on-watch guided workouts, in which a crude animated gif tells you which exercise to do, and gives you timers to fit the right number of reps in.
However, Fitbit Coach has actually been discontinued in favor of Fitbit Premium, another paid-for subscription service that offers loads of video workouts and nutrition advice via your phone. There are only three guided workouts on our Versa 3, which won't get you very far.
Fitbit may be working on a Premium wearable app that will sync workouts to the watch. Or at least function like an Apple Watch and Apple Fitness+, where your vital stats are displayed on your phone — or whatever you're using to watch a Fitbit Premium workout. But you don't get that sync'd experience yet.
We do like the Fitbit Versa 3 more than most at the price as a low-key meditation aid, though. It has a Relax app that acts as a prompt for mindfulness breathing and analyzes your heart rate throughout as an indicator of how deep into the relaxation zone you get.
Relax doesn't do anything too special, but the Versa 3 has a refined enough vibration motor to act as a breathing prompt that doesn't feel jarring. It tapers off at the exhale, and has a sort of crescendo on the inhale, far better than the zero-fidelity wrist buzzes you might get from a cheaper watch.
We like using this for quick two-minute relaxation session during the work day, perhaps with some music playing through headphones at the same time.
Fitbit Versa 3 review: sleep tracking and SpO2
The Fitbit Versa 3 is also one of the better sleep-tracking wearables. It splits the night up into the various sleep stages: light, deep, REM. And seems to catch wakeful moments more often than most other wearables, particularly at the Versa 3's price or below.
It's best used to keep track of how much you have slept, so you can keep an eye out for those weeks where you have too many sub-six-hour nights and start to feel the effects. You're given a rating for each night's sleep out of 100.
The Fitbit Versa 3 also monitors your blood oxygenation overnight. And, unusually, this is the only time it uses the SpO2 sensor hardware. Unlike so many wearables today, you can't just fire off a blood oxygenation test whenever you like.
The idea is that too-great variations in your blood oxygenation could be an indicator of a disorder like sleep apnea. To see your overnight blood oxygenation readings on your Versa 3 you'll have to use one of Fitbit's SpO2 watch faces. That means no anime-inspired cartoon cats, but there is now a good selection of designs that have the stat.
Fitbit Versa 3 review: design and battery life
There are many watch faces available on the phone app, which can then be synced with the Fitbit Versa 3, ranging from the cheerfully tasteless to minimal ones.
The watch style is similar to the earlier Versa watches. You get a cute, very curved square that looks more 'bubbly' than either a round watch or an Apple Watch. There's a big black border around the actual screen, though, which may make it appear slightly dated to some.
The Versa 3's outer casing is metal, the screen covering is glass, and the underside, where the heart rate hardware lives, is plastic. If we were to live with the Versa 3 for a year we'd probably swap the strap, but mostly because we don't find its loop-over strap as comfortable as a more conventional watch-style one.
We won't be able to change the most contentious part of the Versa 3 design, though. There's a pressure-sensitive 'invisible' button on the side of the watch, and even after a couple of weeks we often have to mash the area a couple of times to get it to fire off.
The Versa 3 has an indent where you'd imagine this button area is, but it actually ends up being above it if you grip the casing with your forefinger and thumb. And we end up doing this because it requires a fair amount of pressure to register. It feels clumsy and clunky.
Battery life is fairly good, though, as long as you compare the Versa 3 to an Apple Watch rather than a less smart wearable like the Huawei Watch GT 2. Fitbit says it lasts "6+" days. We find it lasts around five days with a couple of GPS-tracked runs involved.
As with any GPS watch, how long it lasts will be heavily dependent on how much you use this power-sapping feature.
The Fitbit Versa 3 also has an 'always on' screen mode that displays the time without you having to flick your wrist to wake the screen. This sees the battery life drop to around two days, so we have tended to keep it switched off when not using it to see its effect on battery life.
Ideally, we'd like to see a mode that only keeps the screen lit during workouts, as the Versa 3 can at times be a little slow to react to wake-up wrist gestures.
However, the Fitbit Versa 3 does have enough display brightness to contend with very sunny days. This is a 1.58-inch AMOLED screen of 336 x 336-pixel resolution.
Fitbit Versa 3 review: verdict
We can think of a few groups who shouldn't buy a Fitbit Versa 3. If you want a seamless partner for video workouts, get an Apple Watch SE and Apple Fitness+. If you're a running obsessive, you're better off with a Garmin.
However, the wide popularity of Fitbit watches shows there's still a big audience for the Versa 3. It has some smarts, but a much better battery life than the average smartwatch. It can track runs, walks and bike rides just fine if you're not too fussed about slightly flaky heart rate stats. And sleep tracking is above average.
At this point, though, the Versa 3 needs better integration with Fitbit's Premium workout service. And it could feel more responsive.
Also consider
Fitbit Sense
The Fitbit Sense is the Versa 3's sibling. It's a similar watch but has extra ECG and EDA sensors, used to monitor heart health and stress levels when you perform a mindfulness breathing session. Are they worth the extra £80? Probably not for most people.
Garmin Venu Sq Music
Exercise addicts should consider the Garmin Venu Sq Music instead. It has, judging by our experience, a better heart rate sensor and more advanced tracking powers. However, the screen isn't as nice, and neither is the overall look, assuming you're into Fitbit's take on accessible wrist-worn gadgets.
Huawei Watch GT 3
The Huawei Watch GT 3 has a brilliant battery life that surpassed our expectations. It has a large face that's great for tracking your workouts and your overall health too. You won't be able to reply to notifications on it though.
Get the Fit&Well Newsletter
Start your week with achievable workout ideas, health tips and wellbeing advice in your inbox.
Andrew is a freelance contributor to Fit&Well. He has written about health and fitness for more than a decade, specializing in consumer tech. When not testing fitness tech for Fit&Well he writes about fitness for Forbes and contributes to publications including WIRED, TechRadar, Stuff, Trusted Reviews and others. Andrew runs to keep fit, and can often be round jogging around the parks of South London with several wearables and a heart rate strap attached. He also enjoys indoor cycling, using a turbo trainer and platforms like Zwift to get some kilometers in while avoiding London's busy streets.