Food and drink for runners: which ones are worth your money?
There is an overwhelming array of food and drink products aimed at runners, so which ones are worth your money?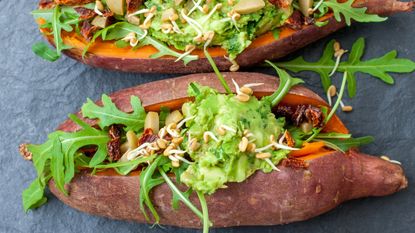 (Image credit: Thinkstock)
When you are first starting out in running, it can be easy to get caught up in the massive range of products designed to help you run faster, recover better or lose weight.
Traditional sports products include drinks and gels, and this is what you will most often see at races (at half marathon and above they are usually provided on the route). We mentioned on the previous page that you should avoid sports drinks unless you are planning on running for over an hour.
This is because at this stage they offer little benefit over water when it comes to hydration, and as long as you eat properly during the day, before and after your workout, then you shouldn't need fuel. They can undo some of your hard work when it comes to running, especially if you are trying to lose weight, as you are taking on board additional calories. If you find it hard to drink enough water, then you can consider some sports drinks that are designed simply to hydrate, not to fuel. These are tastier than water and have few calories, such as Lucozade Lite or High5 Zero. If you want to try a more natural alternative, then consider coconut water, which is naturally hydrating though the taste isn't to everyone's liking.
If you are going to be running for more than an hour, or if you are combining multiple activities (triathlon, running to and from the gym, commuting to work by foot, etc), then you can get sports drinks that offer a higher level of carbohydrates and so act as fuel. Gels are similar to these in that they provide carbs, but they do so in one go, by means of a shot of thick gel. You have to experiment with brands, as some have different consistencies, some include caffeine (which can give you 'runner's tummy') and some have to be taken with water. Read the instructions, as they will need to be taken at different intervals.
Protein is another important consideration for runners. While it is best to get this naturally through your diet, you can get protein-based sports products. The most popular of these for runners is a recovery shake, which has the right blend of carbs and protein to aid recovery and start your muscles on the path to repair. If you feel you're not getting sufficient protein, for instance, if you're a vegetarian or vegan, this is an easy way of inserting protein into your diet and aiding your recovery. Again, these are adding in calories, so use them after particularly hard efforts, such as races, rather than every run. Try For Goodness Shakes Sports Recovery for example.
Protein-based products, such as protein shakes and bars are often used by those who do strength training and bodybuilding, so there are plenty of options out there. If you feel like you need the extra hit, then try a protein powder (whey), which you can add into a smoothie to drink post-run to promote muscle repair. If you are mixing running with strength training and want to maintain bulk, then look for higher protein content. If you are trying to lose weight, however, then be careful how much additional product you take on board, though there are specific protein products on the market geared towards weight loss as well as muscle building.
There has been a move towards more natural sports nutrition recently, as people look for 'cleaner' sources of fuel and protein when running. If you don't like the idea of taking sports drinks or gels, which are processed and often synthetic, then you never have to. Many runners rely on things like jelly babies, raw food bars, nuts and dried food as on-the-run fuel sources. You can make your own sports drink by combining water with fruit juice and adding a pinch of salt.
Chia seeds are popular for adding protein to a runner's diet.
Top 5 sports products
Better hydration
Low-calorie sports drinks that offer electrolytes can help you replace the fluid and salt lost when you sweat, just make sure to look at nutritional information.
Energy gels
For longer runs, gels are easy to carry to provide quick-release carbs for fuel without sitting in your stomach.
Jelly beans
Sports Beans or plain jelly beans can give a quick energy hit on shorter runs when needed. And not to mention, they are tasty too!
Recovery shake
With the right blend of protein and carbs, this helps you to recover and repair muscles. Mix your own or buy ready-to-drink, bottled shakes.
Real food
Try raw food or chia-based food on the run if you don't like processed sports products.
What to eat when
Use the right products at the right time to get the maximum benefits to your running.
Day to day
Coconut water
Use as an alternative to water for some drinks on exercise days. It's naturally hydrating and replenishes electrolytes. It's also high in both potassium and magnesium, which are key nutrients.
Fish oil supplement
If you don't eat enough healthy fats – such as avocado, fish, nuts, olive oil – then consider a supplement as they can help your system function more effectively.
Protein snacks
You can get high-protein sports food for everyday, including popcorn, bars, drinks and more. If you are looking to build muscle, then these can be of benefit, but still consider them as treats.
Pre-workout
Protein flapjack
This gives you a good balance of protein and carbs, to help fuel your run, and is perfect if you don't have time for a proper meal. Try brands like trek or chia charge, which are popular with runners.
Banana
One of the best sports foods and completely natural too! It has digestible carbohydrate for quick energy release, and potassium to maintain nerve and muscle function.
Porridge
If you're a morning runner, have oats made with milk, giving you both carbs and protein. Add milled seeds, dried fruit, greek yoghurt, or even a scoop of protein powder for added boost.
During workout
Nuts and seeds
Make your own trail mix to take with you, as the fatty nuts provide energy to keep you fuelled without having to eat too much. On top of the good fatty acids, nuts contain a lot of fibre.
Sweets
Longer runs are the one time you can justify sweets! Runners swear by jelly beans or jelly babies, and they are often given out at races. A quick energy hit without filling up too much.
Gels
If you're going to use sports gels, read the packet. Some suggest taking on at the start and then every 30 minutes, but timings vary. And carry water if they require it.
Recovery
Chocolate milk
If it's good enough for mo farah (apparently)... It contains a 3:1 ratio of carbohydrates to protein, perfect for recovery and cost less than sports products. Dairy-free versions are also available.
Protein shake
Powdered whey protein can be mixed with milk (any kind) or water and helps to promote muscle growth and repair, great for gaining bulk and preventing injury.
Yoghurt, granola and berries
A natural recovery option that contains both protein, from the yoghurt, and carbs, from the granola to replenish and restore. Add berries for an extra dash of vitamins.
Get the Fit&Well Newsletter
Start your week with achievable workout ideas, health tips and wellbeing advice in your inbox.
Launched in 2020, Fit&Well.com is all about helping you meet your health and fitness goals in ways that are fun and achievable. With news and features on fitness, weight loss, running, nutrition, yoga, wellness and more, we're committed to helping you wherever you are on your fitness journey. We break down the best fitness tech, with reviews, buying guides and the latest deals on fitness and wellness kit, from dumbbells to diffusers.
We cater for all difficulty levels here. It doesn't matter if you're a beginner in the world of fitness or you're gearing up for your tenth marathon: we're all moving towards the same goal – creating a healthier, happier you. From guides on getting started doing walks around the block, to creating the perfect work-from-home space, to eating to fuel your first triathlon. It's all here.