Four meals a day diet plan: how an extra serving can actually help you lose weight
Eat and extra meal a day and still lose weight with our calorie-controlled four meals a day diet plan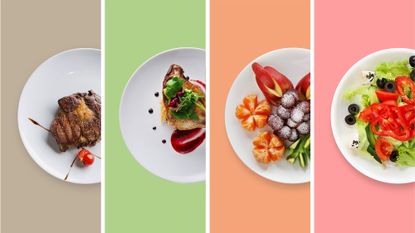 (Image credit: Getty Images)
Eating four meals a day might sound like the stuff of dreams for food lovers, but with our diet plan it's a reality - and you can still lose weight.
Whilst three meals - breakfast, lunch and dinner - has typically been the standard, there can be benefits to upping your meal count to four-a-day - without the worry of gaining extra weight.
'Splitting your calorie intake between four meals can negate the need for snacking and may make controlling your weight that little bit easier,' explains registered dietitian Helen Bond.
Eating regular smaller meals can also help curb hunger and help keep blood sugar levels smoother, improving energy and concentration levels. Plus, having an extra meal to play with makes working out easier – a 4pm meal will get you through a gym session after work, and a small meal when you get home is the perfect refuel.
Devised by health journalist and registered nutritionist Angela Dowden, our week-long, four-meals-a-day diet plan could help you lose around a pound a week.
Four meals a day diet plan explained
The plan is a calorie-controlled one. Each of the seven daily menus outlined below total around 1,400 calories a day. The average recommended daily calorie intake for US adults is 2,000 for women and 2,500 for men, and this plan therefore creates a calorie deficit (where you burn more calories than you consume).
Of course, as is always the case with any diet, eating healthily is key. Each meal should be around 350 calories, so be sure to weigh and measure portion sizes. If you'd prefer to make your own meals outside of those listed below, opt for wholegrains like brown rice and get your five-a-day fruit and veg. Include plenty of lean protein with your meals: fish, chicken, eggs and tofu.
There's no need to eat at the exact times specified, but try to leave nice, even gaps between your meals. For drinks, stick to water and herbal teas.
Four meals a day diet plan: a week's worth of meals
Monday
Breakfast: 1.4oz (40g) bran flakes with 4fl oz (125ml) reduced-fat milk, 3oz (90g) full-fat Greek yogurt, 2.8oz (80g) blueberries.
12pm: 12oz (350g) slow roasted tomato soup with a small slice of seeded bread and 2.5oz (70g) reduced-fat humus.
4pm: Ham sandwich (no mayo) and an apple.
Dinner: 3 pork medallions, pan-fried with 2 tbsp apple sauce, 5.3oz (150g) new potatoes, 2.8oz (80g) each of broccoli and cauliflower (use a steamer to prepare them - we've picked the best steamers for doing just that).
Tuesday
Breakfast: Pot of original instant oat porridge with 1 heaped tbsp raisins and an apple.
12pm: Nibble platter: 7oz (200g) melon, 3 slices of Serrano ham, 3.5oz (100g) prawns, and a toasted wholemeal pitta cut into strips.
4pm: Pasta salad made with cooked pasta, feta cheese and slow-roasted tomatoes, and 1.75oz (50g) leaf salad.
Dinner: 6oz (175g) cod with a can of ratatouille. Healthy ways to prepare the fish include baked in the oven or grilled (see our pick of the best grills for the latter).
Wednesday
Breakfast: A small slice of seeded toast with 1oz (30g) peanut butter and a small ripe mango.
12pm: Small Caesar salad made with romaine lettuce, croutons, Parmigiano Reggiano medium fat hard cheese and Caesar dressing, plus 3oz (90g) cooked chicken breast slices and an apple.
4pm: 7oz (200g) potato baked or microwaved with ½ can of beans, plus one orange.
Dinner: 3 chicken chipolatas with ½ can of green lentils and 3.5oz (100g) tomatoes, roasted in 2 tsp olive oil.
Thursday
Breakfast: 1.75oz (50g) unsweetened fruit and nut muesli with 4 fl oz (125ml) semi-skimmed milk and a chopped banana.
12pm: Small slice of seeded toast topped with a can of sardines in tomato sauce, served with a handful of cherry tomatoes and side salad.
4pm: Salmon salad made with bulgur wheat, tomatoes, carrots, chickpeas, red peppers and sultanas.
Dinner: Chicken curry with rice and spinach.
Friday
Breakfast: Greek-style yoghurt with granola and mixed berry compote, plus a tall latte with reduced fat milk.
12pm: 3.5oz (100g) tikka chicken breast slices in a wholemeal pitta with 2 tbsp tzatziki, salad and handful cherry tomatoes.
4pm: A bowl of vegetable soup and a banana.
Dinner: 4.5oz (125g) brown basmati rice and quinoa mix with 4.5oz (125g) prawns and spinach, plus a small glass of red wine - it's Friday, after all!
Saturday
Breakfast: Scrambled egg (2 eggs, 1 tbsp milk, 2 tsp butter), 1 grilled rasher of back bacon, and 2.8oz (80g) blueberries.
12pm: Cooked salmon fillet flaked onto 2 rye crispbreads with 3tbsp tzatziki and chopped cucumber chunks.
4pm: 1.4oz (40g) cheddar cheese, 4 wheat crackers, 2 celery sticks and 2.8oz (80g) grapes.
Dinner: 4.5oz (130g) flash-fried steak cooked in an oil-brushed pan, big handful of rocket or spinach, 1 tbsp of balsamic dressing and 1 tbsp grated Parmesan.
Sunday
Breakfast: Croissant, plus a chopped banana sprinkled with chopped hazelnuts.
12pm: 2 small boiled eggs, sliced into a wholemeal pitta, with bagged salad, 2 tbsp reduced-fat salad cream.
4pm: 2.8oz (80g) carrot sticks with 2.5oz (70g) reduced-fat humus and ½ a medium avocado.
Dinner: 7oz (100g) chicken breast wrapped with a slice of Serrano ham and baked, served with 7oz (100g) boiled fusilli and 7oz (100g) tomato pasta sauce.
Get the Fit&Well Newsletter
Start your week with achievable workout ideas, health tips and wellbeing advice in your inbox.
Launched in 2020, Fit&Well.com is all about helping you meet your health and fitness goals in ways that are fun and achievable. With news and features on fitness, weight loss, running, nutrition, yoga, wellness and more, we're committed to helping you wherever you are on your fitness journey. We break down the best fitness tech, with reviews, buying guides and the latest deals on fitness and wellness kit, from dumbbells to diffusers.
We cater for all difficulty levels here. It doesn't matter if you're a beginner in the world of fitness or you're gearing up for your tenth marathon: we're all moving towards the same goal – creating a healthier, happier you. From guides on getting started doing walks around the block, to creating the perfect work-from-home space, to eating to fuel your first triathlon. It's all here.