Hiking clothes: Experts recommend the best things to wear in fall
Having the right hiking clothes and equipment can help make your day on the trails that much more enjoyable. Here's what you'll need.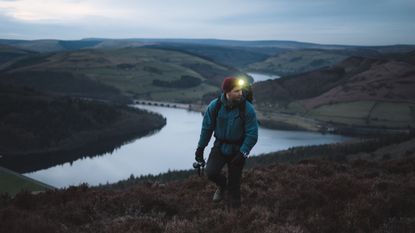 (Image credit: Getty)
We often put a lot of effort into finding the perfect pair of walking boots, but paying attention to all of your hiking clothes from top to bottom will ensure your well-deserved day in nature is as enjoyable as it can be.
Conditions on the trails can change rapidly and staying comfortable when the rain pours down and the wet mist swirls over the land requires the best shoes for walking as well as several other necessary clothing items, the right equipment, and of course, the skill to use them.
"No matter if you are a highly experienced mountaineer or a brand new hiker, the weather can be your best friend or your worst enemy depending on how well you have prepared for the day ahead," says Jordan Wylie, an extreme adventurer.
"I always try to focus on controlling the controllable. I can't influence the weather or the terrain but I can do my best to make sure I can manage the impact of them when they change. Planning is essential to keep us safe at all times. I believe the old adage goes 'failing to plan is planning to fail.'"
Jordan is an award-winning adventurer; a number one bestselling author as well as being the national ambassador for the Army Cadet Force. When not at home, he can be found traveling the world experiencing new places, new people, new cultures and then sharing his stories and the lessons learnt via motivational speaker. His most recent expedition was the 2021 Antarctic Marathon and before that the Siberian Ice Race.
Hiking Boots
First up, decide if you'd rather wear leather boots, which are naturally waterproof or fabric boots, which tend to be lighter and comfier but less warm and not as durable.
You also need to pick a boot that has a reliable waterproof system that will help drain the water out rather than hold it in, which can make them heavy and uncomfortable.
One of the best brands for walking boots is On, as they create lightweight models that have waterproof membranes combined with waterproof gaiters to keep your feet drier for longer. "They have good traction, which will help keep you from slipping on wet or uneven terrain," says Shane Finn, trail runner, endurance coach and hiking expert.
We also like the Columbia Peakfreak line, which offers robust, waterproof materials and a solid grip.
Shane Finn is an AllTrails athlete and trail runner and hiking expert, who not only embarked on a challenge to run 24 marathons in 24 days but has also run and cycled across the USA and climbed Kilimanjaro.
Head torch
You may want to get out early to watch the sunrise — or less ideally, you might take a wrong turn and be out hiking for a lot longer than you anticipated, so you always need to have a light source with you.
While you could try relying on your phone for a torch, it's always a good idea to have a back-up. Plus, you may want to save your phone battery for navigation and emergency calls.
Biolite head torches offer a great battery life (around five hours) and comfortably fit on your head, "which keeps your hands free for all types of tasks, whether that's carrying a map or holding your walking poles. Remember to always carry spare batteries too," says Wylie.
Navigation tools
Does planning a hike make you worry you might get lost? It's sensible to be aware of your navigation ability before a walk and to plan your routes carefully before setting off.
Finn recommends downloading the AllTrails app, "an app which helps you to safely navigate around local trails — and beyond". Simply pop in an address and go. It also has weather updates and up-to-date trail conditions that you can check before heading out.
Finn does however recommend that you "carry a paper map with you just in case and a spare power bank for your mobile phone too."
Waterproof jacket
"An outer shell is critical in cold wet weather. It must not fail," says Wylie.
It will need to be waterproof with a hood with a wired brim to protect you from wind-driven rain with pockets big enough for maps and your phone.
"Jackets needn't weigh more than 500 grams and many good ones weigh much less," says Wylie. "This is ideal for layering and storing in a backpack if you get too warm."
Struggling with where to start? The North Face has an excellent selection of jackets that fit the bill.
Base Layers
Dressing in layers is the best way to prepare for the wide range of potential temperatures and weather conditions that hikers can experience in fall.
Chris Emery, the editor of OutdoorSoCal.com recommends "starting with a lightweight underlayer made of moisture-wicking wool fibers, which will add warmth and insulation."
Salomon makes a great wool, long-sleeved base layer which is seamless and breathable and will help to regulate your core temperature, while staying soft and dry next to your skin. "On top of that, you can then add a fleece or puffer jacket for more warmth if you need to," adds Emery.
Based in California, Chris Emery is the Editor of OutdoorSoCal.com, a guide to outdoor adventure, which was founded in 2011 to help connect people with a passion for the outdoors and adventure.
Spare socks and hats
When hiking it's essential to carry an extra pair of socks — if your feet are cold, then everything is cold! Merino wool socks will especially keep your feet warm even when wet and are generally better than wool socks which tend to absorb more moisture and take longer to dry.
Warm, wool hats are best for hiking in cooler weather. If the temperature is low and suddenly drops, a hood is unlikely to be enough to keep your head warm. When choosing a hat go for something light, simple and made from wool. And always carry a spare — they're easily lost — or can fly off in strong winds.
Anything else?
"Other kit to consider is a comfortable backpack with sturdy straps to carry your layers and gear," says Finn, as well as food and water in a reusable plastic bottle." It's easier to forget to hydrate when you're cold because you won't be as thirsty.
"A first aid kit is also essential and an emergency shelter, like a Storm shelter to protect you from the elements in case you got stranded or injured when out on a trail," adds Wylie.
Lucy Miller is a Journalist, Level 3 Personal Trainer, Nutritional Advisor and Children's Fitness Specialist. She holds fitness qualifications from NASM Training and Premier Training International and has been a fitness journalist and model for over 20 years.
Since going freelance in 2014, Lucy left Men's Fitness Magazine to write for an abundance of top consumer titles such as Women's Health, Women's Fitness, Glamour, Top Sante, The Guardian and Runners World. She's also extremely passionate when it comes to educating others about health and physical activity and loves inspiring and working with children and adults to help make fitness fun, sustainable and accessible.
In her spare time, Lucy is ever the sportswoman. Once a national gymnast, having won three national titles, she has also run a handful of marathons around the world and loves to test her physical and metal side with regular running and gym sessions, not to mention ballet, bootcamp, boxing and TRX.