Home office tips: 8 ways to build a healthy workspace
Transform your home office into a workspace that's good for your health, wellbeing and your productivity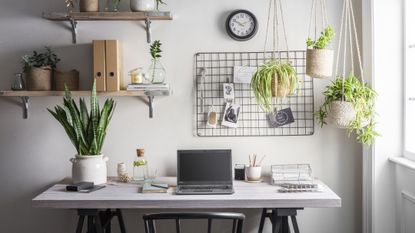 (Image credit: Garden Trading)
For many of us, working from home, even a few days a week, is the new normal, and we're now getting used to putting the hours in from the spare room, home office or even the kitchen table.
A poorly designed workspace can cause stress – both physically and mentally – and make it hard for you to concentrate, so it's vital you take some time to create a home office that's helps you get through the nine-to-five.
We've drawn up a must-do list based on guidelines from the International Well Building Institute who help businesses create healthier workspaces. They focus on elements including comfort, light, air quality, sound, water, nutrition, and fitness, all of which apply equally to your home office.
1. Sit (or stand) comfortably
It's essential your office space is comfortable, and that the furniture you choose - particularly your chair - supports your body ergonomically. A poor chair will put strain on your body, especially the neck and back, so choose a design that's fully adjustable and dynamic, meaning it will move with you during the day. Take a look at our guide to the best office chairs for good spine health.
A sit/stand desk, or the ability to raise up your computer to standing height, is another way to ensure your body keeps moving during the day. A 2014 study found post-lunch blood sugar levels returned to normal more quickly in those who alternated between sitting and standing during their working day. There's also evidence to suggest that the use of a sit-stand desk reduces chronic lower back pain.
2. Illuminate your workspace
A recent study proved just how important natural light is during the working day. Researchers from the Department of Design and Environmental Analysis at Cornell University discovered that office employees sitting within three metres of a window had a staggering 84 per cent decrease in eyestrain and headaches.
With this in mind, you should aim to place your desk by a window - but also make sure it has blinds or voile curtains to reduce glare whilst also allowing the natural light in.
We can't always rely on sunshine though, so choosing the best desk lamp you can find is essential for task lighting. Just be sure to direct it at whatever you're looking to read or study – and never in your face or onto your screen – to help minimise eye strain.
3. Improve air quality
According to research from the World Green Building Council, opening a window for fresh air can improve productivity by up to 11 per cent. It may feel counter-intuative, but this is especially important during the winter months when a lack of sunlight combined with heating can lead to lethargy.
Air purifiers can also help, especially if you're one of the 50 million US adults (or 21 million UK adults) who suffering with allergies. If space is at a premium, look for models with built-in fans for cooling as well as purifying. Look for models with a HEPA filter to rid your room of harmful airborne particles.
And before you think about using air fresheners, the truth is this: they often do the exact opposite! A study by the Natural Resources Defence Council showed that many contain phthalates, a noxious chemical known to aggravate asthma and disrupt hormone function.
4. Keep moving
Even with a stand-up desk and ergonomic chair, it's important for your wellbeing – and your eyes – that you still take regular screen breaks. If you have trouble tearing yourself away from the keyboard consider downloading an app such as Stand Up! The Work Break Timer, which reminds you to take regular breaks.
An Apple Watch will also remind you to stand up every hour, as long as offering a host of other fitness benefits such as mindful breathing and exercise tracking. Check out why we gave the Apple Watch 5 Series a five-star rating, or else find out where you can get your hands on the all-new Apple Watch 6 Series.
5. Go green
A little foliage has been proven to have huge physical and psychological benefits in the home and office, helping to reduce stress, lower blood pressure and boost mood. Indoor plants are especially important if your window doesn't look out onto a garden or green space.
Many pot pants also have health giving benefits too; for instance, Spider Plants remove formaldehyde from the air and lavender is a natural stress reliever, while the classic Mother-in-Law's Tongue cleans the air brilliantly and you hardly ever need to water them.
Happily, home delivery companies such as Bloomscape in the US and Bloom Box Club in the UK will now deliver a plethora of plants direct to your door.
6. Block out the background noise
Noise pollution – from roads, washing machines or arguing kids – is a common problem when working from home, and while it's certainly distracting, it has also been shown to increase your risk of high blood pressure.
We can't stop your kids from fighting, but a pair of noise cancelling headphones can bring a much-needed cloak of quiet to your day, while also keeping you entertained if you work to music and acting as hands-free microphone for taking calls.
We love the Sony WH-1000XM3 wireless headphones, a superb value, extremely comfortable pair of noise cancelling headphones boasting great audio and 30 hours of battery life.
7. Stay hydrated
Staying hydrated during the day helps boost metabolism and reduce tiredness, so it's important to have water close to hand. Dehydration can lead to headaches, affect memory which obviously impacts on your productivity.
Whether you use your trusty gym water bottle or choose to invest in a stylish carafe, make sure it's topped up at the start of the day, and that you drink more water than caffeine.
8. Snack healthy
Put down the chocolate and step away from the fridge! If you want to stay, focused, and productive, you'll want nutritious bites.
A bowl of fresh fruit is an easy addition to any home office, as is trail mix with nuts and dried fruits, which can stave off the hunger between meals. Popcorn is another great option that's mercifully low in calories.
Get the Fit&Well Newsletter
Start your week with achievable workout ideas, health tips and wellbeing advice in your inbox.
Launched in 2020, Fit&Well.com is all about helping you meet your health and fitness goals in ways that are fun and achievable. With news and features on fitness, weight loss, running, nutrition, yoga, wellness and more, we're committed to helping you wherever you are on your fitness journey. We break down the best fitness tech, with reviews, buying guides and the latest deals on fitness and wellness kit, from dumbbells to diffusers.
We cater for all difficulty levels here. It doesn't matter if you're a beginner in the world of fitness or you're gearing up for your tenth marathon: we're all moving towards the same goal – creating a healthier, happier you. From guides on getting started doing walks around the block, to creating the perfect work-from-home space, to eating to fuel your first triathlon. It's all here.