Apple Watch Series 5 review: Takes the top spot for fitness smartwatches
Apple Watch Series 5, the best smartwatch you can buy, is also a top-tier fitness tracker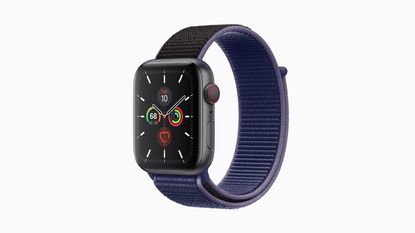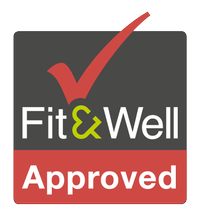 (Image credit: Apple)
The Apple Watch Series 5 comes with a smorgasbord of fitness features and is top of the line when it comes to smartwatches. However, those looking for a simpler fitness tracker will find cheaper options available.
Reasons to buy
+

Top of the line fitness tracking features

+

New Summary skill presents your health metrics in an easy format

+

The best all-around smartwatch
Reasons to avoid
-

Doesn't work with Android

-

Pricey if all you want is a fitness tracker
Get the Fit&Well Newsletter
Start your week with achievable workout ideas, health tips and wellbeing advice in your inbox.
Thank you for signing up to Fit And Well. You will receive a verification email shortly.
There was a problem. Please refresh the page and try again.
The Apple Watch Series 5 shows what makes Apple Watches some of the best fitness watches on the market, whether you're after an iPhone-friendly fitness tracker, a great smartwatch or both together.
Launched in September 2019, the Series 5 takes the guiding principles of what made the Apple Watch Series 4 so brilliant and adds loads of extra features, improving on the health metrics in the meantime. Plus, as of December 2020 it's compatible with Apple Fitness+, the all-new workout platform that's worth the hype.
So is it worth upgrading to for existing Apple customers, or should you make this your first Apple Watch if you're a first-time buyer? Here's our in-depth review with all the facts, so you can make an informed decision.
APPLE WATCH SERIES 5: PRICE AND AVAILABILITY
The Apple Watch Series 5 launched at £399 / $399 at Currys, Amazon, the Apple store itself and almost everywhere you can get wearables. This gets you the basic model with the 40mm screen and a silicone strap. The next step up is the 44mm screen model, which increases the price by £29.
The sizes are larger than they sound, with the screen on the 40mm actually larger than the 42mm face model from a couple of years ago. If you're not sure about the screen size or you've got larger wrists, try both – lots of men will find the 40mm model suits them fine, and lots of women will prefer the larger one.
Just like in previous years, Apple is also partnering with Nike to produce a special Nike Run brand Apple Watch, complete with exclusive app. All models come with 32GB of on-board storage now, which is great for keeping more music on there for very long runs, or anything else that needs storing on the Watch (such as offline maps for a planned hike).
Apple Watch Series 5: Design
The Series 5 is very similar to the Series 4 in terms of shape, with a curved pebble shape and edge-to-edge screen. The Digital Crown scrolling side button is still around, as is a secondary side button that can be used to contact emergency services and switch apps on the fly.
It's still one of the best-looking smartwatches and fitness trackers overall, though its lead is certainly less than it's been in the past thanks to new entries in the category like the Fitbit Versa 2. The design is not overly thin, but it looks slender thanks to those deceptive edge-to-edge curves. The metals offer a premium-feeling, weighty finish.
The always-on screen is the flagship new hardware feature of the Series 5. Finally: you can now quickly glance at the time without performing the smarwatch wrist-flick, or check the watch's "workout mode" while glance at the time without making a show of it. Very useful.
But here's what frustrates us about it: if the last thing you were looking at was an app, when you turn your wrist, you see a small digital time read-out instead of your watch face. This readout is a little bit different: it's smaller and it's easily lost in reflections when out in the sun, which makes bright outdoor workouts challenging at a glance. Why isn't it easier to read?
APPLE WATCH SERIES 5: PERFORMANCE AND BATTERY
The Apple Watch Series 5's software additions are all focused around eking out more power for the always-on screen, and other ways of saving power to balance out the extra energy usage. Apple reports the watch has an 18-hour battery life, which we found was pretty accurate: so far, the Series 5 has been at around 35% at the end of the day. This still leaves enough power to monitor my sleep and heart rate overnight, but I wouldn't be confident of leaving the charger behind when staying elsewhere.
Fortunately, the Apple Watch charges very quickly. In addition, you can turn off the always-on display function and get some battery life back in the process. If you know you're going to be in a situation where you won't have access to a charger for a full day, this is a handy feature to have, removing some of the distance anxiety. Apple's battery life claims are accurate, but the always-on screen is still bringing the total life downr.
One gripe regarding the charging refers to the hardware: the Watch comes with a USB Type-A cable in the box, which is a bit frustrating in this day and age. The iPhone 11 Pros, iPad Pros and MacBooks all comes with USB Type-C charging cables, so we're not sure why the Watch hasn't.
APPLE WATCH SERIES 5: HEALTH METRICS
Apple's latest addition to its smartwatch health metrics is the noise detection. If the watch registers over 90 decibels of ambient sound, such as a concert, you'll get a notification and a small note, advising you how long you can be exposed to this sound without harming your eardrums.
If you find that this warning comes up a lot when you're somewhere you can't avoid, like your workplace, you can alter the threshold for the alert and just use the watch's Noise app to manually check the levels around you. Apple emphasised that the noise app doesn't record any sound at all – it's just looking at the level.
A neat new feature is menstrual cycle tracking. By adding information about your period timings and recording symptoms such as fatigue, spotting, acne and breast tenderness, the Watch will use its advanced algorithms to help you predict your next cycle.
The Health app isn't designed to make medical recommendations, but just to give you a better indication as to how your body operates. Combined with all the other Health data your phone and watch collects, you can get a really comprehensive overview of your general health: from finding out the causes of your headaches to seeing your heart rate spike after drinking coffee, you'll be able to find out the right way your body operates on a day-to-day basis.
APPLE WATCH SERIES 5: HIKING AND TRAIL-RUNNING
Other than the always-on screen, the altimeter and compass are the big changes in hardware. While Apple's previous devices could identify changes in elevation (ie, how far you've climbed or descended), the Series 5 calculates this from your absolute elevation (the height you started your hike/trail run from) creating a more sophisticated measurement.
This is great for tracking yourself on hikes and seeing exactly what you've achieved, or just if you're curious at any time. The Apple Watch compass is more accuratemost phones' magnetometer compasses.
It's not the most exciting feature, but it makes using the Watch for walking navigation very useful, biting into the Garmin Fenix's trail running credentials. For your average hiking holiday, the Watch just became an indispensable tool.
APPLE WATCH SERIES 5: FITNESS
Apple has made some changes to present the data it harvests in new ways. The Activity app compares your most recent exercise sessions with your historic scores, your previous daily activity minutes and recent personal bests. It's a reminder that hitting your targets doesn't automatically mean everything is as good as it was before.
The Health app's new Summary skill lets you choose which kinds of information that the app stores that you're most interested in, and this is all shown clearly on a single page, with no need to scroll through different menus on the Watch.
People keeping an eye on their blood pressure can select a summary comprising of a smart gauge, mindfulness data and heart rate graphs, while those looking to lose weight will be able to see data from smart scales and calorie counters. The summary feature is an easy, comprehensive way to tailor the Watch to your goals.
APPLE WATCH SERIES 5: VERDICT
Let's make this easy for people who bought last year's Watch: Apple Watch Series 4 owners should feel free to skip this model. The Series 5 is better than the Series 4, naturally, but the new features aren't revolutionary enough for us to recommend the change. There's a good reason why it has replaced the Series 4 in the line-up rather than the Series 4 staying around with a drop in price: this is the ultimate evolution of that design.
For first-time buyers and Series 1 and 2 owners, we 100% recommend upgrading! This is the best version yet of the best smartwatch around, and Fit&Well readers will get a kick out of the increased suite of fitness features. We love it.
Get the Fit&Well Newsletter
Start your week with achievable workout ideas, health tips and wellbeing advice in your inbox.
Matthew Bolton is currently Editor of T3's print magazine, although he also works alongside the digital team. A tech specialist, Matthew has previously been Editor of MacLife magazine and also has extensively worked across titles in the Apple Group of publications. Based in the UK, Matthew studied Creative Writing at College in Bath.