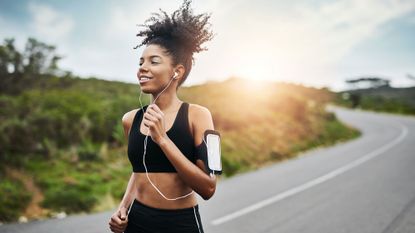 (Image credit: Getty Images)
The perfect running playlist can transform your mood and turn the run itself into something energising and memorable. Coupled with the best workout earbuds, it's a tried-and-tested way to raise your exercise game.
There have been numerous studies done on the effect music can have on running, and the results are overwhelmingly positive.
Professor Costas Karageorghis has conducted years of research into how music affects runners, and has written a book on the subject, Applying Music In Exercise And Sport.
His work has led him to identify five main benefits of listening to music while exercising.
Benefits of the perfect running playlist
It makes running feel easier
Professor Karageorghis says that listening to music while running reduces perceived exertion at low-to-moderate intensities. He even put a figure on it – it feels about 10% easier than it would without music.
"This was true at all intensities of running, from easy to hard," says Karageorghis. "We found that music can elevate your general emotional response."
It helps you synchronise your stride
"This is where the runner consciously synchronises their stride rate to the rhythmical qualities of the music," says Karageorghis. "Generally, this works best in the tempo range 150 to 180 beats per minute (bpm). I'd encourage runners to use lively music at half of that tempo range – around 75-90bpm. This is because in that range, you can take a whole stride cycle per beat and there's also less mental processing involved."
Professor Karageorghis's studies have shown that when you synchronise your stride rate to the rhythmical qualities of music it has a significant work-enhancing effect, and it can also help in spreading the workload evenly throughout your workout rather than you working too hard too early.
It makes you more energy efficient
Listening to music while running reduces some of the irregularities in people's gait, making them more energy-efficient.
"We've measured this using complex techniques, and the benefits in terms of your energy efficiency is in the region of 6-7%," says Karageorghis. "In the overall scheme of things for a runner, that is potentially very beneficial."
It can put you in the right mindset
"If you use a track such as Vangelis's Chariots of Fire, for example, it has such myriad extra-musical associations it can inspire, motivate, conjure running-related imagery and put recreational runners in the right frame of mind to then perform at a high level," says Karageorghis.
So it's clear that music can have a positive effect on your training session, but how do you go about compiling a killer playlist to listen to on your next run? Below, the Prof shares his science-backed advice.
Making the perfect running playlist
Professor Karageorghis says that the best thing to think about is your physiological profile while you're running.
"To begin with, the energy of the music should contour the energy of your running workout. When, during the run, will heart rate be relatively low? When will you reach the apex of your run? When will you warm down? Will you need any sort of music for the recuperation?"
You should also think about whether you're going to use the music asynchronously or synchronously. "Asynchronously is when it's playing in the background and there's no conscious effort from the runner to synchronise their stride rate with its rhythmical qualities," says Karageorghis.
"Synchronously is when there's a conscious effort to synchronise your stride rate with the rhythm of the music.
"Having a rough idea of how many strides you're taking per minute is a good starting point for marrying your stride rate with a given musical template."
One way to do this is to look at how your cadence varies on previous runs, then try to match the cadence with tracks with a similar bpm. Websites such as Song BPM can help you find out the bpm of certain tracks.
Additionally, the lyrical content of the music should provide relevant affirmations to make you feel positive and motivated. "It might be 'run to the beat', 'work your body', 'let's get physical', 'ain't no mountain high enough' – there are lots of affirmations that exist in songs."
Running tracks that never fail to inspire
Professor Karageorghis has found that certain songs consistently have a positive effect on runners.
"For warm-up, a track such as Running On Sunshine by Jesus Jackson is good. That has a tempo of 100bpm so is ideal for gradually elevating your heart rate.
For a low-intensity run, anything 120bpm or above will work well. "Running With The Night by Lionel Richie has a tempo of 120bpm, or Run, Baby, Run by Sheryl Crow – that has a tempo of 124bpm.
"As you get into a moderate intensity, there's Beyoncé's Run The World (Girls) at 127bpm, or Lenny Kravitz's Where Are We Running? at 130bpm.
"For high intensity, maybe the track Runnin' (Lose It All) by Naughty Boy featuring Beyoncé and Arrow Benjamin – it has a rip-roaring tempo of 140bpm. Or Springsteen's Born To Run, an energising classic at 148bpm, so it's no wonder it's popular among runners.
"Going up to very high intensity, Runaway by Bon Jovi has a tempo of 153bpm. And if you really want to let loose then how about Footloose? That's 174bpm.
"The problem is that just processing a tempo of 174bpm is tricky. So if you use rap or R&B at half those very high tempos, and you take a whole stride cycle on each beat, it can actually work very well. It's good to experiment to see what works best for you."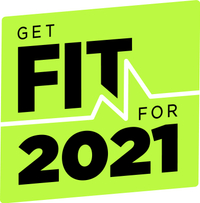 Get Fit for 2021 with Fit&Well
As the sun rises on a brand new year, Fit&Well is here to help put last year behind you and make 2021 your happiest, healthiest yet. Here at fitandwell.com, we'll be bringing you a wealth of workouts, diet plans and expert advice throughout January to help kick-start your health and fitness goals.
Get the Fit&Well Newsletter
Start your week with achievable workout ideas, health tips and wellbeing advice in your inbox.
Howard is a freelance health and fitness journalist and copywriter. He has written for publications including ShortList, Runner's World, Trail Running, Women's Running, Red Bulletin, Wareable and Cycling Weekly. He enjoys nothing more than lacing up his trail shoes and heading out to explore new trails. He's run ultramarathons everywhere from the French Alps and Canadian mountains to the Welsh coast and Peak District. When not running, he's usually found hitting his local MTB singletrack trails or on a quest to find the country's best cinnamon bun.