How to lose upper body fat: 5 moves to help you tone up
Been searching for how to lose upper body fat? We'll take you through everything you need to know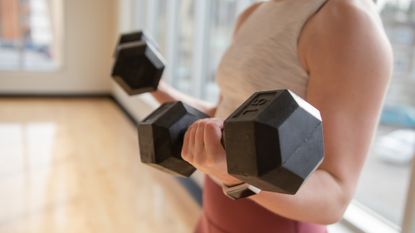 (Image credit: Getty Images)
If you've been wondering how to lose upper body fat, we can guide you through what to do. For many of us, upper body fat can affect our self-confidence, but there are things you can do to help. Though you can't target fat loss to one area, developing muscle in your upper body can help create a tight and toned appearance.
While working out with the best adjustable dumbbells and best resistance bands will help sculpt your arms, the key is to lower your overall body fat percentage to see the gains results. Combined with a nutrient-dense diet and regular exercise on the best exercise machines to lose weight, the activities below are a great start to getting the results you desire.
The key is to aim for lower weights and higher repetitions if you're looking to tone your arms. But you can also include cardiovascular exercise like brisk walking or high-intensity training to help decrease fat around the muscles.
How to lose upper body fat: what you need to know
To reduce upper body fat and improve your health, you'll need to take a broad approach, thinking about your overall fitness and health instead of specifically targeting one area. The U.S. Department of Health and Human Services recommends that adults do at least 150 minutes per week of moderate-intensity exercise and strength training.
This can help kick-start upper body fat burning, especially if you aim to exercise at least two days per week. To increase the fat-burning potential, it's essential to focus on nutrition as well. The Office of Disease Prevention and Health Promotion recommends eating a variety of proteins, such as lean meats and seafood.
You should also strive to eat whole fruits, vegetables, whole grains, low-fat dairy, and healthy oils. Try to consume less than 10% of your daily calories from added sugars. Adhering to a diet that's heavy in whole foods like these and regularly working out is the key for learning how to lose upper body fat and reduce your overall body fat percentage.
Can you target upper body fat with workouts?
According to the American Council on Exercise (ACE), spot reduction—the idea that you can lose body fat from a specific part of your body—is a myth. Instead, to lose fat in any particular area, you need to reduce your overall body fat. You can do that by combining a reduced-calorie diet, interval cardio workouts, and strength training.
High-intensity interval training (HIIT) has been shown to have real fat-burning results. One study compared the calories burned during 30 minutes of HIIT, weight training, running, and biking. The researchers found that HIIT burned 25–30% more calories than the other forms of exercise.
While it may not cause fat loss in your arms specifically, strength training can help increase overall fat loss. One 12-week study in women with Type 2 diabetes showed that low-intensity resistance training promoted total fat loss and increased muscle mass and strength. Another paper observed resistance training alone or combined with aerobic exercise was more effective at increasing lean body mass than cardio exercise alone.
How to lose upper body fat: workout ideas
ACE-certified personal trainer David Squires suggests doing an arm workout that uses specific upper body muscles to the point of fatigue. He believes the key is to choose an efficient session like an AMRAP workout, where you aim for as many rounds as possible in the time
AMRAP is an ideal technique for beginners, as it allows you to train at your own pace, but it also makes it easy to track your progress over time. Just be sure to include a warmup and cool down as part of your program.
Squires says, "Do 10 reps of each exercise with 30 seconds of rest between. Once you're done, go back and start the circuit again. Your goal is to complete as many rounds as you can within 10 minutes."
Bicep curl and shoulder press
Start with a five or 10-pound dumbbell in each hand, with your arms hanging at your sides and palms facing away from your body.
Keep your elbows close to your body and use the biceps to bring the dumbbells to shoulder height.
Swing your arms out, so the palms are now facing forward, with the elbows at a 90-degree angle and the dumbbells next to your ears.
Raise both hands straight up above your head, and then lower back down to starting position to complete one rep.
Lateral boxes
Hold a dumbbell in each hand by your side, palms facing in.
Stand with the feet hip-width apart, drop the shoulders down and back, and raise the arms straight out to the side.
Once at shoulder height, keep the palms facing down and bring the hands toward one another to meet in the middle, in front of your body.
Lower them down, so the arms are resting against the front of your body.
Raise them straight back up to shoulder height, back out to your sides, and finally down to the starting spot to complete one rep.
Push up
Assume a plank position, with your toes on the floor, feet shoulder-width apart, and hands a little wider than the shoulders.
Brace your core, activate the quad muscles, and slowly lower the body until the elbows are at a 90-degree angle.
Push the entire body up to complete one rep.
Tricep swing backs
Grab a set of five- or eight-pound dumbbells.
Hinge at the hips so that the chest faces the floor and keep your back flat.
Let the arms hang below your body and slowly raise them behind your back.
Slowly lower them back down to the starting position to complete one rep.
Tricep dips
Sit on a bench and place the hands close to your sides, fingers facing forward.
Kick the feet in front of you, so you're resting on your heels, and move your hips off the edge, keeping your wrists directly below your shoulders.
Slowly lower your body down, making sure the elbows shoot straight back behind the body, not out to the sides.
Raise back up and squeeze your triceps at the top to complete one rep.
Get the Fit&Well Newsletter
Start your week with achievable workout ideas, health tips and wellbeing advice in your inbox.
Catherine is a freelance journalist writing across titles such as Verywell Health, Healthline, The Daily Telegraph, Refinery29, Elle, and Vogue. She specializes in content covering health, fitness, wellness, and culture.
A once reluctant runner, Catherine has competed in 30 running events in the past five years and looks forward to one day running the London Marathon.