How to tone inner thighs: Get slim, toned legs with our tips
Want to work your legs? We look at how to tone your inner thighs for less fat and more muscle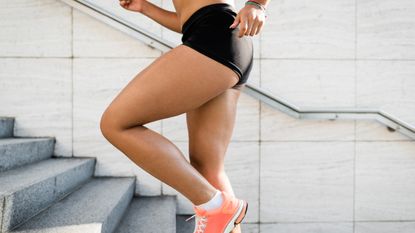 (Image credit: Getty Images)
You may be wondering how to tone inner thighs to help stabilise the rest of the body. Previously, you might not have given your thighs much thought, but the top part of your legs are a vital part of your body - allowing you to bend down, rotate and carry the weight of the rest of your body.
Of course, specific exercises such as sumo squats or side lunges are a great way to tone your inner thighs. However, a well-rounded workout routine, as well as a healthy diet, will help you shed fat and tone muscle. It'll also provide a stable frame for other exercises, such as running on one of the best treadmills or cycling on one of the best exercise bikes.
Also known as the adductors, Rachael Penrose, personal trainer at F45 Training, tells Fit&Well that this group of five stabiliser muscles are incredibly important for 'body alignment and posture by keeping your hips, knees, core, low back and thighs stabilised'.
How to tone your inner thighs: What you need to know
If you love to workout, toning your thighs has many benefits, as well as gaining muscles it's the basis of your stabilization for the rest of your body, with Penrose warning: "It's important not to neglect the adductors as they provide a vital role in alignment and stabilisation of your body.
"They also attach on the inside of your thigh bone and move your legs together – without the strength of your adductors, this movement would not be possible."
Toning one part of your body is tough – if you're just doing inner thigh exercises and not seeing any improvement, try and mix it up with cardio, resistance work and even brisk walking.
"Any movement that engages your muscles will tone and strengthen them," explains Penrose, "Whether it's cardio, strength, Pilates or dance, at some point throughout your movement you'll engage all the muscles around your femur (thigh bone) – helping to tone and strengthen them."
Don't forget about your diet if you want to tone your thighs. Most people think of diets purely in a weight loss capacity, but to gain muscle in addition to losing weight you need to be in a calorie deficit and have a diet rich in lean protein, whole grains and vegetables. You can also add the best protein powder for weight loss to that list. Protein is particularly important if you want to increase your metabolism - which helps to burn fat and improve muscle mass.
However, if you're trying to tone your inner thighs purely to achieve a 'thigh gap', a trend on social media where you have a gap in between your thighs, Penrose warns that it could be dangerous.
"The talk of thigh gaps can be extremely detrimental to us in more ways than one. Genetics play a huge role in the formation of a thigh gap as it comes down to your hip width and bone structure, which no amount of diet or exercise will change."
How to tone your inner thighs: Five exercises to try
Penrose reveals that when performing any of these moves, reps and set times depend on the individual. "If you are a beginner, try the exercises with bodyweight first, before adding the extra strain of weights. If you are unsure of what repetitions or weights to use, I would advise speaking to an accredited personal trainer for advice."
1. Lateral lunges
"Lateral lunges can improve stability and a sideways lateral lunge can help to strengthen your adductors as well as multiple other muscles," says Penrose.
Method
To lateral lunge take a big step to the side, bending into the supporting leg.
Repeat on the other side.
2. Single-leg deadlift
"Both these moves are quite advance, more so than a single leg deadlift, but both work wonders when strengthening your adductors," says Penrose, "The stabilisation needed to perform these moves will get your legs burning.
Method
Stand on one leg with the second leg either slightly behind or lifted off the floor.
Hinge your body forward to feel a stretch up the back of your hamstring, then straighten up to a standing position.
3. Hip thrust with Pilates ball
"Adding a Pilates ball between your legs for a hip thrust increases the engagement needed of you adductors," explains Penrose.
Method
Place your feet on the ground hip width apart with the Pilates ball between your knees.
Squeeze the ball to activate your adductors as you press your hips off the ground, then roll down through the spine to bring yourself back on the floor.
4. Sumo squat/sumo deadlift
Explaining how effective these moves are, Penrose says: "Both these moves, when performed in a sumo stance, fires up your inner thighs like nothing else."
Method
Feet start wide and slightly turned out, for a squat you bend your knees, keeping your chest up and making sure your knees stay pressed out and tracking over your middle toes.
For a sumo deadlift, the beginning stance is the same, but instead of a full squat you put a slight bend in your knees as you hinge forward like a normal deadlift, keeping your back flat, before engaging the glutes to come back to an upright position.
5. Side laying leg lift
For the Pilates lovers, this move you may be familiar with. Using body weight, this directly targets your adductors.
Method
Lay yourself on the side, top leg bent and planted in front of you. The underneath leg will be your working leg.
The working leg lifts towards the sky, holding a slight pause, before releasing back down to the ground.
Get the Fit&Well Newsletter
Start your week with achievable workout ideas, health tips and wellbeing advice in your inbox.
Sarah is a freelance journalist who writes about fitness and wellbeing for the BBC, Woman&Home and Tech Radar. During lockdown she found her love of running outside again and now attempts to run around 50 miles a month. When it comes to other fitness, she loves a sweaty cardio session – although since she's been working out from home she's sure her downstairs neighbors aren't too happy about it. She also loves to challenge herself - and has signed up to do hiking holidays, intense bootcamps and last year she went on her dream activity holiday: paddle boarding around deserted islands in Croatia. On her rest days, she loves to recover with a simple yoga flow session – the perfect antidote to her active fitness schedule.