I tried a six-move abs routine from Chris Hemsworth's trainers, and it helped me get the most from my core workout
This short bodyweight core workout put my endurance to the test, but it was an incredibly effective way to build strength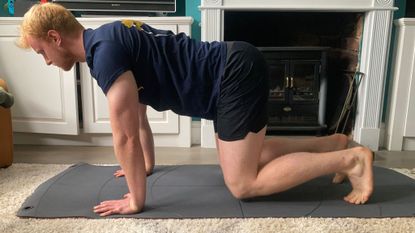 (Image credit: Future / Harry Bullmore)
Get the Fit&Well Newsletter
Start your week with achievable workout ideas, health tips and wellbeing advice in your inbox.
Thank you for signing up to Fit And Well. You will receive a verification email shortly.
There was a problem. Please refresh the page and try again.
I'm often guilty of going through the motions during dedicated core workouts. Sure, I know they're important, but they tend to fall at the end of my strength training sessions when I feel more ready for bed than a few extra sets of sit-ups or similar.
To break out of this core training funk, I threw on some workout gear, unrolled my yoga mat and enlisted the help of the experts; namely, Chris Hemsworth's team of top trainers from his fitness app, Centr.
They shared a routine containing six of their favorite core strengthening exercises to get me started. I put the moves together as a high-intensity circuit and got to work, and I was surprised just how effective it was.
How to do Centr's six-move core workout
The six exercises in this workout are the static bear walkout, tiger curl, frog plank, supine v-up, criss cross, and rope pulls. If any of these moves are new to you, watch the videos below for demonstrations from the Centr trainers of how to perform them with proper form.
To string them together into a routine, perform the six exercises in turn for 45 seconds each, with 15 seconds of rest between them. You can do this for one round, which will take six minutes, or repeat the sequence for two or three rounds.
It's also vital that you do each move with proper form to get the most from your training and avoid arching your lower back. Fortunately, we spoke one of Centr's coaches, Ingrid Clay, who suggested three core workout tips to boost your performance.
How did I find this six-move core workout?
Centr's trainers set out to pick six exercises that "look easy but are actually fire", and they delivered on this brief. I started with the static bear walkout, which looks disarmingly simple. But the secret to this dynamic move's difficulty is what's not moving.
My core had to work overtime to keep my spine straight and maintain my balance. After just 30 seconds my midsection muscles felt the same aching sensation that a minute or more of a standard plank usually brings.
I gritted my teeth and completed the final 15 seconds, dropping my knees as soon as the clock hit 45.
Next came the tiger curls. This was a new one for me, although I was familiar with the downward dog-esque foundation from past yoga session (start with these yoga exercises for building strength if you want to work up to this move).
The trainer made them look effortless, but I again found my stability put to the test, as well as the strength and mobility of my shoulders—although I quite enjoyed the stretch it offered.
The frog plank was equally tricky, providing a dynamic twist to the usual static forearm plank which many (myself included) can find a bit boring.
Next up were the supine v-ups. As you might expect, I felt these in my rectus abdominis (the muscles on the front of the stomach responsible for the six-pack shape), but that wasn't all.
I also felt muscles found deeper in my core being put to task, like the transverse abdominis which wraps around the abdomen like a corset. This plays a pivotal role in stabilizing your spine, and can take stress away from your lower back to prevent pain in this injury-plagued area, so strengthening it is definitely worth your time.
To finish, I worked my way through the criss crosses and rope pulls. These provided enjoyable alternatives to bicycle crunches and sit-ups, forcing me to slow down and focus more on nailing my form.
This way, I didn't get the chance to go through the motions, and because my muscles spent more time under tension the moves actually felt more difficult.
Would I do this workout again?
I would do this workout again. The moves were fun and a refreshing change from the usual customers that clutter up core workouts (looking at you, crunches). However, my biggest takeaways from this routine was the tips from Clay.
By focusing on my form (maintaining a good spine and head position throughout) and working to my own capabilities, I wasn't given the chance to complete a lacklustre workout on autopilot.
Instead, I was switched on throughout and felt like I had worked each and every core muscle come the end of the session. I even through in a few supermans at the end for good measure.
If you enjoyed this short routine from Hemworth's experts, it might be worth joining up to Centr. As we found in our Centr review, it was easy to find routines for all levels, there's a handy meal planner, and you can even train your mind with meditation sessions led by Hemsworth himself.
Get the Fit&Well Newsletter
Start your week with achievable workout ideas, health tips and wellbeing advice in your inbox.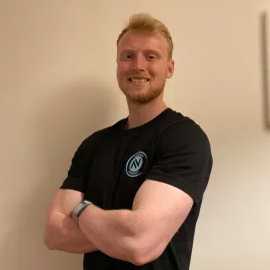 Harry Bullmore is a Fitness Writer for Fit&Well and its sister site Coach, covering accessible home workouts, strength training session, and yoga routines. He joined the team from Hearst, where he reviewed products for Men's Health, Women's Health, and Runner's World. He is passionate about the physical and mental benefits of exercise, and splits his time between weightlifting, CrossFit, and gymnastics, which he does to build strength, boost his wellbeing, and have fun.
Harry is a NCTJ-qualified journalist, and has written for Vice, Learning Disability Today, and The Argus, where he was a crime, politics, and sports reporter for several UK regional and national newspapers.