Jabra Elite 75t vs 85t: which workout earbuds are right for you?
We're comparing the Jabra Elite 75t vs 85t to help you decide which wireless earbuds are best for you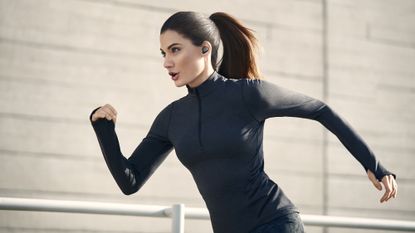 (Image credit: Jabra)
If you're looking for workout headphones, you've probably been putting the Jabra Elite 75t vs. 85t. The company made its name with high-quality office audio equipment and has applied the same user-focused design to its selection of wireless earphones.
Although you could pick up any of the best workout earbuds, to help you decide which headphones are right for your training, we'll consider the Jabra Elite 75t vs 85t based on price, design, and features, including in-ear fit and the companion smartphone app.
The Jabra Elite 75t, which also come in a durable Active edition, and Jabra Elite 85t are some of the most popular in the range, with impressive noise-cancellation and long battery life. Outwardly, both models look similar, but there are some key differences.
The 85t have six onboard microphones, up from four on the 75t, for improved noise cancellation and audio quality. However, the Elite 75t earbuds last longer and have better protection against water and dust.
Despite similar exteriors, there are benefits to each set, so it can be difficult to choose the right set for your needs. We'll help you out, and when you're ready to buy, our on-page tech automatically finds the best deals, so you don't have to go hunting for the lowest prices.
Jabra Elite 75t vs 85t: quick links
Jabra Elite 75t vs 85t: price

One of the most important considerations is the cost, as you'll be after an option to suit your budget. The Jabra Elite 75t and Elite 85t are mid-range sets of wireless earbuds and come with a price to match.
The Elite 85t are the newer of the two models. So, as you'd expect, they cost slightly more for the improved specs. Generally, the Jabra Elite 85t retail for $230 in the US and £220 in the UK.
Meanwhile, the Elite 75t were released in February 2020 (eight months before the 85t) but are significantly cheaper. You can pick up a set of the Jabra Elite 75t for $180/ £180.
Importantly, both models have been superseded by the Jabra Elite 7 Pro and Elite 7 Active earbuds. While the Elite 75t and Elite 85t aren't going anywhere, some retailers have started offering discounts.
Winner: Despite launching earlier, the Jabra Elite 75t come with similar specs for a more affordable price.
Jabra Elite 75t vs 85t: design & features

At a glance, the Elite 75t and Elite 85t look almost interchangeable. Most brands choose to release variations of the Apple AirPods, with small in-ear portions and vertical stems holding all the tech.
Jabra forges its own path with neatly designed, almost circular earbuds which tuck away inside your ear. This is to prevent them from falling out unexpectedly, a common problem with wireless earbuds.
There's an earpiece to direct the audio with replaceable eargels to help with the fit. Each set comes with three sizes (small, medium, and large) that you can switch as needed to make the earbuds snug.
The similarities extend beyond the physical design, making it even harder to compare the Jabra Elite 75t vs Elite 85t. Each has a two-year warranty, 10-meter range, and come housed in a charging case.
However, this is where they begin to diverge. The Elite 75t buds are lighter (5.5g vs. 6.9g), have longer battery life (7.5 hours vs. 7 hours), yet take less time to charge (140 minutes vs. 210 minutes).
It looks like the Elite 75t would have the edge, but there's a reason for the seemingly reduced performance of the Elite 85t. These earbuds come with six microphones, rather than the four found on the 75t.
The microphones play a crucial role in most of the earbud's features, including audio quality, noise cancellation, call clarity, and HearThrough, which allows you to hear what's going on around you.
With more microphones, the 85t make calls sound clearer and have improved Active Noise Cancellation (ANC) compared to the Elite 75t. The older buds didn't launch with ANC, but a software update added the feature.
Despite offering superior performance, there's one considerable drawback to the 85t; the IP rating. This is a measure of how water and dust-resistant the earbuds are, an essential factor for any set of workout earbuds.
The Jabra Elite 85t are IPX4-rated so that they can withstand light splashes, but the Elite 75t come with an IP55 rating for more sustained exposure to water and dust. This makes them more suited to intense exercise.
However, if you're after the most durable option, then you'll want to pick up a set of the Jabra Elite Active 75t earbuds. These are similar to the standard 75t but with an IP57 rating for even greater protection.
Winner: For audio performance, the Jabra Elite 85t come out on top. But for workouts, the 75t and Active 75t are your best bet.
Jabra Elite 75t vs Elite 85t: app connectivity

The free Jabra Sound+ app, available for iPhone and Android, lets you customize your audio experience. The app is compatible with most of the company's headphones, including the 75t and 85t.
The amount of personalization varies by model, but generally, the newer the earbud, the more tweaking you can do. This applies to the Elite 75t and 85t sets too.
The Sound+ app will automatically recognize your set and let you adjust the noise cancellation, create Moments (noise cancellation profiles), and change the on-bud controls.
You can also select your preferred voice assistant. Both models support Siri and Google Assistant, while the 85t also come with Amazon Alexa built-in.
There's a Find my Jabra feature, which records your earbuds' last known location if you misplace them. And if you like your audio a certain way, you can play around with the equalizer too.
Winner: It's a tie between the two sets unless you're a heavy Alexa user. If you're a fan of Amazon's assistant, then the 85t win here.
Jabra Elite 75t vs Elite 85t: user reviews

The Jabra Elite 75t came out in early 2020, with the 85t arriving several months later. After the company updated the 75t with ANC, we reviewed the workout-focused Jabra Elite Active 75t earbuds.
They are functionally very similar to the Elite 75t, but with improved protection against water and dust. After spending time with the earphones, they quickly became our favorite workout earbuds.
We're not alone either, as users rate the earbud highly, with many praising the noise cancellation performance and sound quality. It's a similar story with the 85t, with most approving of the in-app audio customization.
However, both lose marks for the design. Wireless earbuds need to stay secure in your ear so that you don't lose them, but also for the ANC and effective sound reproduction.
Despite such impressive tech specs, some people find that the earbuds fall out or don't fit snugly. As a result, the ANC doesn't work correctly, and background sounds interfere with your audio.
We now recommend the Jabra Elite 7 Active in their place, as they have an even better fit thanks to the new ShakeGrip design, but the Elite 75t and 85t remain excellent choices.
Winner: Another draw as users love both sets, but the fit can cause problems for some.
Jabra Elite 75t vs Elite 85t: verdict

Jabra's background in professional audio equipment sets them apart from the competition. The company's earbuds are consistently rated for sound quality and impressive noise cancellation.
That's also true of the Jabra Elite 75t and Elite 85t earbuds. There aren't huge technological differences with only months between them, but there are some key considerations.
The Elite 85t earbuds have the edge when it comes to sound quality, thanks to an increased number of on-bud microphones. But the differences can be hard to spot, particularly when you're exercising.
If you're on the lookout for a durable set of workout headphones, then the Elite 75t are your best bet. They last longer, have improved water resistance, and are more affordable too.
James is a London-based journalist and Fitness Editor at Fit&Well. He has over five years experience in fitness tech, including time spent as the Buyer's Guide Editor and Staff Writer at technology publication MakeUseOf. In 2014 he was diagnosed with a chronic health condition, which spurred his interest in health, fitness, and lifestyle management.
In the years since, he has become a devoted meditator, experimented with workout styles and exercises, and used various gadgets to monitor his health. In recent times, James has been absorbed by the intersection between mental health, fitness, sustainability, and environmentalism. When not concerning himself with health and technology, James can be found excitedly checking out each week's New Music Friday releases.