Jabra Elite Active 75t review: excellent earbuds for workouts and everyday use alike
Our Jabra Elite Active 75t review found that these earbuds are some of the best earphones out there for active types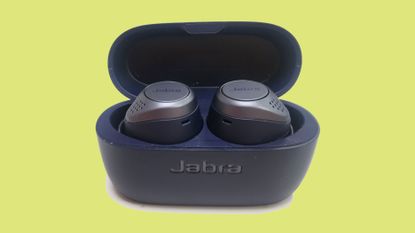 (Image credit: Lee Bell)
With a super comfortable and compact design alongside some great sound and the bonus of brilliant battery life and active noise-cancellation, the Jabra Elite Active 75t earbuds almost have it all. They lose a star simply because they lack the premium feel of some similar makes - but that doesn't detract from the fact that overall they're a quality pair of buds ideal for workouts and casual use alike.
Reasons to buy
+

Impressive audio with good bass

+

Neat and compact

+

Waterproof

+

Super comfortable

+

Good battery life
Reasons to avoid
-

Design could be more premium
When you come across a Jabra Elite Active 75t review, you notice that haven't only got one of the longest brand names in headphone history, but they're brimming with a lengthy features list to match. If the specs sheet alone is anything to go by, these buds promise to be the answer to any fitness fanatics' audio needs.
Take their updated IP57 rating, for instance, which ensures they're rugged and - more importantly - sweatproof. This makes these some of the best workout earbuds for runners, walkers or general gym goers prone to a bit of drippy-brow syndrome.
However, do the impressive specs translate well when it comes to real world experience? In my experience, the answer is yes. In this Jabra Elite Active 75t review, I'll reveal why.
Jabra Elite Active 75t review: PRICE AND FEATURES
The Jabra Elite Active 75t buds are available to buy from most major audio retailers with an RRP of $179.99/£179.99. However, a quick gorp online will reveal that they can be easily picked up on sites such as Amazon at an alluringly discounted price (check out the most up-to-date prices in your location with our handy shopping widget below). Whatever price you manage to grab them for, the retail packaging will include a set of the 75t earbuds, a charging case, a USB-C cable, and three sets of different sized silicon 'EarGels', which have been designed to suit just about every size of ear.
In terms of features, you can expect to find a completely wireless setup, active noise cancellation for blocking out those dreadful sounds around you, or your very own panting during a run, all wrapped up in a smart package boasting up to 24 hours of battery life.
Jabra Elite Active 75t review: DESIGN AND COMFORT
If you're familiar with Jabra's previous efforts in the sports-focused earphones domain, you'll likely be very aware how compact and sleek the 75t buds are in comparison. The brand's first ever true wireless buds that were aimed at active users, the Elite Sport, launched back in the summer of 2016 with a super bulky exterior and proved to be a bit of a pain in the lug when it came to prolonged use.
Thank goodness, then, that the Jabra Elite Active 75t earphones flaunt a much slimmer form that offers comfortability, even when compared to their predecessor, the 22% larger Elite Active 65t. This more compact design means they slip into the ears easily but manage to stay there without feeling uncomfortable, even after a long and arduous slog on the treadmill.
As we mentioned earlier, the biggest feature aside from a much-welcomed update to the aesthetic is the IP57 rating, which not only means the buds are sweat resistant, but can be submerged in up to a meter of water for 30 minutes. However, Jabra insists that this doesn't make them completely waterproof and thus recommends users don't wear them when jumping into swimming pools, for instance. We can't say we've tested this scenario, but we have worn them during a run or two in good old British weather, which is probably just as wet. Nevertheless, no problems to report from our side.
The only negative we have with design is that they don't quite look as premium as some of their top-spec rivals, such as Apple's AirPods Pro or Huawei's Freebuds Pro. This shouldn't bother you too much, though. Unless you're a design snob.
Jabra Elite Active 75t review: SOUND QUALITY
For a pair of earphones that promise it all, we were kind of expecting the Jabra Elite Active 75t buds to let us down somewhat for sound performance. That's often the case for audio devices that are brimming with features. But happily we were pleasantly surprised; these earbuds produce a really good sound quality, especially considering their size.
At the forefront here is the bass. Now, we've seen numerous reviews stating that the bass on the 75ts is a little overproduced, but we couldn't disagree more. In what can only have been done purposely in order to help inspire those individuals looking for some pumping tunes to help kick their asses into gear, the Elite Active 75t boast an excellently heavy yet warm bass, which we think complements any sweat-drenched workout perfectly.
What might have been the issue in other reviews is that volume does go up to a tremendously high level (something we personally like, as rarely you find wireless earphones have the ability to be loud when you need them to be) and some audio can distort ever so slightly when turned up on full whack. Nevertheless, the buds still do a great job of minimizing fuzzy bass tones so that the overall sound remains crisp.
Overall, the soundstage is also very well balanced. Most listeners will hear detailed and vibrant audio with a beautifully soothing deep bass underneath that doesn't overpower. While sound isn't perfect by any means, we definitely found it more than satisfactory for a set of buds in this price range.
Jabra Elite Active 75t review: PERFORMANCE
While true wireless earphones are great in theory if you're a very active person, they can sometimes be prone to connectivity issues. Thankfully, you won't find any of those problems here.
The time we have spent with the Jabra Elite Active 75t buds has been nothing but a pleasure - both music and calls have been stable with audio quality causing no concerns. The only issue we did have was experiencing a crackling sound in the left earbud when in range of a Bluetooth speaker. However, this only happened on one occasion and hasn't happened since with other connected devices. Still, worth mentioning.
A few months after launch, Jabra sent out an over-the-air update that added noise-cancellation functionality to the 75t buds. This feature makes use of the earphones' four inbuilt mics (two for each earbuds) alongside an inbuilt chip that work together to block out external sounds. This is definitely a welcome feature and while you can't adjust the level of noise-cancellation like you can on some other wireless 'phones out there (Bose's new QuietComfort EarBuds, for instance), you can toggle it off or on. The latter will reduce battery life by around two hours, though.
Jabra Elite Active 75t review: BATTERY LIFE
Speaking of battery life, the Jabra Elite Active 75t buds perform pretty well when it comes to playtime. We found that you get just over seven hours of use per charge when out of their charge case, which is only a little under the 7.5 hours quoted by Jabra and quite impressive when compared to what else you'll find on the market these days. Apple's AirPods Pro last for just 4.5 hours per charge, for instance.
The 75t earbuds also have quickcharge support, meaning you can bang them in their charge case for just 15 minutes and you'll be granted one hour of playtime in return. This is ideal if you just want to revive them quickly before dashing out for a run.
Jabra Elite Active 75t review: VERDICT
They might not exude the high-end gloss that the likes of Huawei's Freebuds Pro or Apple's AirPods Pro do, but the Jabra Elite Active 75t are certainly killing it when it comes to all-round features. With a comfortable and compact design married with great sound and the bonus of brilliant battery life, you cannot go far wrong with these earphones. Better still, they can be picked up for just shy of $150/£150 online right now - an absolute bargain, in my opinion.
ALSO CONSIDER
In the same price range are the Jaybird Vista earbuds, which offer a very similar experience but are more focused on super active users, being exceptionally lightweight and completely dirt and waterproof. They don't have noise-cancellation built in, however.
As the new and improved sibling to the 75t buds, the Jabra Elite 85t earphones tout more powerful noise-cancellation that can be tweaked to different levels alongside a superior sound. However, they aren't as sport-focused as the Elite Active 75t earbuds thanks to a less rugged IP-rating (hence the dropping of the Active moniker). They're also more expensive, priced at $229.99/£219.99.
Get the Fit&Well Newsletter
Start your week with achievable workout ideas, health tips and wellbeing advice in your inbox.
Lee Bell is a London-based journalist, copywriter, specializing in all things tech and lifestyle. He is also a qualified personal trainer. He started his journalism career a decade ago as a reporter covering the latest gadgets and innovations at tech tabloid The Inquirer. Lee went freelance in 2016 to broaden his expertise, moving into news, reviews and feature writing for a host of national print and online lifestyle titles such as GQ, Forbes, Esquire, Men's Health, Wired, The Metro, and The Mirror. He has an insatiable appetite for travel, Dharma yoga, and the odd outdoor challenge.