Tasty protein shake recipes from the world's top fitness studios
These leading names in world fitness know a thing or two about creating the best-tasting protein shake recipes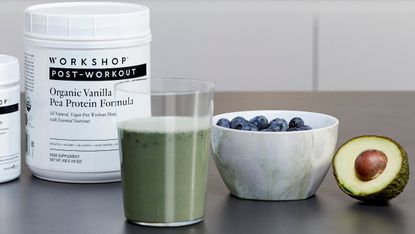 (Image credit: Workshop)
For many, finding the perfect protein shake recipe is the holy grail of the fitness world.
And, with many gyms and studios closed due to Covid-19, fitness enthusiasts around the world are missing their post-workout smoothie fix - forcing them to pick up one of the best protein powders for weight loss and recreate the magic at home.
Whether you favor an energy-boosting smoothie or protein recovery shake, both are a great way of refuelling your body with nutrients after a fitness session. With the right ingredients, your after-exercise drink can even aid muscle repair, increase fat burn, help build muscle, boost your energy and speed up your metabolism.
With this in mind, we asked five of the world's elite fitness studios to share their most popular protein shake recipes with us - and the results are as delicious as they are good for you.
Most of the recipes below list a specific brand of protein in the ingredients, however you could also use a substitute - check out our list of the best protein powder for women to find your new favorite.
Happy blending!
1. Workshop Gymnasium's Signature Workshop Shake
Born in upmarket London borough of Knightsbridge - and now with several worldwide locations (Shanghai, Bali and Milan to name just a few) - Workshop Gymnasium has its own bespoke range of science-backed protein supplements that are used in its famous smoothies and shakes. Filled with clean and effective ingredients, it's no wonder clients can't leave the studio without one of these famous post-workout shakes.
The Workshop Signature Shake always starts with protein, which is essential post-workout for muscle repair. Along with Essential Greens powder, which contains naturally derived Vitamin C to build collagen and boost immunity, the shake contains magnesium to improve metabolism and muscle function, antioxidants to fight inflammation and a gentle diuretic to flush out toxins.
INGREDIENTS & METHOD
Mix the ingredients in your blender and serve immediately.
2. Barry's Simply PB Shake
Barry's Bootcamp is one of the most successful high-intensity training workouts in the world, with studios in numerous locations across London, Europe and America.
Not only does Barry's boast a huge celebrity fanbase and five-star facilities, their studios also feature a Fuel Bar serving the tastiest protein shakes that the Fit&Well have sampled - and the Simply PB is a favorite.
Erika Tamayo, founder of Hermosa Protein, says: 'The Simply PB is one of the best-selling shakes at Barry's Bootcamp and we're not surprised. It's the perfect post-sweat treat. This shake is full of good fats (almond milk and peanut butter), Vitamin B6 (banana) and protein (courtesy of Hermosa). It really is the best refuel for your tired body, replacing lost nutrients from a sweaty session.'
INGREDIENTS & METHOD
8oz / 250ml unsweetened almond milk
1/4 cup / 30g Hermosa Protein
1 banana
1 tbsp peanut butter
1/2 cup ice
Put all the ingredients in a blender and mix until smooth.
3. Bodyism's Protein Excellence Shake
Boutique wellness space Bodyism offers a range of group classes, from Pilates and boxing to yoga, but with a modern twist. You can train virtually during lockdown, or at several global locations, including Notting Hill and the idyllic Saadiyat Island in the UAE.
Any Bodysim fan will know that the café is the place to go after a class, where their vanilla-flavored Protein Excellence Shake provides all the nutrients you need after an intense or moderate gym session to aid muscle growth.
Protein Excellence is an all-natural solution packed with branched-chain amino acids that's rich with pea and rice protein. It can help boost your metabolic rate and curb any sugar cravings. It's also gluten, dairy and soy-free while being vegan too.
INGREDIENTS & METHOD
16oz cashew milk
1 scoop Protein Excellence
½ banana
½ tsp cinnamon
1 tsp almond butter
½ cup of ice
Blend for 30 seconds and enjoy!
4. Body by Simone Chocoholic Protein Smoothie
BBS is where the A-listers go for a defined dancer's body, and stars such as Jennifer Aniston, Emily Blunt and Rosie Huntington-Whiteley have all graced the BBS studios to work out with founder Simone De La Rue.
Offering five types of classes at their LA and New York City studios plus virtual workouts via the app - which features a library of on-demand, live and personalised classes, not to mention nutritious recipes - you can get your BBS fix no matter where you are in the world.
If you have ever experienced a Body By Simone class, then you'll know the protein smoothies are just as addictive as the workouts themselves.
This BBS Chocoholic Protein Smoothie delivers a guilt-free chocolatey fix, with wholesome nutrients that'll help repair and heal muscles and joints after a workout.
INGREDIENTS & METHOD
4oz / 115ml unsweetened vanilla almond milk
4oz / 115ml water
1 scoop chocolate protein powder
1/2 frozen banana
1/4 avocado
1 tbsp cacao nibs
1 tsp honey
1 tbsp coconut oil
4 ice cubes
Blend together and serve immediately.
5. Equinox Purple Powder Shake
Equinox is one of the most upmarket gyms you'll ever step into, with five-star facilities, elite instructors, and a wide range of classes and facilities. Plus, each worldwide location has its own café where you can fill up on wholesome food and shakes.
According to Nicolò Sandrini, food & beverages manager at fitness food delivery service MunchFit: 'The most beloved shake to order at Equinox is the Purple Power. This is a great post-workout shake, rich in antioxidants, vitamin C, potassium, fibre and magnesium.
"Clients love it after a gruelling workout because it's good for muscle growth and helps to reduce inflammation. It is also really delicious.'
INGREDIENTS & METHOD
1 cup / 200ml coconut milk
1oz / 30g vanilla whey protein
1/3 cup / 50g banana
1/3 cup / 50g blueberries
1 scoop (10g) açai powder
1 scoop (10g) cashew butter
5 ice cubes
Place all ingredients in a blender, blend at the highest speed and then serve.
Get the Fit&Well Newsletter
Start your week with achievable workout ideas, health tips and wellbeing advice in your inbox.
Kirsty is an accomplished journalist specialising in the wellness industry. She has previously written for titles including Grazia, Popsugar, Metro.co.uk, Elle UK and the Sunday Telegraph. You'll find her running around Windsor Great Park at 6am most mornings (before her toddler, Clementine Lilac, wakes up), followed by a virtual barre class with the team at Psycle London – where that barre burn is just so addictive. Kirsty loves to stock up on new activewear; because, let's face it, you can never have too many pairs of sculpting leggings. She's always keen to try/endure the latest workouts to come to London. Kirsty also enjoys rustling up nutritious family meals and indulging in her newfound hobby: flower pressing.