Rowing machine vs ellipticals: which is better for weight loss?
It's rowing machine vs ellipticals here as we compare which workout equipment is best for you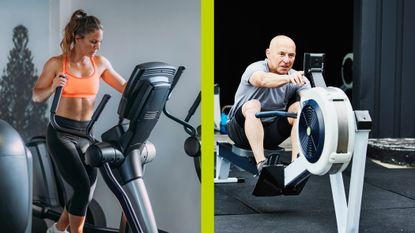 (Image credit: Getty Images)
Indoor cardio is the perfect way to lose weight if you are looking to up your heart rate and torch calories. Now the gyms are, at last, beginning to reopen, we have the option of jumping on some of our favorite exercise machines including the best elliptical machines and the best rowing machines.
Used as part of a regular exercise program, rowers and ellipticals can both help you strengthen your body and boost your metabolism, but which can offer more benefits within a short time frame?

With the help Omar Mansour, a coach at the workout app WithU, we examine both types of exercise and how they compare in terms of fat loss.
Rowing machine: Pros
There's plenty of rowing machine benefits, and it's a fantastic way to increase your overall fitness as it challenges your cardiovascular system and muscular endurance.
"It's also a total body workout and will work a wide range of muscles, including the upper back, biceps, quadriceps, abdominal muscles and obliques, calves and glutes," says Mansour. Rowing is also relatively low-impact, which means the rower is kinder on the joints and muscles.
"Rowing is a great calorie-burner, without putting added stress on your joints," says Mansour. "It allows you to control the movement and pace, and is a great exercise to turn to for active recovery."
When performed properly, and with the proper form, rowing is fantastic for improving your posture. It aids in strengthening the upper-back muscles, which are key to reducing stooping and hunching.
In terms of calories burned in an hour, a study published by Harvard Medical School found that participants burned up to 440 calories in a vigorous 30-minute session for someone weighing 84kg. That's significantly more than many other indoor-based cardio.
Rowing machine: Cons
A downside to rowing machines is that they require enough space for a full extension of the arms and legs, which means that they can be difficult to fit into a smaller space within a house or apartment. Some rowing machines fold upwards for additional storage, but when you're in session, those with a smaller space are at a disadvantage.
Proper rowing form can also begin to cause problems if you don't get it right while rowing regularly.
"To get the most out of a rowing machine, you need to perform proper rowing form," says Mansour. "Bad form on the rowing machine could cause injury down the line." You're putting a lot of strain on your back muscles, so our guide to rowing machine form is key when it comes to learning how to get the most out of the machine. Ellipticals, on the other hand, are a slightly safer option.
Elliptical Trainer: Pros
The elliptical machine or cross trainer allows you to get a good aerobic workout, which will help increase your cardiovascular endurance. Mansour says that the machine provides the option to perform steady-state cardio or higher-intensity intervals, making it a versatile piece of kit.
"Due to the low-impact design of the machine, it's a great option for those who are suffering from aching joints or are beginners to exercising. It's also ideal for someone who is coming back from an injury and wanting to build, or maintain, a certain level of fitness."
An elliptical machine with handles is one of the few cardio machines that can provide you with both a lower and upper-body workout, as your arms are involved in both pushing and pulling the handles while your legs rotate.
This means that you will burn more calories, as your entire body is in motion. The same Harvard study mentioned above found that an 84kg participant would burn 378 calories in a 30-minute elliptical session. Once you get the most out of your elliptical machine, you can burn fat and build muscle simultaneously with the resistance function.
Elliptical machine: Cons
"While the low-impact aspect of this machine can be a positive, it can also be a negative," says Mansour.
"You do need a level of impact in your daily life to keep your joints and bones strong. If you don't expose them to impact, then they will never adapt and get stronger."
However, for people simply looking to burn calories and fat, the elliptical trainer is an extremely useful machine, as the low-impact nature means muscle soreness will be low – meaning you may be able to do it again the next day.
Rowing Machine vs Elliptical Machine: The Final Say
Both machines will help you lose weight if you stick to a targeted training programme, and they are both especially useful if you are recovering from injury due to their low-impact nature and the fact that they work the entire body.
In terms of an overall workout, the rowing machine edges it as you use almost every muscle in your body during use. However, as Mansour says, you need to pay attention to your form to ensure you get the most out of your session and avoid injury over time. The rower does tend to put more emphasis on your biceps and upper back compared to the elliptical machine, which focuses more on the quads, hamstrings, calves and glutes.
The elliptical is ideal if you are prone to injury and are looking to keep impact on your joints to a minimum while still raising your heart rate and burning calories.
The key if you are looking to lose weight, whether you choose rowing machines or elliptical trainers, is to build regular HIIT workouts into your training. These are high-intensity session where you raise your heart rate by working harder and faster for a short period of time, before a short rest and repeating the interval.
Both machines are useful for high-intensity sessions due to the fact that they have many variables you can control, such as the amount of resistance. So you can push yourself to the limit whatever your level of fitness and burn a ton of fat in the process.
Get the Fit&Well Newsletter
Start your week with achievable workout ideas, health tips and wellbeing advice in your inbox.
Howard is a freelance health and fitness journalist and copywriter. He has written for publications including ShortList, Runner's World, Trail Running, Women's Running, Red Bulletin, Wareable and Cycling Weekly. He enjoys nothing more than lacing up his trail shoes and heading out to explore new trails. He's run ultramarathons everywhere from the French Alps and Canadian mountains to the Welsh coast and Peak District. When not running, he's usually found hitting his local MTB singletrack trails or on a quest to find the country's best cinnamon bun.