'How I cured my running anxiety attacks – and you can too'
Mid-run anxiety attacks threatened to knock our writer's fitness routine off-track, forcing her to take positive action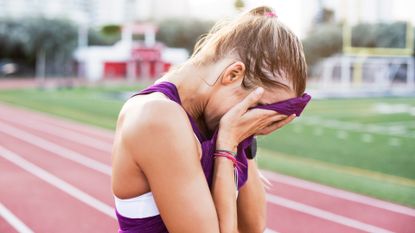 (Image credit: Getty Images)
The first time I experienced a running anxiety attack was two miles from the end of a half marathon. My throat closed up, my heart started to pound and I felt like I couldn't breathe. My mind was telling my body that I couldn't finish the run – despite having trained for it.
I've experienced running anxiety attacks on and off since then. Other symptoms have included shaking as I laced up my best running shoes, the panic that comes with struggling to breathe, and negative thought patterns; my mind simply decides that I'm incapable of running faster or completing a planned distance.
So, in a bid to cure my anxieties around running I started to look at what it actually was and ways to cure it.
"Running can be an excellent way to get fresh air, increase endurance and get those happy hormones flowing through your body", says FLY LDN (opens in new tab) instructor Antonia Callisto. "However, it can also induce anxiety and panic attacks, especially for those who are prone to these symptoms.
"The physical sensations [of running anxiety attacks] are very similar to having an anxiety attack or feeling anxious in general. Running can flood your nervous system into overdrive due to an influx of cortisol and adrenaline."
After trying out a few possible cures I realised the best way to relieve my anxieties was not only changing my exercise routine, but also slowing down and appreciating how far I could push my body. Here's how I cured my running anxieties, when I was running outside and doing HIIT treadmill classes, and how you can too.
Yoga
My normal routine used to be rushing from work and straight into a high-intensity fitness class, and then I would bully myself into long runs on the weekends. But it meant I was constantly picking up injuries and collapsing into bed, exhausted and still high on the adrenalin. As a result, my body craved rest – which bubbled to the surface as anxieties.
Antonia therefore emphasises the importance of taking rest days from high intensity exercise. "Having an awareness of your limitations and knowing when to stop is crucial for reducing fitness-induced anxiety," she says. "Being mindful of when you are doing too much and when your body is exhausted and in need of a rest is key."
Yoga is a tried-and-tested practice when it comes to stretching the body and relaxing the mind, so I built this into my weekly routine. I explored different types of yoga and settled on vinyasa flow, which was slow enough so I wasn't pushing my body too much on rest days between running, but challenging enough to get my heart rate up.
After a few months, I realised that rolling out my best yoga mat a couple of times a week and doing some vinyasa flow made me appreciate my body and what it could do.
Mindfulness
I'd dabbled with mindfulness previously but it had never quite stuck. But keen to create a new habit I downloaded Headspace, one of the most popular mindfulness apps on the market that shows you how to meditate in easy steps.
The first few days were tough; I couldn't seem to stop my mind from wandering. But the more I committed to the 10-minute sessions, the more my mind started to adapt.
If you've never meditated or taken part in mindfulness before, Antonia says the benefits are worthwhile: "Closing your eyes and focusing on your breath is a great way to keep your mind focused on what is going on with your body.
"By taking slow and deep gentle breaths, you are naturally calming your nervous system and reducing any anxiety that you may have built up around your exercise or running."
Using mindfulness in my running helped me beyond what I thought was possible. Every time I had a negative thought while I was running, I cleared my mind and calmed my body by breathing into it. This helped me address any anxieties I was experiencing on the run and reassure my mind that I knew what was best for my body.
Breathwork
I knew my bad breathing habits - namely breathing in and out through my mouth - were a key aggressor when it came to my running anxieties, and likely compounding my anxiety.
"Naturally, your heart rate will increase when you exert yourself and you'll want to breathe a lot faster," says Antonia. "But trying to reduce panting and taking even breaths in and out through your nose will help you feel more relaxed whilst running."
She adds: "Being mindful and using controlled breathwork whilst running will take your mind out of panic mode."
I knew it was something I had to work on, but it was hard to break the habit as it felt uncomfortable to change my breathing when I ran.
However, the more I practised healthier breathing patterns the more I stopped panicking – especially on longer runs and when I did interval training. After a while it came naturally to me and it wasn't something I actively had to focus on anymore.
Visualization
Nerves started to creep up on me again a few weeks ago as I planned a nine-mile run. It was one of the longest distances I'd run in a while and my body started to react to the doubts in my head - I was physically shaking as I tied up my shoe laces.
However, I'd recently read The Source (opens in new tab), a book about how positivity and visualisation can be a key to achieving your goals. It was a sunny day so I visualised myself running along the river, looking up at the blue sky and taking in my surroundings.
I pushed the negative voices away and instead replaced them with positive affirmations and reminders about why I'd set myself the challenge. And it worked! As I approached mile nine a smile crept over my face – and my anxieties didn't appear once.
Sarah is a freelance journalist who writes about fitness and wellbeing for the BBC, Woman&Home and Tech Radar. During lockdown she found her love of running outside again and now attempts to run around 50 miles a month. When it comes to other fitness, she loves a sweaty cardio session – although since she's been working out from home she's sure her downstairs neighbors aren't too happy about it. She also loves to challenge herself - and has signed up to do hiking holidays, intense bootcamps and last year she went on her dream activity holiday: paddle boarding around deserted islands in Croatia. On her rest days, she loves to recover with a simple yoga flow session – the perfect antidote to her active fitness schedule.