Running when pregnant: 8 essential things this PT wants you to know
Expert guidance and advice if you plan on running during pregnancy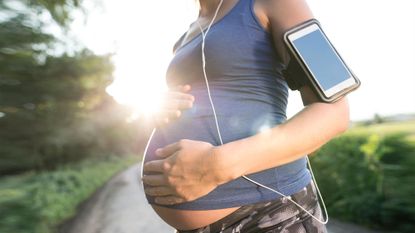 (Image credit: Getty Images)
With the recent rise in lockdown pregnancies and so many gyms being closed due to Covid-19, many expectant mums have taken up running outdoors to get their exercise fix in.
But with so many rules and differing opinions on whether you can continue running when pregnant, it's important to ensure you feel informed and confident in your running regime before pulling on your best running shoes and heading out.
If you were a regular runner before becoming pregnant and in a low risk pregnancy, then fear not: it is still safe to carry on pounding the pavement. Though you might not be running marathons or going trail running, if you keep to a steady running pace that's comfortable and allows you to hold a conversation without getting too out of breath then you're likely to be fine to carry on as normal. Our advice would always be to check with your doctor or midwife first.
Sarah Robinson, a master trainer at Barry's Bootcamp, teaches a number of pregnant clients on a daily basis. At the time of writing, she was also eight months pregnant and still running on a regular basis. 'There are incredible benefits to keeping up your training while being pregnant,' she says. 'It can hugely improve your mood, help with fatigue and back pain, and lower the risk of gestational diabetes and preeclampsia.'
There are, however, a number for factors to think about or consider. Read on to discover our top tips on safe running while pregnant.

1. Invest in proper running trainers to avoid ankle injuries
When pregnant, your balance can be all over the place thanks to your center of gravity shifting, so investing in a proper pair of running shoes is essential. Look out for a pair that offers support around the ankles in particular.
'Your pregnancy running shoes are really important because the body releases the hormone relaxin, which stretches your muscles and ligaments making you prone to injury or strains,' Sarah explains.
2. Always stick to the 'talk test' when running
'The best way to monitor exertion is the talk test,' says Sarah. 'If you can still hold a conversation, then you are not overexerting yourself. Moderate intensity would be enough to raise the heart rate and work up a sweat and still talk normally.'
Previous methods focused on heart rate monitoring, with pregnant women advised to keep their heart rate below 140 BPM. However, this is no longer thought to be the best indicator of whether you are overdoing it whilst running during pregnancy.
Sarah explains: 'In 1994 the American Congress of Obstetricians and Gynaecologists removed the recommendation that we should keep our heart rates below 140 BPM, because it was found that monitoring it was unreliable due to the physiological changes that happen in a mother's body.
That said, if you're interested in tracking your heart rate, along with recording your times and other relevant info, then consider investing in one of the best running watches.
3. Don't take up running if you weren't a regular runner prior to becoming pregnant
'If you never exercised before pregnancy, now isn't the time to start something new or think about running a marathon,' Sarah explains.
'However, don't be disheartened. There are a lot of things you can still do like walking, pregnancy yoga and swimming.'
4. Treadmill vs running outdoors
The debate about which is the safest running option continues, with many expectant mums are divided in the method that they prefer. Sarah reveals her preference: 'In my opinion, I think it is best on a treadmill as it's one flat surface. Running outdoors can sometimes mean slippery surfaces, which will put you more at risk of slipping or injuring yourself, especially as your center of gravity changes.'
With many gyms currently closed due to Covid-19, check out our pick of the best treadmills to run in the comfort of your own home.
If you do choose to run outdoors, be prepared for uneven surfaces and unpredictable weather conditions. Obstacles such as leaves, frost, rain and tree roots do not mix well with runners at the best of times, and when pregnant you should be even more cautious.
5. Should you avoid sprinting?
Sarah likes to do what she calls a 'pregnancy sprint', which she describes as 'just under my usual strong run'.
'I recommend only ever holding this for a maximum of 30 seconds and walking after. It should feel a lot lower in intensity than a usual sprint' she explains.
She continues: 'I am a huge believer in listening to my body. If I'm in pain, I stop. Always go back to the talk test, if you can hold a comfortable conversation then you know you're within your aerobic threshold.'
6. Can you run up until your third trimester?
Following the guidelines stated above, if you are cleared by your doctor or midwife and were a regular runner before then yes, you can.
Sarah says: 'I am 34 weeks and I'm still going because it feels good for me. I am getting slower and I am wearing a support belt, but I love it. Walking is just as good for some nice fresh air…unless it's raining, of course!'
7. How much running is OK when pregnant?
The current recommendation is 150 minutes of moderate intensity workouts every week. Sarah recommends splitting that into 30-minute sessions, whether running or other exercises, or adding in a 60-minute brisk walk.
'There are loads of great pregnancy workouts out there,' she says. 'I offer specialised one-to-one personal training sessions for mums using light weights, but you also have Pilates, yoga and barre. Just be sure you always check in with the trainer to modify any class for pregnancy.'
8. Prep for your run in advance
When pregnant, you may start sweating earlier on in your run than usual so be sure to take some water with you. Due to increased pressure on the bladder, you may also need to ensure there's a toilet stop on your run route. Finally, it's always advisable to eat some easily digestible carbs before running, but give yourself plenty of time to digest these, as digestion slows down in pregnancy.
Get the Fit&Well Newsletter
Start your week with achievable workout ideas, health tips and wellbeing advice in your inbox.
Kirsty is an accomplished journalist specialising in the wellness industry. She has previously written for titles including Grazia, Popsugar, Metro.co.uk, Elle UK and the Sunday Telegraph. You'll find her running around Windsor Great Park at 6am most mornings (before her toddler, Clementine Lilac, wakes up), followed by a virtual barre class with the team at Psycle London – where that barre burn is just so addictive. Kirsty loves to stock up on new activewear; because, let's face it, you can never have too many pairs of sculpting leggings. She's always keen to try/endure the latest workouts to come to London. Kirsty also enjoys rustling up nutritious family meals and indulging in her newfound hobby: flower pressing.