'How fitness audio apps made me a better runner'
Listening to audio apps whilst running is like having a personal trainer in your pocket, says our writer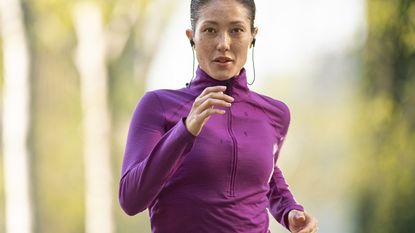 (Image credit: Peloton)
"Concentrate on your form," the voice in my ear instructs me. "Shoulders down, eyes straight in front of you and make sure those arms are swinging back and forth." I take note, adjusting my body as I run.
I've been a runner for years, but never really taken much consideration to how I run - pace, form or the motivation around me. But when we first went into lockdown, I found that running became a struggle. I went from being able to run half marathons to barely running a 5K without feeling like I was about to pass out.
So, when I discovered that some of the best fitness apps, such as Peloton and Beach Body on Demand, have audio running sessions, I signed up to see if they would help.
As I popped on my set of the best workout earbuds and pressed play, I instantly knew they were the motivation I needed. It felt like I was running with a PT next to me, encouraging me to change pace, address my form and keep running through the harder sections.
Below I share what I learnt about my running by tuning in to my favorite instructors on the fitness apps. Next time you go to lace-up your best running shoes, why not give one a try?
My pacing was awful
I'd never given much thought about my pace, or pacing myself for longer runs – I'd always just run as fast as I could and hoped for the best. But the instructors actively encouraged me to start every run in a jog.
To begin with it felt too slow and as though I wasn't pushing myself, but it's a great warm up for the faster runs or intervals they put you through later. After a few weeks of training, it gave me the confidence to push myself when it came to intervals and even sprints.
BeachBody On Demand's Idalis Velazquez says this is one of the reasons she created her new running program, the 30-Day Breakaway – to turn, 'non-runners into runners and experienced runners into stronger and faster runners.'
"Everything that I say during the guided runs is inspired by my own experiences as an elite athlete and the process of regaining my health and fitness after several serious health setbacks.
"There was a time when I didn't enjoy running longer distances—I specialized in sprints and field events when I was a track athlete, so I know how hard it can be to stay motivated."
I needed regular reminders to correct my form
Without a PT analysing your every move as you stride, you're bound to slip into bad habits, and that's just what had happened to my form. I would run with my shoulders squeezed up to my ears and my head scanning the floor, as though I was about to discover the meaning of life written on the pavement.
Even though it wasn't personal form recommendations the instructor's adjustments were the reminders I needed to pick my gaze up, relax my shoulders and breathe in through my nose, instead of my mouth.
The more the instructors corrected me the more I started to change my form naturally – meaning less aches and pains the next day and even shorter running times.
I needed a cheerleader
Most of us, whether we are seasoned runners or we're just starting out, have a voice in our head telling us 'not to bother going for a run today' - but every time I ignored that voice and pressed play on one of the running audio tracks the motivational voices made me realize I'd made the right choice.
One of my favorite instructors on the Peloton app, Becs Gentry, explains why the motivational coaching is so popular: "A virtual coach is a great way of always having someone on hand to hold you accountable for a workout - knowing that no matter your mood, you can pick an outdoor run and, alongside having fun with the instructor you choose, you will also grow as a runner."
On the days that I struggled with my running and kept hitting mental blocks I relied on the instructor's cheerful tones and positive words to get me through.
"Positive affirmations are essential to help build the confidence and mental strength you need to push to a new level - especially for those who think they can't do it," adds Idalis.
"I know exactly how negative the mind can be, and how easy it is to quit or give up when something feels hard. I wanted to be a coach who not only pushes you hard to achieve your goals, but is also your biggest cheerleader."
Music was key for motivation too
For me, music has always been an important part of my running – the right tune can inspire me when I hit a wall. When I logged on the Peloton app, I found myself choosing programs based on my favorite music, or tunes I knew would motivate me as I ran.
Brunel university lecturer Dr Costas Karageorghis, author of Inside Sport Psychology, claims that our performance can be boosted by up to 15 per cent when we listen to our favorite music while running, and Peloton and BeachBody on Demand both see music as an integral part of their audio tracks.
Becs, who regularly curates 90s and rock music based runs on the Peloton app, says: "I know music is a huge motivator for people, so keeping the beat up and rhythm rolling is super important."
Idalis adds: "The music in 30 Day Breakaway is an essential part of the workouts, because it helps drive the pace and intensity, not to mention fight boredom and increase exercise enjoyment."
Get the Fit&Well Newsletter
Start your week with achievable workout ideas, health tips and wellbeing advice in your inbox.
Sarah is a freelance journalist who writes about fitness and wellbeing for the BBC, Woman&Home and Tech Radar. During lockdown she found her love of running outside again and now attempts to run around 50 miles a month. When it comes to other fitness, she loves a sweaty cardio session – although since she's been working out from home she's sure her downstairs neighbors aren't too happy about it. She also loves to challenge herself - and has signed up to do hiking holidays, intense bootcamps and last year she went on her dream activity holiday: paddle boarding around deserted islands in Croatia. On her rest days, she loves to recover with a simple yoga flow session – the perfect antidote to her active fitness schedule.