Seven expert-approved SMART fitness goal examples for 2023
We asked personal trainers for some SMART fitness goal examples – here are their top recommendations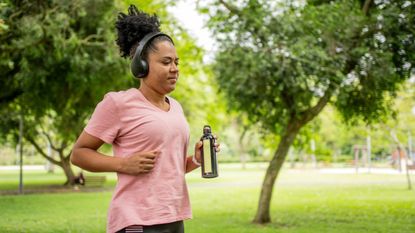 (Image credit: Getty)
The new year is almost upon us and with it, all our thoughts are turning to good intentions and resolutions. If the idea of an ultramarathon feels a bit beyond you right now, you might want to try these beginner-friendly ideas.
We asked four personal trainers for their favorite SMART fitness goal examples and they've come up with the goods. None of these require any specialist equipment – all you need is a little bit of time and determination.
But what exactly is a SMART goal? The acronym stands for: specific, measurable, attainable, relevant, time-bound.
According to personal trainer Katelyn Prominski Baud: "The more specific you can be about your fitness goals, the more likely you are to complete them. Using the SMART process, it is easy to detail and track your progress, rather than just giving yourself one lofty fitness goal which can be overwhelming and frustrating."
With that in mind, here are seven different goals that you can try for January.
1. I will do 100 jumping jacks every day
Jumping jacks offer a surprisingly efficient workout, working all the muscles in the lower body and offering some gentle arm exercise, too. They're also relatively easy to master and can be done anywhere (although you might want to avoid doing them in the middle of a meeting).
"One of my favorite exercises for the time-strained busy mom is jumping jacks," says Prominski Baud. "If you want to level up the exercise, you can add some light hand weights."
Aim to do a 100 a day over January then switch it out for another exercise in February – you could even try tackling something with more of a muscle-building focus like the 30-day squat challenge.
Katelyn is a prenatal and postnatal fitness specialist and NASM certified personal trainer. She is the founder and creator of MOMBAUD, a functional workout that directly considers a mother's changing body throughout pregnancy.
2. I will drink 3 litres of water instead of carbonated drinks every day this week
Soda addict? This water-based goal could be a good option to kickstart a healthy new year.
"Staying hydrated is one of the essential things for being fit. This goal will help people to gradually cut down on the habit of sipping on soda and other processed drinks and drink more water over time," says personal trainer and rehab physio William Toro.
Try carrying one of the best water bottles for the gym whenever you leave the house. Having this to hand might help you sip more H2O and feel less tempted by sugary, carbonated options.
William has more than 15 years experience as rehab physio for sports persons in seattle. He is a certified personal trainer from NASM , and has a diploma in sports nutrition. He's also the co-founder and editor of welcyon.com
3. I will walk 30 minutes a day, 5 days a week.
If you're just starting out on a new health kick, you can't beat developing the habit of walking. Yes, it's a much gentler exercise than some of the other suggestions in the list, but it still packs in cardio and mental health benefits. Plus, it's easy to do – just strap on your best walking shoes and head out the door.
"It is easy on the joints, you can do it with a friend – in-person or through a phone call – and you are lowering your stress levels, among other health benefits," says Prominski Baud.
4. I will do a quick standing stretch or walk a lap around the office every hour
If your office hasn't upgraded to standing desks yet, fear not. Get into the habit of standing up every hour and engaging in a tiny bit of movement.
"Not only does standing during the day decrease the risk of obesity, but it also increases productivity and boosts mood. Incorporating movement breaks into your day also decreases the risk of heart disease and can have you burning more calories during the day," says health coach Hannah Daugherty.
She recommends setting your watch to go off at the top of every hour, to remind yourself to move, and committing to the process for at least two months. After this, you can assess your productivity and energy levels.
Hannah has been in the fitness and wellness industry for over 10 years, both as a fitness director and personal trainer. With certifications through NASM and ACE, as well as Bachelor's and Master's degrees in exercise science, she thoroughly enjoys being able to help people become advocates for their health and wellbeing. She is also an advisor for Exercise with Style.
5. I will schedule in and work out for 15 days in January
Rather than committing to a grueling new gym regime that involves daily workouts, try setting yourself a realistic target.
Fitness coach Emily Nichols recommends you try aiming for 15 days in January, but you could aim for a smaller number if that's a better fit for your lifestyle.
"The ultimate goal is to build consistency in making those workouts a habit," explains Nichols. "You can reassess at the end of the month and decide how this routine is working for you and pivot as necessary."
The target doesn't have to be gym-focused, either. You could choose walking, swimming or a YouTube HIIT session.
Emily Nichols is the host of Self Transformed—a top 2% podcast redefining self care through simple fitness, nutrition & mindset habit hacks. She is a NASM-certified personal trainer and behavior change specialist.
6. I will complete one full push-up by the end of the month
"Push-ups are a great way to use body weight training to increase strength in your chest, core, shoulders and more," says Nichols.
Start by completing knee push-ups and aim to build up to a full push-up. You can also build strength in your arms by doing a plank, lowering yourself part way to the ground slightly, then pushing back up – you can practice getting closer and closer to the ground until you're doing a full push-up.
Need a little more guidance? Read our full piece on how to do a push-up properly.
7. I will stretch for 5 minutes before and after workouts
If you spend most of the day sitting in one position, adding some stretching into your daily routine is a great way to keep tightness at bay.
"Whether you have a desk job or are a stay-at-home parent, stretching is the most overlooked and undervalued part of fitness. I have never heard anyone tell me they stretch too much, they are always asking for more stretching exercises!" says Prominski Baud.
"Commit to adding 5 minutes of stretching before and after each workout. If you have a desk job, set a goal of standing up every hour, reaching arms over head and bending down to touch your toes."
---
Want more inspiration for your New Year's fitness resolutions? Have a look at these muscle-building fitness resolutions, which take less than 10 minutes a day, or try these New Year's health resolutions that don't involve the gym at all.
Abby Driver is a freelance health writer and qualified fitness instructor based in Cornwall. Away from her desk she enjoys exploring the Cornish coast path, sea swimming and experimenting with new recipes.