Six tips for six-pack summer abs: How to work on your obliques and core muscles
You don't have to want six-pack abs to train strong core muscles – but you might get them anyway with these tips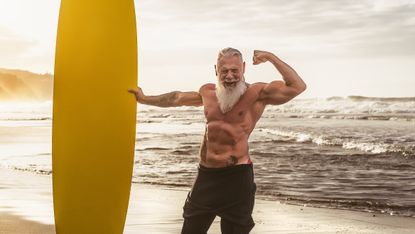 (Image credit: Getty Images)
A sculpted six-pack is the ultimate body goal for many, but achieving it can prove a challenge, not least because there's so much misleading information out there. Before we dive into how to get a washboard stomach, it's worth remembering a few important facts.
First of all, you can be perfectly fit, strong and healthy without having super-toned, visible cheese-grater abdominal muscles after using one of the best ab rollers. Exhausting our list of the best workouts for abs is only half the battle: many of the images you'll see on social media are the result of clever filtering, lighting and posing.
And unless you're naturally lean, that ripped look beloved of fitness models may not be healthy or sustainable in the long term.
But if you do want to bring out your abs for the summer while training a strong, functional core, here's the best way to go about it.
Six-pack tip#1: Diet
You can have the most defined abdominals of anyone you know, but if they're covered by a layer of fat, you won't be able to see them. Although exercise is great for promoting weight loss, as the saying goes, 'You can't out-exercise a bad diet'. Making good food choices is an essential part of your quest for a six-pack.
Avoid fad diets and extreme methods of weight loss. Instead, focus on healthy food choices and weight loss methods backed by science. There's some scientific evidence to support intermittent fasting, using mobile phone health tracking apps and eating a protein-rich diet as ways to manage appetite and promote weight loss.
You can also try increasing your protein intake to build up your abdominal muscles after all that training: check out the best protein powder for weight loss to find one that doesn't interfere with your fat loss goals.
Six-pack tip #2: Toning exercises
Working your mid-section will not only build your abdominal muscles, but strengthen your core, which is essential for improving your posture and protecting your back.
Gone are the days of being instructed to do hundreds of crunches and sit-ups every day, though. If you don't perform them correctly you can end up putting strain on your neck and your hip flexors, so train smart and use alternatives.
Fitness trainer Julia Buckley, whose fitness programmes include a 31-day abs challenge, recommends exercises such as planks (you can check out our guide on how to do a plank for more on this) and hollow holds to develop your abdominal muscles.
Six-pack tip #3: Exercises to help with weight loss
It's important to understand that although working your core is an essential part of building a six-pack, you can't use exercise to spot-reduce fat in just your belly area.
"Abs exercises will not specifically shrink your belly," explains Buckley. "When you exercise, the body will release fat from fat cells to create energy for you to exercise. But this energy is taken from fat cells all over the body. No preference is given to fat cells located in the area where the muscles are working hardest."
The best forms of exercise for losing fat, according to Buckley, are those that cause the body to use up a lot of energy, such as HIIT. Examples of HIIT exercises include mountain climbers, rope skipping, high knees, burpees... all common in lists of the best exercises for weight loss (including ours). Strength training is also beneficial, as it increases the demand for oxygen in the body, encouraging you to burn fat.
Six-pack tip #4: Hydration
As well as being important for your general health, staying well hydrated could help you with reducing your body fat – an essential factor in making your abs visible. Not only does drinking plenty of water help you to control your appetite, but there's evidence to suggest that it can increase your metabolism for a short period after exercising.
One study showed that drinking half a litre of water temporarily increased energy expenditure by 24% for up to an hour after eating, and another suggested that a higher fluid intake seemed to be related to a healthier body composition, indicating that drinking fluids could be helpful in weight management.
You should be mostly guided by your thirst and by how hot it is, but generally speaking you should shoot for 1 to 2 litres of water per day. Always keep one of our best water bottles by your side.
Six-pack tip #5: Sleep
It might seem counterintuitive to prioritise something inactive when you're aiming for a six-pack, but scientific studies show that insufficient sleep can adversely affect your metabolism and is associated with weight gain and obesity.
Consistency is key. Try to get to bed at the same time every night, and avoid long lie ins which affect your circadian rhythms. If you're struggling to get a good night's sleep, try these simple tricks to help you get to sleep.
Six-pack tips #6: Equipment
You don't need fancy equipment to get a six-pack, but a new bit of kit can ramp up your motivation and make it just that little bit easier to achieve your goals.
Ab rollers (handles attached to a wheel) have been shown to be effective for sculpting your abs. Check out our guide to some of the best ab rollers on the market. As an alternative to bodyweight HIIT exercises, you could try a fat-blasting interval training workout on a cardio machine such as the elliptical machine or treadmill.
Kettlebells and dumbbells are great for a strength workout at home – though make sure you know how to use them safely with our guide to lifting weights. If you're looking for a strength training routine, get yourself some dumbbells and try our full body dumbbell workout.
Patricia Carswell is a freelance journalist, specialising in health and fitness. She has written for a huge variety of national newspapers and magazines, including Healthy, Top Santé and Women's Fitness, and writes a monthly column for British Rowing's content hub. She's the founder and host of rowing blog and podcast, Girl on the River, where guests have included Sir Matthew Pinsent and multiple Olympian Frances Houghton MBE.
She won Rowperfect's Rowing Blogger of the Year several years in a row, the Endurance Award in the MyProtein Blog Awards and was runner-up in the Sports & Fitness Category in the UK Blog Awards in 2017.
She keeps fit by rowing, walking and swimming, and is at her happiest when on or in the water.