The right supplements for your 30s, 40s, 50s, 60s and beyond
We asked a health professional for a guide to supplements through the years, to optimise your health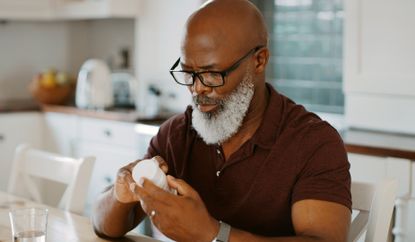 (Image credit: Getty Images)
Ask 10 health experts what supplements we should be taking and you'll get 10 different replies, with maybe one saying you don't need any at all.
As well as our handy guides to the best fish oil supplements and the best supplements for joints, we're also clearing up the confusion around other supplements by asking naturopath Sarah Bowles-Flannery to give us a no-frills guide to what you need at every age.
Bowles-Flannery tells us what to take for good health, great looks and a sunnier disposition depending on our age.
"Supplements are no substitute for a good diet, but even if we had a fresh, organic and locally grown wholefood diet, we'd still need them as our soil is mineral depleted. We lead such demanding lives that we need extra nutrients just to keep pace."
Sarah has added herbs, tonics and Australian Bush Flower Essences (from health food stores) to help improve mood. "Flower remedies work on the mind, emotions and spirit," says Sarah. "They are good at helping to create a more positive state of mind. Take seven drops twice a day – what could be easier?"
Your supplement basics
Regardless of your age or lifestyle, these really are a must to maintain good health for women. Adjust them as suggested when you meet those lifestyle and wellbeing problems
Vitamin C - A vital support to our immune system and a protective antioxidant. A good daily dose is 500mg. Taking more than 1,000mg a day may cause stomach pain, diarrhoea or flatulence.
B Complex - Essential for energy production in your body and to support your hormones. A good average dose is 25-50mg of each of the main Bs (1, 2, 3, 5, 6 and smaller amounts of B9 and B12) in one B-complex tablet. These nutrients are not stored in the body, so you need to top up the supply every day.
Omega-6 Evening Primrose Oil (or starflower oil) slows signs of ageing, balances hormones and helps with PMS and the menopause symptoms. Take 1,000mg daily, increasing to three times that a day for hormonal imbalances, such as PMS.
Omega-3 fish oil or linseed oill can help reduce inflammation and maximise brain function. Take 1,000mg daily or twice that a day if you suffer from dry skin or sore joints. Your body's cells are dependent on Essential Fatty Acids (EFAs), such as Omega-3 and -6; without them, your body will deteriorate more rapidly. If you're getting enough, your skin will be beautifully strong and supple.
Vitamin D is needed to absorb calcium and phosphorus to keep bones and teeth healthy, most of our body's vitamin D comes from exposure to sunlight. As our skin's supplies are depleted after a dark winter, take 10 micrograms (0.01mg) a day; do not take more than 25 micrograms.
Supplements for 30s
This is a busy decade – relationships, possibly motherhood, and trying to keep up with a demanding job will be front and centre of your life – they all conspire to exhaust you. On top of that, you may be looking at your diet. Then there's also the continuing problem of pms and maybe a less-than-glorious sex life because you're often just too tired.
Try adding these supplements to your basics:
Magnesium - Take 400mg a day to energise your body and relax tense muscles.
Calcium - Balance your magnesium intake with 800mg of calcium and you'll have an aid to good bone density too. ZINC If you're trying for a baby, take 50mg of zinc a day to assist with peak fertility.
Damiana - Good for perking up your love life and brilliant for soothing anxiety and lifting depression. Take 1 to 2ml three times a day – try Neal's Yard Remedies, £13.75 for 150ml.
Indian ginseng - Women in their 30s are often plagued with fatigue and nervous exhaustion due to being overstimulated and anxious. Ginsengs can aggravate, but Indian ginseng is more grounding, with benefits for energy, stamina and immunity.
And to soothe you the Australian bush flower essence, Peach-Flowered Tea-Tree, can help calm mood swings associated with low blood sugar levels and PMS.
Supplements for 40s
Manage those moods - This usually starts out as your most settled decade health-wise, but pre-menopause can cause problems. You may also experience niggly symptoms such as fatigue, weight gain and digestion problems. It's a good idea to take some extra supplements.
Try adding these supplements to your basics:
Calcium - Ideally, see your GP for a bone-density test, then take a calcium supplement depending on this result. If your lifestyle is fairly hectic, keep taking 800mg calcium and 400mg magnesium.
Iron - Heavy periods can leave you feeling washed out, so an occasional iron tonic, such as Feroglobin (Vitabiotics, £4.19 for 200ml) is worth it. Take for two weeks, starting a few days before each period.
Kelp - 1,000mg of kelp a day will gently feed your thyroid gland. Borderline low thyroid levels, which cause symptoms such as fatigue, weight gain and sluggish digestion, are often mistaken for pre-menopause.
Supplements for 50s
It's your turn now! - A decade that can be full of activity and change. You might be starting, going through or have kissed the menopause goodbye. Your children will probably be more independent and your you may have more free time so it's bursting with opportunity! Healthwise, this is when you should be protecting yourself that bit more, so add a few important supplements to your basics.
Calcium - If your bones aren't 100 per cent, increase your calcium intake to 1,000mg a day, but keep magnesium at 400mg.
Co-Enzyme Q10 - Strengthens the heart muscle and maximises the benefits of oxygen within all cells. Take 50mg a day.
Phytoestrogens (soya isofavones) - If you're suffering from hot flushes, take the supplements recommended for your 40s and switch to extra tofu and soya in your diet when it passes.
Siberian ginseng - When you need to improve energy, mood and libido, this is the second most stimulating ginseng. Like all ginsengs, it improves immunity and stamina.
Supplements for 60s
Stay ahead of the game - Now's the time to do things for yourself and start taking something to keep your mind sharp, your body fizzy with energy and your love life humming. The right supplements – along with good eating and exercise – can keep you feeling as sexy, gorgeous and interesting as ever.
Calcium - Keep focusing on bone density. Take 800mg of calcium, balanced with 400mg of magnesium (look for magnesium with boron and vitamin D). Avoid acidic foods and drinks that leach calcium from bones, such as fizzy drinks, alcohol, caffeine, sugar and refined food. Alkalise your body by increasing your intake of vegetables and salad.
Ginko Biloba and bilberry are great for sharpening circulation to your brain and eyes for a quick mind and clear vision. Try Solgar Bilberry or Ginkgo Eyebright complex – take two capsules a day (both from Solgar.co.uk). Or Biocare Ginkgo Plus (contains bilberry) – one or two capsules a day (£16.96 for 60 tablets, biocare.co.uk).
Glucosamine to protect your joints and keep you supple, 500mg a day is a good maintenance dose, but take 1,000mg daily if you have a joint problem.
Supplements Q & A
When is the best time to take supplements?
Usually with breakfast. The exceptions are calcium and magnesium, which help to relax te body in the evening, and zinc just before bed.
How much should I be paying for supplements?
You get what you pay for, so stick to the reliable, well researched brands, such as Biocare, Solgar, Lamberts, Vitabiotics, Energetix and Blackmores.
Where can I get expert advice about supplements?
The best advice would be from a qualified nutritionist. To find one in your area, visit naturaltherapypages.co.uk or call the Institute for Optimum Nutrition on 020 8614 7800.
Can I take supplements alongside prescribed medication?
It depends. St John's Wort can reduce the effectiveness of some medicines, while vitamin E and ginkgo biloba can thin the blood. Always check with your GP.
Get the Fit&Well Newsletter
Start your week with achievable workout ideas, health tips and wellbeing advice in your inbox.
Launched in 2020, Fit&Well.com is all about helping you meet your health and fitness goals in ways that are fun and achievable. With news and features on fitness, weight loss, running, nutrition, yoga, wellness and more, we're committed to helping you wherever you are on your fitness journey. We break down the best fitness tech, with reviews, buying guides and the latest deals on fitness and wellness kit, from dumbbells to diffusers.
We cater for all difficulty levels here. It doesn't matter if you're a beginner in the world of fitness or you're gearing up for your tenth marathon: we're all moving towards the same goal – creating a healthier, happier you. From guides on getting started doing walks around the block, to creating the perfect work-from-home space, to eating to fuel your first triathlon. It's all here.