Treadmill vs Exercise Bike: what's the best cardio machine to lose weight?
Treadmill vs exercise bike – which cardio machine is going to be better for you? We dig down into both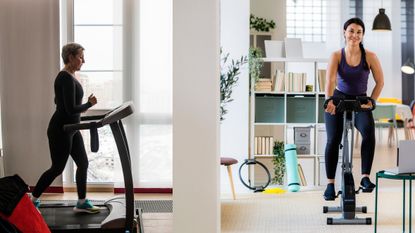 (Image credit: Getty Images)
Ask any fitness enthusiast which side they're on in the treadmill vs exercise bike debate, and they'll tell you in no uncertain terms. It's a subject on which people have strong views.
But here's the thing - there's no one cut-and-dried answer. If you're looking for the best exercise machines to lose weight, the answer might be one thing, whereas if you need a machine that fits snugly in your living room, you might get a different reply.
Whatever your goals, it's important to find the right exercise machine for you, according to personal trainer and sports coach, Amanda Almond. "There's the age-old joke that a stationary bike or a treadmill becomes an expensive laundry rack after it's been purchased," she says. "But knowing what you are looking for in a piece of cardio equipment can help you make an informed decision and avoid an expensive perch for your laundry."
Treadmills: Pros
If you're new to exercise, and by extension the treadmill vs exercise bike debate, the best treadmills are a great place to begin. "Treadmills are arguably the easiest piece of equipment to get started on," says Almond. "There is no set up or adjustment, you can hop on and start moving. They also come with a safety clip that you can wear with an emergency stop in case you trip or fall."
If weight loss is a priority, you'll also love the number of calories you burn on a treadmill. "Whether you are walking, jogging, running, or sprinting on the treadmill, you're going to get a higher calorie burn," says Almond, "because you are using your full body when you move as opposed to just your legs when cycling. The more muscles you engage during a workout, the more calories you can burn."
A study published by Harvard Medical School found that an adult weighing 155lbs could burn between 288 calories (for a gentle walk/jog) and 562 calories (for a strenuous run) in half an hour (this would be fewer for a person weighing less and more for someone heavier). This compares favorably with the exercise bike - a person of the same weight would burn between 252 and 278 calories in half an hour.
If you're concerned about osteoporosis, the treadmill has the edge, too, because it is a weight-bearing exercise. "The treadmill is a much better tool for building bone density," says Almond.
The treadmill wins on convenience, too. You don't need to adjust seat height or handlebar position as you do on an exercise bike, and if you're after some entertainment, it can be a great choice - as Almond notes, "Most treadmills also have a ledge on the front where you could place your phone or an iPad and watch TV while you get your workout in to help pass the time."
Treadmill: Cons
Treadmills do have some disadvantages, though.
If you're watching your budget, you'll need to find a good deal because as Almond notes, "Treadmills are usually more expensive than other cardio equipment."
Equally the treadmill may not be the best for you if space is an issue. "They are usually very large and require electricity for power," says Almond. "This makes them less than ideal for smaller spaces and you'll want to make sure you have the proper electrical outlet for the treadmill before you purchase one- some even require special electrical outlets.
Another drawback of the treadmill is its impact on your joints. "They are considered higher impact than a stationary bike," says Almond, although she adds, "However, it's worth noting that they are less impactful than walking or jogging on the sidewalk."
Finally, if you like quick changes during your workout, treadmills might not be for you. "If you like to change up your speed and incline often or quickly," explains Almond, "the treadmill takes some time to adjust to the setting you want to get to."
Exercise bike: Pros
"There are many benefits to using an exercise bike", says Almond. For a start, it's great for your fitness and overall health. A study published in the Journal of Exercise Rehabilitation showed a marked improvement in body composition, physical fitness and blood work in participants regularly using an exercise bike.
If you love the buzz of exercise classes, one of the best exercise bike entries in our guide will be a great choice. "In the past few years, virtual cycling classes or programs have become increasingly popular, making cycling a readily available option for group fitness and the energy that comes with working out with classes.
Exercise bikes are great for people with injuries. "They have been used in a clinical therapy setting for years," says Almond, "and are the preferred method of rehab following injury which also makes them a great option if you have joint injury or mobility issues. Cycling is also low impact which makes it a great form of cardiovascular exercise with minimal risk and wear and tear to your body."
For anyone with limited space, exercise bikes have the edge. "Bikes take up less space than bulkier treadmills and are typically easier to move around your living space," notes Almond. "Many bikes also don't require a source of electricity."
Prices vary enormously, however, "A stationary bike has options that are much cheaper than other exercise equipment," according to Almond.
Finally, if you want strength gains, consider the exercise bike. "The ability to add resistance to the bike allows for the rider to gain some strength training benefits as well. Strength training becomes increasingly important as we age and having a machine that allows you to safely build strength while also providing a great cardiovascular workout is a plus!"
Exercise bike: Cons
Exercise bikes aren't for everyone, however, which is what makes adds fuel to the whole treadmill vs exercise bike fire. One of the main objections, especially compared with treadmills, is comfort.
Quite apart from the discomfort of the saddle (which for the most part can be addressed with the right clothing or seat covers), "Cycling comfort depends a great deal on proper bike setup and making sure your seat is at the correct height and position," says Almond. "If you've never been set up on a bike, this can be difficult to identify and correct on your own. Improper positioning can also be why some tend to hunch over the handlebars — we don't want to exacerbate poor posture habits during our cycling workouts."
Despite the health benefits, we've seen above, cycling may not give you as complete a workout as the treadmill or rower. "It focuses primarily on lower body and the cardiovascular system," says Almond, "which means the rider will need to supplement core and upper body training outside of their cycling workout to get a complete total body workout."
Lastly, while a lower impact exercise will be best for some, there's the issue of bone density. "The exercise bike is less efficient at building bone density, another important factor we need to consider as we age," says Almond.
Treadmills vs Exercise bikes: Verdict
Whatever your situation or fitness goals, you can benefit from each of these pieces of equipment. "Knowing the pros and cons can help you make the best decision on what will be the best and most useful option for your workout routine," says Almond.
One thing is for sure - the cardio machine that will be best for you is the one that you actually use!
Get the Fit&Well Newsletter
Start your week with achievable workout ideas, health tips and wellbeing advice in your inbox.
Patricia Carswell is a freelance journalist, specialising in health and fitness. She has written for a huge variety of national newspapers and magazines, including Healthy, Top Santé and Women's Fitness, and writes a monthly column for British Rowing's content hub. She's the founder and host of rowing blog and podcast, Girl on the River, where guests have included Sir Matthew Pinsent and multiple Olympian Frances Houghton MBE.
She won Rowperfect's Rowing Blogger of the Year several years in a row, the Endurance Award in the MyProtein Blog Awards and was runner-up in the Sports & Fitness Category in the UK Blog Awards in 2017.
She keeps fit by rowing, walking and swimming, and is at her happiest when on or in the water.