What is SUP yoga and are there benefits of doing yoga on the water?
SUP yoga helps boost your balance, works your core, and improves your wellbeing out on the water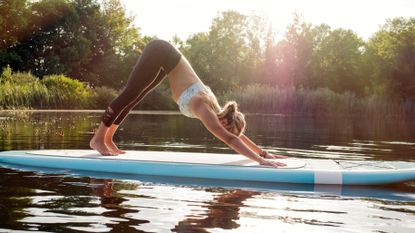 (Image credit: Getty Images)
Get the Fit&Well Newsletter
Start your week with achievable workout ideas, health tips and wellbeing advice in your inbox.
Thank you for signing up to Fit And Well. You will receive a verification email shortly.
There was a problem. Please refresh the page and try again.
I'll never forget the morning I stood bleary-eyed at a festival wondering what on Earth was going on at the lake. There was a row of people balanced on paddleboards bending and twisting in slow motion.
This was my first glimpse of standup paddleboarding (SUP) yoga and I was intrigued. As paddleboarding has grown in popularity so have SUP yoga classes and they are now a common sight on shores and waterways.
Traditional yoga requires one of the best yoga mats, while SUP yoga takes place on water on a paddleboard—often with boards specifically designed for yoga. This means you need to balance while on water, which also has benefits for your core.
What is SUP yoga?
SUP yoga is the practice of yoga on a standup paddleboard, usually on calm water, such as a lake. It was popularized in 2009 by the Swedish yoga instructor Rachel Brathen, widely known as Yoga Girl.
While watching her husband and dog riding together on a surfboard, she realized if they could balance together it must be possible to practice yoga on the water, too. Brathen began teaching SUP yoga on the Caribbean island of Aruba, spreading the word on social media.
Beginners sometimes practice the postures on a board on the beach or in a swimming pool first to develop the strength and flexibility required to maintain balance on the water—yoga stretches for beginners can be translated to a paddleboard once they are mastered on land, for example.
"SUP yoga is about enhancing the benefits of yoga with the presence of being on the water and in nature. The focus is on the moment, connecting the body to the breath, and enjoying moving the body in a way that offers benefits, beyond physical fitness," says the SUP yoga instructor Katie Watson.
Katie Watson is a chartered physiotherapist and the owner of Flow Studio. Watson has been guiding SUP yoga classes for 10 years and is an ambassador for the Red Paddle Co, helping it to design specialized Activ boards for SUP classes. She helps support people to improve their wellbeing in a fun, inclusive way through paddleboarding, yoga, and Pilates classes.
How does it differ from more traditional forms of yoga?
SUP yoga isn't about specific yoga postures or flows, but more about how to adapt movement and awareness with being on the water. The focus is on being immersed in nature, in a calming environment, in a similar way to forest bathing.
"Guiding a SUP yoga class isn't about trying to get people to be in positions where they're fearful of falling in. It's about providing an experience that helps hold their presence, enabling them to soak up their surroundings, to recharge their wellbeing batteries through being on the water," explains Watson.
Often the flow (movement between postures) is slower, with fewer transitions. There is a greater emphasis on breathing into the position and feeling the body adjust to the movement of the water. "It provides that much needed pause from our busy lives," says Watson.
Although traditional yoga clothing is suitable, having something breathable in case the weather is warm is a benefit. UYN has yoga gear made from bio-based Natex, derived from castor bean seeds, which dries faster than nylon, meaning it copes well with splashes on the water.
What are the benefits of SUP yoga?
Paddleboard yoga is a great way to blend the benefits of outdoor exercise with the benefits of yoga. "Modern life is so focussed around connection, yet in ways it disconnects us from ourselves. Technology surrounds us and everywhere we look there's something ready to distract us from the present.
"Being on the water, away from devices, notifications and distractions, we can tune into the moment and align with ourselves," says Watson. The blend of positive effects from time on the water with moving your body into poses helps something beyond the yoga mat, according to Watson.
SUP yoga enables participants to acutely notice their breathing, the sounds of nature and the feeling of moving their body. "It's not so much about the specific fitness goals but taking time to connect the body and mind with the humbling presence of being on the water.
"This can support our overall wellbeing, leading to healthier life choices, such as how we move and what we eat for the rest of the day," says Watson. But there are physical benefits too, as balancing on a board on the water strengthens your core, and enhances stability and coordination, to a greater degree than on land.
How hard is SUP yoga?
Although it may look difficult, SUP yoga doesn't need to be hard. "It's about creating an experience that everyone can enjoy. Classes can be adapted to suit even the most nervous of people by offering slow transitions, time to soak in being on the board, and breathing a little deeper," says Watson.
In fact, making the yoga movements difficult is counterproductive. "The more difficult the yoga, the more of a distraction from soaking in the experience." If you're considering taking on a session, there are ways you can prepare without the water.
These beginner's yoga exercises for building strength are a good way to get used to some of the movements and poses you'll need, so you can focus on your time on the water and get the benefits of spending some time moving your body in nature.
Get the Fit&Well Newsletter
Start your week with achievable workout ideas, health tips and wellbeing advice in your inbox.
Lily Canter is a freelance money, health and lifestyle journalist with more than 20 years' experience. She writes about fitness for Runner's World and Trail Running magazines and focuses on personal finance for Yahoo! Finance UK, Metro, The Guardian, and the Mail on Sunday. In her spare time she is an ultra-runner, canicrosser and running coach. She also co-hosts the award-winning podcast Freelancing for Journalists.