6 reasons why walking is a great workout
If the thought of going for a run or a crowded gym fills you with dread, try slowing the pace with a walk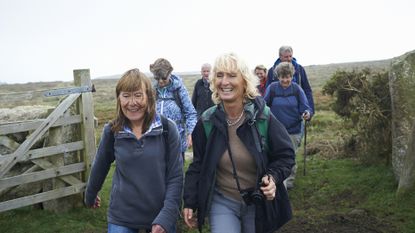 (Image credit: Getty Images)
When it comes to working out, there's a lot to be said for the humble walk. It's free, easy and requires minimal equipment - whilst also offering a way to get your heart pumping.
US recommendations state that adults should do between two-and-a-half to five hours of moderate-intensity aerobic activity a week - and walking is a great option. Need convincing? We chatted to Nordic Walking expert Gill Stewart about the reasons why walking is your new workout friend.
1. Joint problems? Walking is better than running
Running is a brilliant form of exercise, but its high-impact nature means it isn't suitable for everyone. 'Running isn't ideal if you have joint problems or if you're carrying extra weight,' says Gill, adding: 'Walking is more gentle and less likely to impact on the hips and knees.'
2. It can reduce your risk of cancer and other illnesses
Studies have shown that even moderate regularly physical activity can reduce your risk of developing cancer, particularly bowel and breast cancers. But that's not all. 'The risk of osteoporosis is reduced by walking as it's weight bearing yet not too strenuous', says Gill. Walking also helps lower blood pressure, which in turn lessens the risk of type 2 diabetes and coronary heart disease.
3. An outdoor walk aids mindfulness
Stressful day? Step outside for a free mood booster. 'Being outdoors can be mindful if you let yourself relax and enjoy your surroundings,' says Gill. Running, on the other hand, requires effort and can be uncomfortable, so may not be the best stress buster. Try using a meditation app that has specific walking meditations, such as Headspace or Calm.
4. Every walk can be different
Think walking is a bit 'blah'? You're so wrong! To keep things interesting, Gill recommends mixing up your routes, joining a group or finding a hiking buddy. Alternatively, up the intensity and try Nordic Walking, an enhanced form of walking that uses poles to work both the upper and lower body, giving you a full body workout in a fun group atmosphere.
5. You can still increase the intensity
Gill says: 'Mixing your speed with bursts of higher intensity walking plus increasing the distance of one walk per week can really help, especially if you're short of time. Add more hilly terrain into your route to up the ante.'
6. You don't even have to step outside
Invest in one of the best treadmills and you can even take a walk whilst watching your favourite Netflix show. 'Any walking is better than none,' says Gill. 'A treadmill can reduce the strain on joints because it absorbs impact. You can also set goals on a treadmill and do it in any weather.' Plus, when the winter nights come around, indoor walking is safer than heading out in the dark.
Want to learn what else makes walking a great workout? Discover even more benefits of walking.
Get the Fit&Well Newsletter
Start your week with achievable workout ideas, health tips and wellbeing advice in your inbox.
Lucy is a freelance journalist specializing in health, fitness and lifestyle. She was previously the Health and Fitness Editor across various women's magazines, including Woman&Home, Woman and Woman's Own as well as Editor of Feel Good You. She has also previously written for titles including Now, Look, Cosmopolitan, GQ, Red and The Sun.
She lives and breathes all things fitness; working out every morning with a mix of running, weights, boxing and long walks. Lucy is a Level 3 personal trainer and teaches classes at various London studios. Plus, she's pre- and post-natal trained and helps new mums get back into fitness after the birth of their baby. Lucy claims that good sleep, plenty of food and a healthy gut (seriously, it's an obsession) are the key to maintaining energy and exercising efficiently. Saying this, she's partial to many classes of champagne and tequila on the rocks whilst out with her friends.