Why we should all take a solo hike in 2023
Two hiking experts guide you through the benefits of a solo hike and how to get started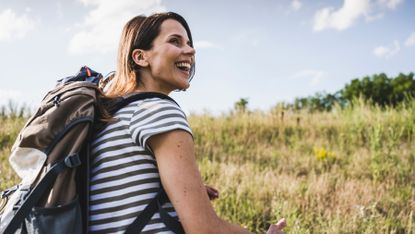 (Image credit: Getty)
There are compelling reasons why we should all take a solo hike. Quite aside from not having to rely on having a hiking companion to join us on our adventures, going solo can build self-esteem, help you to learn more about yourself, develop problem-solving skills, and give you the opportunity to be reflective on your own thoughts.
As such, it adds to the many benefits of hiking both physically and mentally and, to discover more, we spoke to two hiking experts. So grab your hiking pack, hiking first-aid kit, and best trekking poles and get ready to discover more about yourself while getting fit as you conquer your first solo hike!
What are the benefits of solo hiking?
Solo hiking offers a very different experience to hiking with a companion and it goes beyond simply not having someone by your side. According to Kristin Addis, an avid solo hiker and CEO of women's solo travel blog Be My Travel Muse, going alone gives you a surge of confidence.
"There's nothing like reaching a beautiful view after a hard, uphill climb, and knowing that you did it all of your own will and ability. I love that moment of solitude at the top," she says.
"Solo hiking is much like solo traveling, and going on your own allows you to go at your own pace, to be fully in the moment without anyone else distracting you, and allows you to self-motivate."
Notably, solo hiking strips away a competitive element and this can be refreshing. "It's funny how hiking can often end up feeling like some kind of competitive sport if you go with the wrong person, but if you are on your own, it can become meditative," she adds.
Kristin Addis is the founder and CEO of Be My Travel Muse, one of the most widely read women's travel blogs in the world. She has visited over 60 countries solo, hiking, hitchhiking, and camping on six out of seven continents. She runs worldwide women's adventure tours, and has taken over 50 women on their first backpacking trips in the wilderness.
What's more, solo hiking suits some people well — particularly introverts and those who don't like being among large groups. Even so, solo hikers often end up meeting other trail mates that become friends for life.
"Although many start off hiking solo, they share the trail with others for a few hours, a few days, or even a few months, hiking at their own pace and often meeting up with the same people to camp or share a meal," explains Brad McCartney, a hiking expert who runs BikeHikeSafari.com, a website about hiking and bike touring.
"Lifelong friendships are created on the trail and everyone should try hiking by themselves for a couple of days to enjoy the simplicity of being alone and completely self-sufficient."
Brad McCartney has completed the hiking Triple Crown after he hiked the Pacific Crest Trail, Continental Divide Trail, and Appalachian Trail. He also thru-hiked the Te Araroa in New Zealand for a total of almost 10000 miles of hiking in a four year period. In recent years he managed an outdoor gear retail store and is the founder of BikeHikeSafari.com which is a website dedicated to all things thru-hiking, backpacking, bike touring, and bikepacking.

"There is something very special about hiking and camping by yourself. As this is something that most people have never done before, it can appear quite scary, but once you have done it the first time you realize that it is not scary," McCartney explains.
"Hiking can be like a metaphor for life. Anyone solo hiking will face similar struggles to those faced in life. There are good days and there are bad days. There are days when the weather is bad and that affects your mood and there are days of perfection."
Indeed, McCartney says that solo hiking also gives you the opportunity to build trust in yourself and in others, which can serve you well in life, on and off the trails. Solo hiking can also teach you more about yourself and help you conquer a fear of the unknown.
"Hiking solo opens you up to trusting others and for others to trust you," he explains. "This is not something that comes easy to everybody. That level of trust and camaraderie is something that any business or team would dream of having. Not to mention the higher levels of self-confidence and self-esteem that many people experience when they realize they are able to go hiking alone."
How to stay safe solo hiking
But what of the potential dangers? Is it really safe to go out alone? Well, there's no denying that solo hiking can be intimidating for beginners but as long as you are hiking within your means — that is, not taking on hikes that are too hard — making smart decisions, and have the right gear, then solo hiking can be safe and approachable for everyone.
"One way to assist in staying safe is to carry a Personal Locator Beacon or Two-Way Satellite communication device," advises McCartney. "Also, ensure that you have weather apps and maps on your smartphone and tell people your plans and due dates. If you don't arrive when planned, they can contact the authorities."
How to get started solo hiking
It's a good idea to begin with something that feels easy and approachable rather than embarking on a big trek. "Nobody needs to be a hero and go for something out of your comfort zone or abilities on the first try," says Addis.
"I had already done multi-day backpacking trips many times with others before I decided to try it by myself. Maybe even try a trail that you already know."
Addis suggests doing a little bit of research first, making sure you have route information with you on the trail in case you have difficulty navigating or the trail markings are poor.
You can use resources such as AllTrails.com which rate the difficulty level of a hike, the elevation gain, and type of terrain. "Download off-line maps," Addis advises. "And take some kind of communication device with you."
"My first big solo route was four days in Peru. I liked it because I knew that it was a route that was popular with others so, even if I was by myself, I would not truly be alone the whole time. I recommend going for something similarly popular for your first solo trip just in case you end up wanting the assurance of seeing others or need help."
Get the Fit&Well Newsletter
Start your week with achievable workout ideas, health tips and wellbeing advice in your inbox.
Amber Sayer is a Fitness, Nutrition, and Wellness Writer and Editor, and contributes to several fitness, health, and running websites and publications. She holds two Masters Degrees—one in Exercise Science and one in Prosthetics and Orthotics. As a Certified Personal Trainer and running coach for 12 years, Amber enjoys staying active and helping others do so as well. In her free time, Amber likes running, cycling, cooking, spending time outside, and tackling any type of puzzle.