Dead bugs strengthen your core and prevent lower back pain—I learned from a physical therapist how to do them properly
You should rethink your dead bug technique if you want to seriously strengthen your core and protect your spine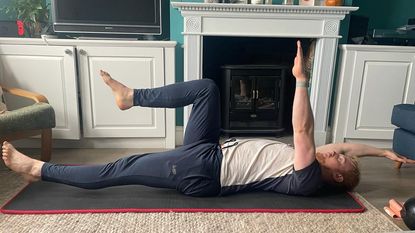 (Image credit: Future / Harry Bullmore)
The dead bug is an excellent exercise for improving your core stability and protecting you from back pain. But there's a chance you've been doing it wrong.
People attempting the dead bug are often told to pull their belly button in and flatten their lower back against the ground during the movement, but physical therapist Aaron Horschig (of Squat University fame) says this advice doesn't apply to the vast majority of exercisers.
Rather than following these form cues, he suggests you concentrate on maintaining a truly neutral spine with a "slight curvature in the lower back". This position allows you to properly brace your core.
In his video below, he suggests some clever methods to help you achieve perfect form. I followed his advice to see if it would help me get a better core workout.
Squat University's dead bug tips
Horschig suggests you do two things to check your dead bug form. Firstly, put a hand underneath your lower back, to help you maintain a truly neutral spine. Secondly, do some diaphragmatic breathing (a type of deep breathing into the stomach) to make sure your muscles are properly braced.
I tried doing a set of standard 10 dead bugs on each leg, then I implemented Horschig's technique tips to see if they made any difference.
I slipped my left hand underneath my lower back, to check I was maintaining a very slight arch. And I pushed the fingers of my right hand into the side of my six-pack muscles (or rectus abdominis) to check that my "lateral" diaphragmatic breath was present.
These checks helped me correct my form slightly, adjusting my spine so that it was truly neutral and making sure all of my core muscles were properly engaged. I was then able to get a more comprehensive workout.
My rectus abdominis stirred into action after just a couple of repetitions, but they were quickly joined by lesser-known core muscles like the spine-supporting transverse abdominis, which wrap around your abdomen, and the obliques, which are found along the side of your stomach.
Once you've mastered Horschig's technique and made sure your spine is neutral and your muscles switched on, you can try going back to standard dead bugs or have a go at some of the variations below.
Other dead bug variations to try
Standard dead bug
Lie on your back with your arms and knees pointing towards the sky, and your lower legs parallel with the ground. Extend one of your legs in front of you, and at the same time extend your opposite arm behind you so both limbs end up parallel to the ground. Return to the start position then repeat using the opposite limbs.
Try three sets of 10 repetitions on each side.
Weighted dead bug
To do this variation, extend your arms upwards and hold a kettlebell (or another weight) still while extending your right and left leg in turn.
"Adding extra load makes it a little bit harder on the body to maintain the positioning," says Horschig.
Try three sets of 10 repetitions on each side.
Banded dead bug
You can also add a small looped resistance band around your feet while performing the dead bug.
"This way we're adding a little bit of resistance to the lower body, again enhancing the difficulty of the movement as a whole," says Horschig.
Try three sets of 10 repetitions on each side.
If you want to make the dead bug more challenging, you can extend your arms towards the sky and hold a kettlebell in one or both of your hands.
And if you don't have any weights at home, take a look at our roundup of the best kettlebells to find one that works for you.
Get the Fit&Well Newsletter
Start your week with achievable workout ideas, health tips and wellbeing advice in your inbox.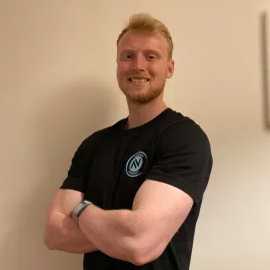 Harry Bullmore is a Fitness Writer for Fit&Well and its sister site Coach, covering accessible home workouts, strength training session, and yoga routines. He joined the team from Hearst, where he reviewed products for Men's Health, Women's Health, and Runner's World. He is passionate about the physical and mental benefits of exercise, and splits his time between weightlifting, CrossFit, and gymnastics, which he does to build strength, boost his wellbeing, and have fun.
Harry is a NCTJ-qualified journalist, and has written for Vice, Learning Disability Today, and The Argus, where he was a crime, politics, and sports reporter for several UK regional and national newspapers.