How to get fit: one of the best things you can do for your health and life
Learning how to get fit needn't be daunting, whatever your age or starting point. Here's how to boost your fitness levels, no gym required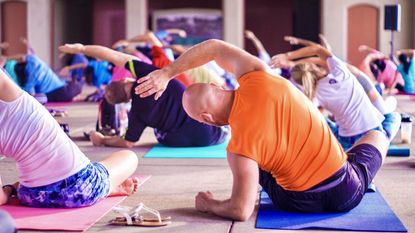 (Image credit: Anupam Mahapatra/Unsplash)
Want to know how to get fit but don't know where to start? It really isn't as difficult as you may think, so long as you take it slowly at first. One of the best things you can do for your health is to get fitter, and that needn't mean joining a gym, cycling for miles or having to also learn how to lift weights.
There are plenty of ways to get fit at home or in a nice outdoor space; the key is to find your motivation and be consistent. You'll be surprised at how quickly you feel the difference once you start moving. Here's some inspiration for you if you want to know how to get fit.
How to get fit: before you start, please read this…
Look at your general health and make sure you're ready to get active. If you have chest pain, dizzy spells, joint problems, high blood pressure or are pregnant talk to your doctor before you increase your activity. That doesn't mean you won't be able to exercise at all – your doctor can recommend activities that are safe for you.
If you're over 65 or aren't used to being active at all, go and see your doctor before you start to exercise. A health check will give you the all clear to get going.
Make small changes
Start slowly. If you embark on a five-times-a-week gym regime straightaway, you're less likely to stick to it than if you make fitness a part of your daily life. Small changes in your movement are the best – and least intimidating – way to start. Walk rather than taking the car or bus, go swimming and try a gentle jog. Getting fit around the house can help, too. Even walking up the stairs or reaching up into a higher cupboard counts!
Find your "why"
A lot of fitness plans have a goal such as losing weight, but forget about that and think about being fit for life. This isn't something you're going to do for six weeks until you've reached a certain weight or got your "beach body" – this is a new way of living.
One of the biggest benefits about getting fit is when you start to feel the difference with more energy, better sleep and less stress. Tune in to your body and really think about how you're feeling – and once you start moving and exercising you'll notice your mood improves afterwards.
Fit movement into your day
The NHS recommends you should be aiming for 30 minutes of exercise five times a week or one hour and 15 minutes of vigorous exercise. Gardening, dog walking and dancing count, so if you're doing one of those every day, it's a start.
Getting one of the best fitness trackers can be a great way to get started on getting moving, too. And nowadays, they aren't only about counting steps, so they can accompany you on your fitness journey.
Join a class
One of the best ways to get motivated is in a group – not only is there the social aspect, but you'll naturally want to keep up with other people. Try an outdoors exercise class or join a Zoom workout to get started.
Try an app
Fitness apps are great for motivation. If you've never run before, Couch to 5K will show you how to build up slowly and Strava tracks your distance once you get going. Jessica Ennis-Hill knows a thing or two about fitness and her Jennis app has home workouts to make you fitter and stronger – they're perfect if you're busy as some are as little as five or 20 minutes.
• More of the best online personal trainer and fitness apps
Have a cardio blast every day
Get started with 15 minutes of cardio – that's movement that raises your heart rate, gets you out of breath and strengthens your heart and lungs.
Warm up (one minute each):
Circle your arms forwards and backwards
Standing up with your legs slightly wider than shoulder width, touch alternate toes
Take a gentle jog
Kick your legs back, bringing your foot to your bottom
Squat and jab
Now, try a minute of each of these to kickstart your day:
Star jumps
High knees
Mountain climbers
Burpees
Sprint
Squat jumps
Run up the stairs as fast as you can – then walk back down to recover
And repeat…
Be creative with weights
Adding strength training to your day is a great way to get fit, but if you don't have dumbbells or a kettle bell at home you can be creative. A rucksack or handbag filled with cans will do the job for simple exercises such as a squat and press.
You can also do tricep dips on the bottom step of the stairs and heavy cans can double up as dumbells for rows like the tricky plank row.
If you feel like your makeshift weight isn't heavy enough to challenge you, increase the repetitions.
Use motivational tricks
If you find your brain is very good at making excuses, use some simple ways to get motivated. Leave your workout clothes by your bed so they're the first thing you see in the morning and if you're getting out of the door for a walk or run make a playlist of your favourite songs for the time you want to spend out there. It can be hard to start, but once you're out the door you're more likely to keep going.
Buddy up
Put some time in the diary with a friend who wants to get fit to and agree your schedule for the week. Keep your movement varied, so one day might be a fitness class, the next could be a walk or jog and another a yoga session.
Know when to challenge yourself
If you've been moving three times a week for a month, it's time to up the ante. Your body gets used to workouts very quickly, so you need to progress. Add more time on to your sessions and try more difficult moves, heavier weights or faster speeds.
Get the Fit&Well Newsletter
Start your week with achievable workout ideas, health tips and wellbeing advice in your inbox.
Hannah has a series of experience in digital journalism behind her. She works as a freelancer with articles published in the Guardian and Independent. They have recently become a personal trainer and finds motivation in music, outdoor workouts and making other people love fitness.