How to increase running speed: why speedwork is the answer
Tired of struggling to increase your pace as a runner? Try these speed-work sessions to boost your PB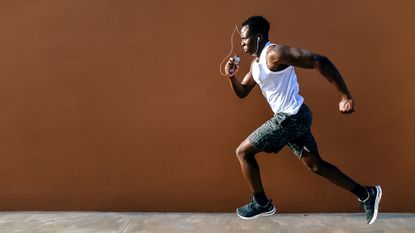 (Image credit: Getty Images)
Get the Fit&Well Newsletter
Start your week with achievable workout ideas, health tips and wellbeing advice in your inbox.
Thank you for signing up to Fit And Well. You will receive a verification email shortly.
There was a problem. Please refresh the page and try again.
It's a problem almost every runner experiences at some point. No matter how many miles you put in, you just can't seem to increase running speed.
But before you pull on your best running shoes once again, know this: the key to increasing your speed as a runner is to incorporate speedwork sessions into your weekly training. That's true whether you are starting out in the sport or have been running for a while.
A number of studies have found that adding regular sprint work – where you run at maximum capacity for a short period of time before resting then repeating – into your training increases aerobic and anaerobic performance in new and experienced runners alike.
Another study even showed that doing regular short sprint work can have the same impact (if not more) on your training as a long steady run at the weekend.
The key, especially if you are new to running, is to build up your overall fitness first. On Run Crew ambassador and LDN Brunch Club founder Stephen Adjaidoo recommends building speed-based sessions into your weekly training once you've been running for a while if you are new to the sport.
"Those who have started running during lockdown or are running more regularly may have heard of a few different speed sessions or seen people talking about them on Strava," says Adjaidoo.
Regular speedwork can increase aerobic capacity more rapidly than simply running the same route at the same pace every session. It also adds variety into your training and keeps you on your toes, even if sometimes you find the sessions tough.
What is speedwork in running?
The main concept of speedwork is to combine short periods of faster running with easier recovery intervals. This gives your heart rate and respiratory rate time to lower prior to starting your next interval.
The speed you run your fast intervals at should be faster than the pace you are aiming to run your target race at. If you do not have a target race, simply run at an effort of around 70-80%.
Some of the best heart rate monitors can also help you with speedwork by guiding you on the right heart rate zone to aim for. Many also include the option to do interval training via the watch, which will beep or vibrate to tell you when the interval starts and ends.
As you get fitter, you can begin to increase your training sessions by time, volume and pace, as well as reducing the length of your recovery periods.
This will mean that when you come to race, be it a 5k or marathon, you will find it easier to sustain a faster pace for longer.
Here, Adjaidoo explains how to do three common speed-based running sessions. these can all be tackled on outdoor runs or on a treadmill (take a look at our list of the best treadmills for home if you're considering investing in one).
1. Interval training
The idea for this session is to run faster than your usual pace for a short distance of around 400m and then repeat it a number of times with a minute or so of recovery between, where you either walk or run at a slow pace.
It's useful to find a track where you can run uninterrupted at speed, says Adjaidoo. "If you don't have access to a track you can simply pick a specific distance you are familiar with near where you usually run, or use a running watch to measure how far it is."
Take note of your time to run this at around 85-90% of your maximum effort. Rest for 1-2 minutes by walking or jogging at a slow pace, then repeat four times to begin with.
"If you can do this workout every week, you should notice that you start to get quicker or it begins to feel easier," says Adjaidoo. "You can then increase the amount of reps you do, or increase the interval distance up to 800m, 1km, 1 mile or even 2km. The main thing is to increase distance or number of reps gradually – don't do too much too soon."
2. Hill Reps
Depending on where you live, hill repeats might be an easier option than interval training.
"The idea is the same as with interval training – pick a set distance, for instance halfway or the entire way, up a nearby hill," says Adjaidoo.
"Aim to run it a little quicker than your usual running speed and aim for at least 4 repetitions. The idea is then you run down the hill slowly and get your breath back."
If you do this workout weekly, it should start to feel a little easier and when you get to that point, you can increase the number of reps.
"Increase by one rep every few weeks rather than jumping up too many. A good hill workout should include a 10-15min warm-up before the hill reps and a cool down for around the same afterwards."
3. Fartlek session
Fartlek means 'speed play' in Swedish, and it's a very similar speed-based session to intervals, but without the set distance.
"The idea is that you mix up your speed throughout the session," says Adjaidoo. "After a warm-up, you might decide to do 70% of your max to the end of the road or the postbox.
"Whatever the distance is – it might be 100m or it might be much further – after you've completed it, drop your speed and effort to a comfortable pace, and then go for 90% until the end of the road."
The distances and speed are completely down to you. You can cycle between easy pace and anywhere between 70%-100% of your maximum pace for as short or long a distance as you want.
"Try to keep alternating, ensuring you have periods of easy running, for a total time of 20-30mins. The more times you do it, the more you'll build speed and endurance.
"Expect your heart rate to be all over the pace during the workout, and ensure you do some sections at a faster pace (80-90% of your maximum) even when you start to feel tired towards the end as this will help you next time you want to sprint towards the finish line at the end of a race."
Get the Fit&Well Newsletter
Start your week with achievable workout ideas, health tips and wellbeing advice in your inbox.
Howard is a freelance health and fitness journalist and copywriter. He has written for publications including ShortList, Runner's World, Trail Running, Women's Running, Red Bulletin, Wareable and Cycling Weekly. He enjoys nothing more than lacing up his trail shoes and heading out to explore new trails. He's run ultramarathons everywhere from the French Alps and Canadian mountains to the Welsh coast and Peak District. When not running, he's usually found hitting his local MTB singletrack trails or on a quest to find the country's best cinnamon bun.