How to run a 5K: essential tips and tricks
Calm first-race nerves by following these top tips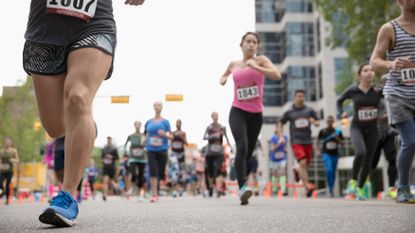 (Image credit: Getty)
Entering a race is a great way to test how far you have come, but the thought of running against other people can be a bit intimidating at first. Part of the problem is in the name: a 'race' implies that the aim is to beat other people, but for your first race, the only person you are competing against is yourself.
It doesn't matter if you come first or last, the key is to finish and to feel good doing it. It can be easy to forget everything that you have learned in training, but we have some top tips to help you get through, and enjoy, your first race experience.
Have a good breakfast
Nerves can make it difficult to eat, but a good breakfast will help you to perform your best. Try a simple meal, like toast or porridge, as this will help to fuel you through the event. Aim to eat about two hours before the start of the race, and avoid things like fruit, which may upset your stomach during the event.
Wear the right kit
Only wear running kit that you have worn before, as you don't want to chafe or rub during the race. Make sure that you dress for the weather and layer up on colder days. Double up on socks, or wear double-layer socks, as these will prevent blistering. If it is raining or cold, you can wear a bin bag at the start that can be chucked to one side after the gun goes.
Some races will collect discarded belongings for charity, so you can wear an old jumper that you don't need any more to stay warm pre-race. Check whether there is a bag drop as well, as you can leave spare clothes for after the race here for a quick change.
Be on time
There is nothing worse than running late on race day, as you won't be able to focus on the event in hand and you will be unlikely to have a chance to prepare properly. Set the alarm early, and get to the event start about an hour before the gun time. This way you'll ensure that you can get parked, take on water, warm up and check your kit is comfortable.
Rope in a friend
The worst part of a race, even for experienced runners, is the waiting on the start line for the gun to fire. This wait can seem to go on forever. This is when the support of others is key to keep your spirits high and the nerves at bay. If you can, get a friend to do it with you, then you can distract yourself from the race ahead. Make sure that you have family and friends at the start to cheer you on too, as this will help you to remember why you are doing the race in the first place.
Keep drinking
No matter the distance, or the weather, it is important to take on board plenty of fluid. For a race of less than six miles, there is no need for sports drinks like Lucozade. Just water is fine, but make sure that you sip it slowly over time rather than gulping it down in one go. Find out if there is a water station en route, as this could mean that you don't have to carry a bottle with you. If you are going to be running for 30 minutes or less, then top up on water before you start and you won't need to stop for any more until you finish.
Start at the back
It's tempting to go to the front of a race so that you can have a clear start, but it actually pays to start at the back. In many races these days you will wear a chip that times you from when you cross the start line until you finish, meaning that it doesn't make any difference to your time how far forward you start. In fact, starting at the back means that you will be beginning at a better pace, and also it's good for some added motivation as you will be passing people from the very start.
Pace yourself
It's easy to go off too quickly at the start of a race and that can lead to early burnout. Wear a watch and know in advance how long it should take you to run each mile or kilometre so that you can finish in your own time, at a good, steady pace. Then, make sure that you keep to this guideline, speeding up or slowing down as needed. Don't try and keep up with those around you; chances are that you will start to pass many of these people when they begin to tire.
Being prepared
When it comes to running your first race, preparation really is key. The more you can think about in advance, the smoother the morning of your race will go. The only thing that you want to be worrying about is getting through the race itself.
Preparation starts from as soon as you book your event. When you know where the start location is and the time, begin thinking about how you are going to get there. If you are going to be driving, then check the parking arrangements at the start – they may be a short walk away and can get very busy. If you are using public transport, then check timetables and always go for an earlier bus or train than you need to, to build in time in case things go wrong – trust us, when you don't want a massive traffic jam or a Tube delay, there will be one!
Big races may also mean road closures, so be aware of what time you need to be through to the start area. If the event is not local to you, then consider getting somewhere to stay the night before, so that you don't have to spend a long time in the car before the race, as this is a recipe for sore, stiff legs.
Next, you need to wait for your race pack to come through. This is usually about two weeks in advance of the race, but some are earlier and some closer to the event date. Big events, like the London Marathon, require you to collect your race details in person so that you can confirm you are who you say you are, but for a first race this is very unlikely – unless, of course, you are jumping right in at the deep end!
However and whenever you get them through, make sure that you check everything is present and correct. You should have a race number and details such as the route map, how many water stations there will be, directions to car parking, where to find first aid and so on. Some races will also be chip timed, meaning that your exact race time will be recorded, so ensure that you have the chip and instructions on how to attach it if needed.
You may also have a luggage tag with your race number on, which you can attach to your kit bag if you are planning on leaving it at the bag drop (more on that in a minute). If something is missing, call the organisers straight away, so that there is time to issue you with the bits that you need.
During the final week before the race, there are a few preparation tips you can follow. Make sure that you increase your water intake on a daily basis, sipping it throughout the day. Ensure that your meals are balanced, with plenty of carbs and protein, and don't skip a meal. Do at least one run in full race kit, so that you can check whether anything rubs – you don't want to be finding that out on the day! Finally, get a good night's sleep every night in the last week so that your energy supplies are not depleted.
The night before the race is time to get your kit bag ready. We have provided you with an essential guide to everything that you need in your bag in the annotation. It might seem like a lot, but it is always best to be overpacked. Things like plasters and a towel are there in case of emergency, and you'll be grateful when you limp over the finish line with a massive blister in the pouring rain! Place the kit that you want to wear on the day, including your underwear, socks and trainers, next to your kit bag, along with a bottle of water to remind you to keep drinking.
Add your race pack, with your race number filled in on the back in a waterproof marker, showing details of any medical conditions and someone that can be contacted on the day. Read this through carefully, and if you have one of the listed medical conditions, you will need to place a cross on the front of your race number too, which helps first aid marshals to get you help straight away if you need it. Do this all early in the evening, so that you have time for a relaxing bath, a nice meal and an early night.
In the morning, you should be able to concentrate on fuelling and warming up, rather than whether you have forgotten anything. Get to the race start early so that you can join in with the warm-up if there is one, or do your own warm-up. It also takes away the stress of being late. Many races provide a bag drop, which is somewhere where you can leave your bag while you are running.
Your bag is labelled with your race number, so you will need to show your race number to collect it at the end. If the start and finish are in different locations, your bag will be transported from one to the other, so keep an eye out for the last time that you can submit your bag before the race.
Keep drinking water, plan your final toilet stop and then head to the start and enjoy! This is the moment that you have been waiting for and it is time to do yourself proud.
Pack in advance
Always get your kit bag ready the night before so that you don't panic on the morning of the race trying to get everything together. Trust us, you'll have enough to worry about, without having to rummage around for everything you need. Lay out your race kit the night before too.
Liquid
An energy drink or bottle of water for a pre- or post-race pick-me-up. You won't know what will be provided on race day so it's best to carry your own supply. Stay hydrated before and after the race.
Food
Keep an emergency banana, cereal bar or gel pack in case you need extra fuel. Some race goodie bags will contain food at the end but it's best to be prepared in advance.
Plasters
In case of pesky blisters, you should always have some plasters to hand.
Safety pins
Take these so you can attach your race number to your t-shirt, they may not be provided at the race venue.
Towel
Because you can't predict the weather and a soggy ride home won't be fun for you if you're cold and wet.
Petroleum jelly
Men, trust us, you are going to want this!
Warm clothes
Keep warm before you start and change when you finish as you will become cold if sweaty and it may be raining!
Pace your race
Whether you are running a 5K or a marathon, the issue of pacing yourself is just as important.
Start too fast and you could find yourself burning out before you even reach the halfway mark, leading to a loss of motivation and a need to slow right down. It's so easy to do – and we've all done it– because when that gun goes we instinctively push forward with the rest of the crowd, keeping up with those around us. However, that means that you are forcing yourself to run at someone else's pace, not your own. The problem with this is that, while it might feel good at first, you will inevitably slow down over the course of the race and start to struggle.
Learning to pace starts in training, and the first thing that you need to do is work out your target race pace. So, if you want to finish a three-mile race, for example, in 30 minutes, then you know that you need to run each mile in ten minutes. In pacing, this is called a 'ten-minute mile', and is a pretty good pace for beginners to aim for in a race.
As you get fitter, your race pace will get faster. However, bear in mind that if you increase your distance, your race pace is likely to slow – so if you decide to next run a six-mile race, you might find your race pace slows to 11-minute miles. Your perfect race pace is the speed at which you can run for the entire duration of the race, without needing to slow down or feel that you could be going a lot faster. It should feel comfortably hard.
When you are first starting out, it can be hard to figure out what your target race pace is. Our suggestion is this: measure an accurate mile (you could do this using a GPS watch or an online route planner, or if you're really lucky, find a race track, which will be accurately measured) and time how long it takes you to run it. Then you can use an online pacing calculator to work out your expected finish time for any distance of race.
TOP TIP: Pace over PB
For your first race, it's not about getting the fastest time possible for the course. It's better to pace yourself perfectly and finish the race feeling good, and knowing that you can still do more. Whatever time you do it in, you will set a new PB for yourself and it will give you something to aim for in future races.
Once you know what your target race pace is, you need to start practising. As we have already mentioned, a race pace should be comfortably hard, so you don't want to be going out every run and trying to keep to race pace. Instead, the best thing to do is use one run a week to add in race pace intervals. This means running at race pace for a set amount of time, with recovery in between. For a three-mile race, consider running 400m (a quarter of a mile) at your target race pace, then recover for the next 400m and repeat. As you run further and faster over time, you can increase the intervals of your race pace. Do one practise run over the full race distance a month before the race to see how you are progressing.
It sounds complex, but you will soon start to feel each pace you run at; you'll be able to know roughly how fast you are running based on how your body feels, so eventually you won't be tied to your watch!
Before your race, work out your target time per mile, so that you know what time you should be passing each mile marker. Every time you hit a mile, check your watch to see if you need to slow down or speed up to hit your target time. If you are feeling really comfortable, it is so tempting to speed up, but you don't want to risk burning out. Leave it to the last mile marker for races over five miles, or the last 500m in a smaller race, and then you can try to push your speed – but only if you feel you can. If you do beat your target race time, then you can alter your target race pace for the next race that you enter.
Bigger races, like the London Marathon for example, will have dedicated pacers. If you have ever watched major world race events, you will see pacers running alongside the elite athletes and they are there to ensure that the runner stays on target. Group pacers in big races do the same. They are experienced runners who are employed to run the race at a given pace. They can usually be identified by a flag or banner denoting what pace they are running at, be it seven-, eight-, nine- or ten-minute miles. Stick with them and they will do the hard work of pacing for you.
In the meantime, running with a friend can help, so that you can help pace and motivate each other.
You've finished!
You've come to the end of the couch to 5K programme and you've just run your first-ever 5K!
You are probably feeling full of emotion and pride (and rightly so!) but it's still very important that you follow a sensible post-run routine.
Cool down
It's best not to stop straight away as soon as you have finished your 5K. It may be hard to even think about having to keep moving, but it's much better for you to cool down properly. Slow down to a very gentle jog or walk for about 10 minutes. This helps to gently bring your heart rate and blood pressure back down to normal. Suddenly stopping after a longer period of activity could make you feel faint, so keep moving for a bit longer.
While you are jogging or walking, take nice deep breaths to bring your breathing rate back to normal pre-run levels. If you can't catch your breath, slow down even more until you can gain control over your breathing. After 10 minutes, you can come to a stop.
Now is the time to stretch, as your muscles will be warm and you can work deeper into the muscles and reduce the risk of soreness in the next couple of days. Work through your key stretches and make sure you target all the main muscle groups, holding each stretch for a good 30 seconds to enable your body to relax into it.
Eat
You want to try and eat within 30 minutes of finishing your 5K run if you can, looking at getting in a good balance of carbs and protein.
It doesn't have to be complicated. You might like a smoothie, scrambled eggs on toast, a banana and some peanut butter, a chocolate milk drink... This helps the body to start the repair process in your muscles immediately, again helping to prevent the onset of soreness. You don't need to overeat, and it's good to resist the temptation to celebrate your victory with a slice of cake – at least immediately!
Drink
Hydration is equally important. You will have depleted fluid levels while running, more so on a warm day. Sip plenty of water immediately after your run and throughout the rest of the day to get your hydration levels back on track. Water is key to the proper function of your major organs and you have just put them under new stress, so keep drinking. It's best to avoid alcohol in this initial period after a run as it can dehydrate you further.
Rest and recovery
While you may have been running three times a week throughout the couch to 5K programme, it is a good idea to give yourself a few days of complete rest. Your muscles need time to repair. As a new runner, a good rule of thumb is a day of rest for every mile, so three days for a 5K run. As you get more experienced, you may not need to leave this long, but listen to your body.
You should keep moving, both on the day of your 5K and the few days afterwards. Gentle walking and normal day-to-day activity will help to keep the blood flowing and work on repairing your muscles. When you feel ready after a few days, you can do a 'recovery run'. This is a run done at a very slow pace, only around 15-20 minutes.
It's not unusual to feel some muscle soreness after a first 5K. Usually, this affects the hamstrings, quads or calves. A dull ache is normal and it often starts the day after or two days after your run. It should pass in a day or two, but the best you can do is keep moving gently and drinking water. Sleep is also important, so aim to get plenty of rest, as this gives your body the time it needs to heal.
If you feel sharp pain, or pain that doesn't go after a couple of days, then this could be the sign of something more serious. Rest until the pain is completely gone and don't attempt to run. Visit your GP if the pain is ongoing and shows no sign of improving.
Look to the future
You will likely be feeling quite proud and excited immediately after your first 5K, so it can come as a shock if the feeling passes and you start to feel a bit down. It's perfectly normal after a big achievement. You may feel a little lost without your programme to follow, so it's a good time to set a new goal.
This could be to try and improve your 5K time, or you might want to take the next step and work up to a 10K. Whatever you decide, remember how amazing it felt to finish that 5K, as this will motivate you through your next target.
Get the Fit&Well Newsletter
Start your week with achievable workout ideas, health tips and wellbeing advice in your inbox.
Launched in 2020, Fit&Well.com is all about helping you meet your health and fitness goals in ways that are fun and achievable. With news and features on fitness, weight loss, running, nutrition, yoga, wellness and more, we're committed to helping you wherever you are on your fitness journey. We break down the best fitness tech, with reviews, buying guides and the latest deals on fitness and wellness kit, from dumbbells to diffusers.
We cater for all difficulty levels here. It doesn't matter if you're a beginner in the world of fitness or you're gearing up for your tenth marathon: we're all moving towards the same goal – creating a healthier, happier you. From guides on getting started doing walks around the block, to creating the perfect work-from-home space, to eating to fuel your first triathlon. It's all here.