A four-move core workout for improving ab definition
It's good to have ab workouts to hand and this four exercise ab challenge will be sure to leave your core burning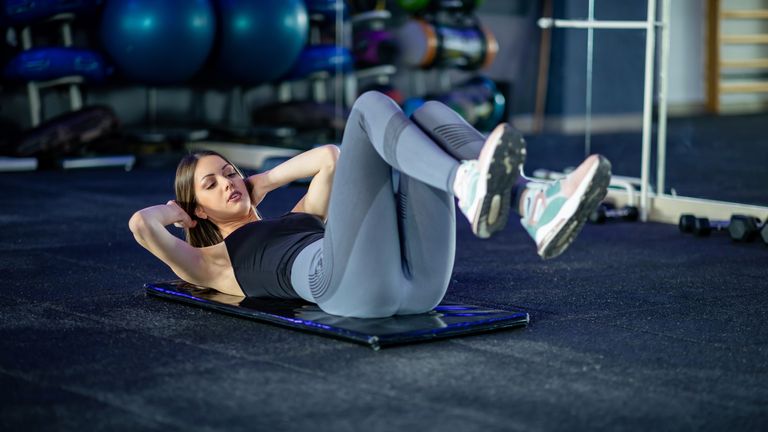 (Image credit: Getty)
By Jessica Downey published
Whether you are seeking specific exercises to solely target your abs or you enjoy adding in a quick core burning set to a larger workout then this four-move ab challenge will come in handy.
If you have ever tried using an ab roller (we have a round-up on some of the best ab rollers) then you will know just how strong your core must be to use one effectively in a workout.
While ab workouts on their own won't get rid of belly fat or promise you a six-pack they will help to shape your abdominal muscles and build up a strong core.
Home and gym fitness trainer known as @gainsbybrains on Instagram has shared the perfect no-equipment ab routine that will put your core strength to the test.
You can complete this at the gym or at home but just make sure you have a mat or something soft underneath you to protect your back as you perform the workout.
Watch the four-move ab burning workout here:
Sophie, who runs the brainsbygains page said in the caption to perform each exercise for 15 reps per side and do the routine twice over if you want to complete this ab challenge.
She also provides workout guides as part of a larger business side of brainsbygains but has gained her 2 million Instagram followers from her easy-to-follow and beginner-friendly workout videos that she shares online.
Fellow fitness star friends and fans of her workouts shared their respect for Sophie's ab challenge video in the comments. One user said, "Ab killer", while another commented, "Amazing abs ma'am, also insane challenge, definitely going to do this one".
However, if you are looking to lose weight and tone up your abs in the process this won't happen from only completing ab workouts. It is a good idea to mix up your training.
Combining cardio with weighted resistance training as well as maintaining a healthy diet and ensuring you are consuming enough protein can help toward building a flatter and more toned tummy area. The best protein powder for women can help you up protein intake plus there are some brilliant Black Friday protein deals happening now.
Jessica is Staff Writer at Fit&Well. Her career in journalism began in local news and she holds a Masters in journalism. Jessica has previously written for Runners World, penning news and features on fitness, sportswear and nutrition. She is a keen runner and is currently sweating her way through a 10k training plan. Jessica also enjoys building on her strength in the gym and is a believer in health and wellness beginning in the kitchen - which she loves sharing with others on her healthy living-inspired Instagram account, @jessrunshere. Despite her love for nutritious cooking, she stands by the saying 'everything in moderation' and is eagerly conquering the London food and drink scene!