Black Friday protein deals: Bargains on supplements, vegan protein powder & more
The Black Friday protein deals are about to start. Here's everything you need to know, and where to find the hot deals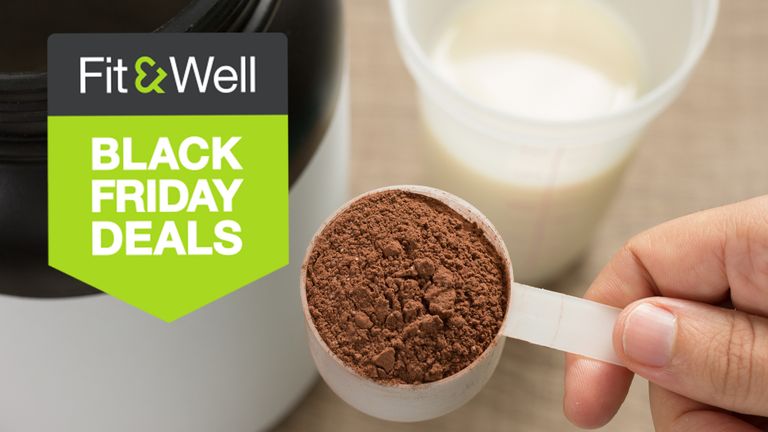 (Image credit: Getty Images)
By Matt Evans
The Black Friday protein deals are beginning to ramp up. If you're after some protein powder, creatine, BCAAs or other sports supplements, here at Fit&Well we're keeping a close eye on all the best bargains.
Last year, the Black Friday fitness deals saw some amazing bargains on gym clothes, popular fitness trackers and equipment such as ellipticals and exercise bikes (you can check out the Black Friday exercise bike deals and Black Friday ellipticals deals pages for more on this), we also saw some amazing deals on protein powders.
Huge discounts from the likes of MyProtein, Bulk, Gold Standard Nutrition and loads of other top brands made buying supplements exciting again. It wasn't just on the flagship whey powders, either, with vegan-friendly protein powder solutions such as MyProtein's Pea Protein Isolate also getting in on the action.
Other supplements like branch-chain amino acids, or BCAAs, meal replacements, weight loss shakes and even multivitamins were all slashed from retailers like Amazon and Walmart as well as specialty stores such as the UK's Holland and Barrett. If you're after protein powders and other supplements this Black Friday, we've got you covered.
When is Black Friday 2021?
This year, Black Friday 2021 is falling on Friday, November 26. However, we're expecting the protein powder deals to begin ramping up significantly earlier than that. For example, Holland and Barrett are reportedly running their Black Friday sale from Thursday November 18, a whole week before the official date, and other retailers like Amazon will be dropping deals from early November. Be sure to check back to this page where possible, as we'll cover all the best Black Friday protein deals in the run-up to the big day.
However, it's not just about the Friday. Initially conceived as a post-Thanksgiving rush to buy Christmas presents, Black Friday has since grown into an entire weekend, and a shopping holiday all of its own. We're going to be seeing swathes of discounts on the Friday, Saturday, Sunday right up until Cyber Monday.
Cyber Monday initially began as a way for online retailers to offload unsold Black Friday stock. However, it's since become almost as big a deal as Black Friday itself, with some of the very best deals dropping on the last day of the bonanza. If you're too late to swipe a Black Friday protein deal, keep checking back, as Cyber Monday means the discounts will continue right up until midnight on the 29th.
Black Friday Protein deals: Sample deals from 2020
To give you an idea of the discounts available, these were a few of the best deals we saw last year from UK retailer Bulk Powders. However, these are from last year, so be aware these deals are no longer live. As we get closer to the proper date, we'll replace these now-defunct deals with the real thing.
Pure Whey Protein 5KG, shaker & bar/protein sachet sample | was £89.99 | Black Friday 2020 Price: £44.99 at Bulk Powders
What it says on the tin: if you're looking to tone up and build muscle, Bulk Powders' Pure Whey Protein is the product for you. Comes in loads of different flavours, from the usual vanilla, chocolate, peanut butter or banana to more obscure varieties such as "Birthday Cake".
Bulk Powders Collagen & Vitamin C powder 500G | was £14.99 |Black Friday 2020 Price: £9.74 at Bulk Powders
Collagen is the most abundant protein in the body (often seen included in skincare products) and vitamin C not only has a load of health benefits on its own, but encourages collagen formation in the body. Want healthy skin and a nice smile in addition to toned arms and strong bones? This is the supp for you.
Complete hydration drink 5KG, shaker & bar/protein sachet sample | was £74.99 | now £29.99 at Bulk Powders
This mix will reduce tiredness and fatigue during your workouts, getting the water into your system faster than drinking it on its own. An advanced tri-carbohydrate blend consisting of Maltodextrin, Dextrose and Fructose will keep you going when workouts get tough.
Black Friday Protein Deals 2021: Retailers to watch
US retailers to watch
Target
A quick search for "protein powder" at Target will provide a smorgasbord of options, including vegan-friendly products, BCAAs, and top brands like Gold Standard Nutrition. Categories for whey, plant-based and certain popular flavours provide easy navigation.
Shop protein powders at Target now:
Walmart
Much like Target, the catch-all store has loads of protein powders, multivitamins, pre-workout powders and more in its supplements range, including top brands and low prices. Walmart's been historically excellent for price cuts on Black Friday, and 2021 is looking no different.
Shop protein powders at Walmart here
Amazon US
Obviously. Amazon's lightning deals and Black Friday discounts are always worth a look no matter what you're buying, from paddleboards to protein powders. This year is no different, so keep your eyes peeled.
Shop protein powders at Amazon here
MyProtein
MyProtein's discounts may vary between the US and the UK, but the retailer operates with a foot in either market. There are some incredible deals that are sure to crop up that could be exclusive to the US, so keep an eye on the MyProtein site for everything from muscle-builders to hydration aids and multivitamins.
Shop protein powder at MyProtein here
UK retailers to watch
MyProtein
MyProtein's big "Impact Week" sale gave us a glimpse of what Black Friday might look like: they slashed 45% from loads of great items including up to 2 kilos of protein powder in over 20 flavours. Whey protein, vegan, BCAAs, their summery Clear Isolate protein powder, apparel... everything!
Shop protein powder at MyProtein here
Bulk
Like MyProtein, Bulk's own-brand online store offered swathes of discounts last year, from vegan proteins to apparel, niche products such as BCAAs and flagship supps like its excellent whey isolate. This writer personally bought one kilo of the stuff last year. 
Shop protein powder at Bulk.com here
Why get a protein powder deal on Black Friday?
Protein powder is essential for anyone who's into their resistance training. Whether you're a serious weightlifter (and if so, we recommend you check the Black Friday weights deals guide) or just someone who likes to do a few press-ups, in order to allow your muscles to recover, you need dietary protein.
If you do regular resistance training, it could be tough to get the necessary amount of protein in your diet through whole foods alone. Protein powders provide a convenient, tasty supplement that allow you to squeeze in a little extra protein day-to-day in order to help your muscles recover from those gruelling resistance workouts.
Other supplements such as BCAAs increase the muscle's ability to convert and use protein. Meanwhile, the supplements deals also include multivitamins, hydration supps and more. Even if you're not a keen lifter, there's something for you here.
Matt Evans is an experienced health and fitness journalist and Channel Editor at Fit&Well. He's previously written for titles like Men's Health and Red Bull, and covers all things exercise and nutrition on the Fit&Well website. Matt originally discovered exercise through martial arts: he holds a black belt in Karate and remains a keen kickboxer and runner. His top fitness tip? Stretch.