Are you getting enough vitamin D for winter? If not here's how to fix this
Vitamin D is an essential nutrient for supporting our overall health. Don't neglect this vital vitamin over winter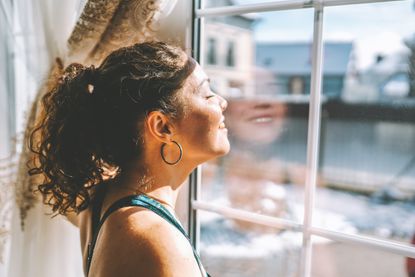 (Image credit: Getty)
Vitamin D is often referred to as the sunshine vitamin, and is the vitamin which helps regulate the amount of calcium and phosphate in your body. This in turn keeps our bones, teeth and muscles in good condition, not forgetting that it is really beneficial for protecting your immune system too.
So what happens when the winter months creep in, the days get darker, and the UV levels from the sun are no longer strong enough for us to make vitamin D in our skin?
While some people resort to consuming essential nutrients as tablets for the sake of their health, such as the best vitamins for women over 50, others are (quite literally) in the dark about how to ensure they are receiving enough vitamin D over winter.
A recent study called the National Diet and Nutrition Survey shows that approximately 1 in 6 British adults have low levels of vitamin D in their blood. Nearly half (49%) of British adults are oblivious to the UK Government's advice that people should aim to take Vitamin D supplements from October right through to March. They encourage people to take a daily vitamin D supplement worth ten micrograms in order to keep their bones and muscles healthy.
The research also revealed that of those who already take vitamin D supplements, 40% say they take it because it is good for their general health, 36% take the supplement because they don't feel like they get enough vitamin D from their diet or sunshine, while 27% said they take it to protect their bone health.
The vitamin has been proven to benefit additional areas of peoples health as well. This 2013 study conducted by Loyola University Health System, gave women suffering from type 2 diabetes who also showed signs of depression vitamin D supplements, and found that it lowered the participants blood pressure, improved their moods and aided weight loss.
Bridget Benelam, the Nutrition Communications Manager for British Nutrition Foundation shared with us four ways you can up your intake of vitamin D. They are especially targeted at maintaining this over the winter months so that our bodies can continue to reap the multiple health benefits of vitamin during these sometimes sunless months.
Four tips for sourcing vitamin D over winter:
Take a supplement: a basic vitamin D supplement is fine – or if you already take a multivitamin you may find it's included. You could look for practical ways of helping you remember to take the supplement each day, such as taking it at the same time as brushing your teeth.
Oily fish: such as salmon, mackerel and sardines are one of the few rich sources of vitamin D in the diet, and also provide omega 3s as well as protein and other vitamins and minerals. It is recommended that we eat two portions of fish a week, one of which should be an oily type.
Eggs: they are a source of vitamin D and so including these as part of a varied diet can help with dietary intakes of vitamin D. You could try omelettes or frittatas where you can also include vegetables such as peas, peppers, spinach or sweetcorn.
Look out for foods fortified with vitamin D: some breakfast cereals, dairy products, plant-based milks and fat spreads have vitamin D added so you can check labels to include these when shopping.
Jessica is an experienced fitness writer with a passion for running. Her career in journalism began in local news and she holds a Masters in journalism. Jessica has previously written for Runners World, penning news and features on fitness, sportswear and nutrition.
When she isn't writing up news and features for Fit&Well covering topics ranging from muscle building, to yoga, to female health and so on, she will be outdoors somewhere, testing out the latest fitness equipment and accessories to help others find top products for their own fitness journeys. Her testing pairs up nicely with her love for running. She recently branched out to running 10Ks and is trying to improve her time before moving on to larger races. Jessica also enjoys building on her strength in the gym and is a believer in health and wellness beginning in the kitchen. She shares all of this on her running Instagram account @jessrunshere which she uses for accountability and for connecting with like-minded fitness lovers.