"I will treasure this feeling forever": meet our Trainer of the Year!
47-year-old Emma Goodman-Horne was crowned Fit&Well's Trainer of the Year from a 70-strong longlist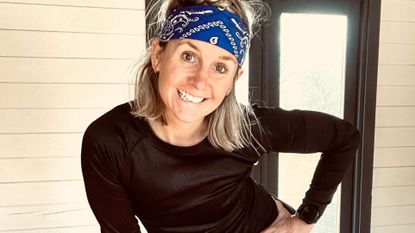 (Image credit: Emma Goodman Horne)
Get the Fit&Well Newsletter
Start your week with achievable workout ideas, health tips and wellbeing advice in your inbox.
Thank you for signing up to Fit And Well. You will receive a verification email shortly.
There was a problem. Please refresh the page and try again.
It's been eight long weeks since we first invited the public to submit nominations for Trainer of the Year at the Fit&Well Awards - but the wait is over, as we've now revealed our winner!
Some 70 names were put forward for the title, all of which were clearly brilliant at what they do. But sadly our judging panel could only select one winner, and the title has gone to Emma Goodman-Horne!
The Surrey-based mum of two has been a fitness trainer for seven years, having originally set out to get qualified in order to set up "a little bootcamp for my friends and the school mums to give us all a boost post-school drop-off."
Since then, Emma's fitness following has grown to the extent that pre-COVID she was welcoming over 100 people to her enthusiastic and energetic bootcamp sessions.
It's that energy that earned Emma, 47, the title on Trainer of the Year. It's core to her brand's DNA (indeed, her business is called 'Emergy'), and this shone through in her nominations, with one person writing: "Emma has so much energy, positivity & motivation, you always come away from her sessions smiling."
Emma is truly a believer in fitness for all, which is reflected in the free five-week 'couch to workout' programme she offered in January of this year. She's also helped local children stay fit and active, training a local netball club and youngsters in the community via QPR football club.
The judges were also impressed with her unwavering commitment to her clients, continuing to train them over the last year even in the face of financial challenges and personal loss (Emma's grandmother sadly passed away in January, shortly after contracting and recovering from Covid-19).
Her ongoing charity work was also a source of inspiration, with the Emergy Ball she hosted in March 2020 raising £8,000 for a local hospice.
Our Q&A with Emma covers all these reasons and more that make her a worthy winner of our Trainer of the Year award...
What led you to a career as a fitness trainer?
My biggest drive to get qualified was that I was bored with what the gyms were offering - the same six week routine of classes. It wasn't fun, it was a chore to go and there was only a couple of really inspiring, motivational coaches - most of them looked like the hated their job!
I thought, 'I need to change this and create something that is fun, motivational and makes everyone feel comfortable, no matter what their age, size or ability, and for it to be inclusive.'
What sort of training do you specialise in?
Pre-Covid I ran a bootcamp six to seven times a week at the local cricket club. Each session would always be different, mixing up weights, circuits, resistance bands, endurance training, boxing and HIIT training.
I love the creative side of planning something new, however my focus is always on technique and ensuring that everyone learns how to do each exercise correctly to get the maximum benefits and results. It is so important; then you can really start to feel confident and ultimately progress to lift heavier, squat lower or plank longer.
What's a typical bootcamp session with you like?
I'd like to think that my sessions are fun, challenging, engaging, leave you with the post workout buzz and wanting more! I treat each session as a 'show', a live performance that you want to be part of.
I don't take myself too seriously, I can laugh at myself and love a bit of banter. I am known for creating nicknames for my clients and always try to make everyone feel included in the session, even the quiet ones.
Seeing people smile, sweat, laugh, and curse at me drives me forward to keep delivering the best I can. They come back for more, so I must be doing something right.
Why do you love what you do?
The job satisfaction you get being a fitness coach is unreal. To know that you have helped someone feel better about themselves, have improved their self-esteem and body confidence, watching them become stronger, leaner, fitter and being part of their journey is why I do what I do.
I also get a huge buzz out of working out with others. I am there with them on the floor, squatting, lunging, planking or running round the field. The positive energy you get from training with a group is such a motivator.
My 'Emergy ethos' is strong. I never want anyone to feel uncomfortable about coming to bootcamp. I want the fittest body supporting the weakest, and the oldest supporting the youngest. That, in my opinion, creates a community of like-minded people, supporting each other to all do the best they can!
What have been the biggest challenges you've faced as a trainer during the pandemic?
Being thrown into the virtual world was mind blowing, and not only from the technology perspective. I felt the need to drive the energy levels up even more, to ensure that people were actually doing the session, rather than just tuning in for the Emma Show.
When looking back at my very first Facebook lives, I cringe… I looked like a nervous wreck. But my clients stuck with me. They were sharing my page with their families and friends, telling them to join in and saying I was the highlight of their lockdown day!
I knew then I would just keep going. I ran five to six free Facebook live workouts a week and the engagement levels grew. I spent my days planning my routines and just went for it – as long as people were logging on, I was going to do everything I could to keep myself and my crew moving and motivated through this crazy time!
The hardest part was my income stream stopped immediately. I tried to operate an 'honesty box', which was a nightmare to administrate. I'm always about value for money, but of course you can not charge the same for virtual sessions as you can for in-person. My income has thankfully now stabilized, and I'm hugely grateful to everyone who has joined me, trusted me and believed in me.
One of your nominations read: 'She is an inspiration and has built a real sense of community - helping to reduce the sense of loneliness, isolation and despair many would have otherwise felt.' How does that make you feel?
Hearing this makes my heart melt, fills me with joy and pride, and confirms why I do what I do. I'm so fortunate to love my job. I often forget it's a job as it offers me so much personal satisfaction, and keeps me fit and striving to be as healthy as a can. Just knowing I might have helped others "get through" is one heck of a compliment.
How did you feel when you found out you had won Trainer of the Year?
I was absolutely blown away when I heard the news I had won! This is the first ever award I have won, and I will treasure this feeling forever.
The icing on the cake is that Fit&Well's vibes hugely mirror my Emergy brand values and ethos.
What would you like to say to the 40 people who nominated you?
Thank you so much to everyone that took the time to vote, you have made me extremely happy,and proud, and given me a huge boost to keep striving to deliver the best I can for as long as I can.
I was so delighted to be simply nominated and be listed amongst all the incredible coaches. I never, ever thought I would win this wonderful accolade.
One of our other awards is the Fit&Well Hero award, given to someone who has helped and inspired people on a national or global scale. Who has been your health and fitness hero this year?
I think every single fitness coach, instructor and PT out there who has managed to keep their clients moving, motivated, fit and strong during this bonkers year needs a Hero Award.
It has been a huge challenge for everyone that has affected so many livelihoods that took years to create, build, sustain and grow.
I'm just praying that everyone can get back to what they do best, strengthen and grow their communities further, knowing we are now all even stronger, fitter, wiser and can cope with anything!
For more information on Emma and her Emergy fitness classes, follow @emergy100 on Instagram and the Emergy FIT Facebook page.
Get the Fit&Well Newsletter
Start your week with achievable workout ideas, health tips and wellbeing advice in your inbox.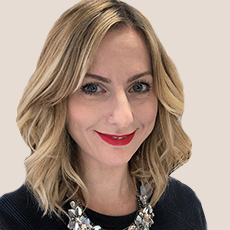 Stephanie is Editor of GoodToKnow and was previously the Editor of Fit&Well. With 15 years experience, she has worked for titles including Woman&Home, MSN and Stylist, covering all aspects of women's lifestyle including health and fitness. Her preferred way of staying fit and well is sport: she regularly plays tennis and has been a keen netballer since her school days. She plays with her London-based team, Cool Runnings, and is also a qualified Level 2 Netball Coach. Stephanie recently started strength training, and can now regularly be seen hobbling around her local area as DOMS kicks in. Happily, she's since discovered the joy of recovery days. As a result, her top fitness tip is: invest in a foam roller!