Fit&Well Awards: Gymshark and Marcus Rashford are amongst our Headline Award winners!
Plus the results of our exciting nominated-by-the-public Trainer of the Year award...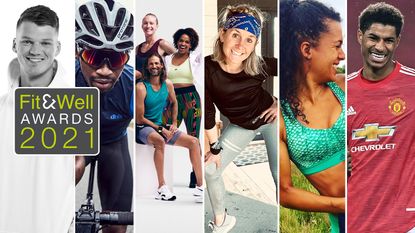 (Image credit: Gymshark, Wiggle, Apple, Emma Goodman Horne, Shakira Akabusi, Getty Images)
Get the Fit&Well Newsletter
Start your week with achievable workout ideas, health tips and wellbeing advice in your inbox.
Thank you for signing up to Fit And Well. You will receive a verification email shortly.
There was a problem. Please refresh the page and try again.
The end of Fit&Well Awards week is upon us, but we've saved some of the best - and most inspiring - awards for last.
Today we're revealing the winners of our Headline Awards, which have been decided by our expert panel of judges, including Fitness Brand, Retailer, Launch and Influencer of the Year.
There's also the exciting Trainer of the Year award, for which we received over 1,000 responses when we opened nominations last month. Nominated by members of the public, this was a chance to celebrate the fitness professionals who helped their clients through the challenges of the last year. Whittling down the long-list to a shortlist and then ultimately selecting the overall winner was no easy task, but we think you'll agree that the panel has chosen well.
Last but by no means least, there's the all-important Fit&Well Hero. With this award we were looking for famous faces from the worlds of health, sport and fitness who have achieved something extraordinary in the last year - something our winner delivered on and then some.
Read on to discover more about our worthy Headline Award winners - and when you've done that, be sure to check out the winners of our other categories: Home Workout Wonders, Top Fitness Tech, Hot Fit Kit and Healthy Home Heroes.
Fitness Brand of the Year
Winner: Gymshark
Having been founded by Ben Francis and a group of school mates in 2012 when he was still a teenager, Gymshark has evolved into one of the most exciting and increasingly recognizable fitness brands of our times. Customers in some 131 countries adore its range of innovative fitness wear, helped along by a rapidly growing social media presence (the brand has over five million Instagram followers) where it promotes its brand values of community, progression and forward-vision. The brand won praise for several initiatives during 2020, including offering paid online workout opportunities to struggling fitness professionals during lockdown and the 'Sweaty Selfies' campaign, which raised £180k for NHS Charities. They also donated $125k to Black Lives Matter during the summer of 2020, at the same time pledging to "represent Black culture and communities better within our own".
What the judges said:
"GymShark have been real challengers in the fitness space over the past year. I was one of many instructors that they supported with paid classes when doors to gyms and studios first shut. At that point, they provided hope as well as support." - Elle Linton, Keep It SimpELLE trainer
"A company with great core values and great products." - Aimee Victoria Long, leading personal trainer
"What I admire about GymShark isn't just how it's one of the fastest growing fitness brands but also how it's one of the most exciting companies in general. The brand established itself as a force to reckon with during lockdown, and I'm sure we'll hear a lot more about them in the future." - Matt Kollat, Fitness & Nutrition Writer, T3
Fitness Retailer of the Year
Winner: Wiggle
In a year where staying fit and well became paramount, Wiggle - the sports and fitness retailer with a particular passion for cycling, running and swimming - came into their own. The UK-based brand's clear, concise communication and great customer service helped people out of their homes during lockdown and into the great outdoors, at a time when gyms were off-limits. One judge described their service as "effortless, easy and 100% fuss-free". Having seen bike sales increase 192% during lockdown, the retailer conducted research to find the UK's best and worst cities for cycling - concluding that 'many of our customers still feel that there is a way to go before the UK's major cities are truly cycle friendly' and offering cycle safety information on the back of this. Furthermore, in October 2020 it launched the Recycle, Refresh, and Run initiative, encouraging runners to recycle their old running shoes in exchange for £20 to spend on site.
What the judges said:
"Wiggle was a lighthouse in the chaos that was the year 2020. Despite the astronomical demand for bikes and fitness equipment the company sells, the online retailer kept its cool and delivered a customer experience that would be admirable even under normal circumstances, let alone when everyone wants to buy fitness equipment online." - Matt Kollat
"Wiggle are a joy to shop with; every single transaction I've had with them has been seamless and their customer support is second to none." - Stephanie Wood, Editor of Fit&Well
Fitness Launch of the Year
Winner: Apple Fitness+
Considering their commitment to helping people hit their health and fitness goals (the Apple Watch's brilliant Rings and the iPhone's comprehensive Health app), Apple's entry into the fitness app space was always going to be special. In actuality, the company delivered a five-star platform that one of our judges, Lucy, raved about when she reviewed it. It delivers a range of workouts to suit all abilities delivered by skilled and enthusiastic trainers, along with a great user experience - all at a super competitive price. All in all, Apple Fitness+ is easily one of (if not the) best fitness apps on the market, and a worthy winner of our Launch of the Year prize.
What the judges said:
"GAMECHANGER. Apple has been so dominant in always thinking ahead of the game." - Marvin Ambrosius, fitness trainer and TV presenter
"New to the game but as you'd expect with Apple, they've thought about everything. Great variety of classes and high quality trainers give you that extra burst of energy when required." - Aimee Victoria Long
"The most in-tune, futuristic workout service ever. It's a flawless experience, reflecting how at-home workouts should be done." - Matt Evans, Channel Editor at Fit&Well
Fitness Influencer of the Year
Winner: Shakira Akabusi
Creator of the Strong Like Mum brand, Shakira is a pre- and post-natal fitness expert who champions the health and wellbeing of new and expectant mums. She uses her informative, authoritative blog and social media platforms to impart practical, trusted exercise advice to her extensive audience (19.4k Instagram followers and counting). Not only that, she also sets real expectations around 'post-baby bodies', normalizing stretch marks, cellulite, and loose, sagging skin via honest, candid posts. Shakira truly lives her brand, and her own brood grew in 2020 - she gave birth to twins, making her a mum of four. She documented her experience pre and post-birth, covering not just fitness but also issues such as c-section scar recovery and breastfeeding.
What the judges said:
"Shakira's open and honest content has been inspirational for as long as I can remember! She has documented her own journey as a now mum-of-four, whilst providing insight and expertise for other expectant mothers. Outside of her role as a mother, Shakira is also an inspiring and supportive running coach, empowering women to become confident and accomplished runners." - Elle Linton
"Shakira has all the qualities that set the great influencers apart from the rest: she's authentic, honest and totally relatable. The help, support and reassurance she provides to mums and mums-to-be cannot be understated, and it's been wonderful to watch her use her ever-growing influence to champion the real needs of those with kids everywhere." - Stephanie Wood
Trainer of the Year
Winner: Emma Goodman-Horne
If there's one winning trait that came through above all others when reading the nominations for Emma Goodman-Horne, it was her energy (or 'Emergy', as she calls her brand). One nominator affectionately compared the 47-year-old fitness trainer to the Duracell Bunny, with another noting: "Emma has so much energy, positivity & motivation, you always come away from her sessions smiling." Beyond that, the judges were impressed with Emma's clear dedication to helping people live healthier, happier lives. Over the past year she's offered free workout classes on Instagram (including several for @wearefitandwell), including sessions for kids and total beginners. Not even losing her grandmother during the pandemic stopped her from leading her devoted Emergy crew, and she even found time to help raise £8,000 for Woking Hospice (in memory of her mum who sadly died of a brain tumor in 2019) through her 'Emergy Ball' in March 2020. As one judge put it, "She has more than earned our trainer of the year award!".
What the judges said:
"Great personality and very good at her job!" - Chris Richardson, celebrity trainer and co-founder of Zero Gravity Pilates
"Emma's infectious enthusiasm comes through in her workouts, but it's more than her boundless energy that has earned her the title. She caters for everyone, raises money for charity and kept helping others even through personal tragedy." - Matt Evans
"Emma is everything you could want from a fitness trainer: tirelessly energetic, inclusive and encouraging, and expertly brilliant at what she does. I'm thrilled that she's our Trainer of the Year." - Stephanie Wood
Fit&Well Hero
Winner: Marcus Rashford
Marcus Rashford is a shining example of a sportstar at the top of their game - a position he's heroically used for the greater good. The Manchester United and England footballer achieved much in the last year - equalling David Beckham's United goal tally included. But it was off the pitch where Rashford's true star quality and heroic nature shone through, with his unprecedented campaign to ensure free school meals were provided to vulnerable children at risk of going hungry during the UK school holidays.
What the judges said:
"A fine example of a celebrity using their fame and influence to promote good" - Lucy Gornall, Health & Fitness Editor
"He didn't have to speak up, he didn't have to campaign. He spoke up and the powers that be listened to him. His unselfish approach to helping others will be spoken of and appreciated for years to come." - Marvin Ambrosius
"If everyone had Marcus Rashford's determination and good heart, surely we would all live in a much better world. Throughout 2020, Marcus showed the world how to utilise being famous the right way and his devotion to feed children in the UK is nothing short of amazing." - Matt Kollat
"What a shining light and brilliant role model for us all. Never was Marcus's compassion, empathy and commitment to the cause more needed than in the last year. A truly modern hero." - Stephanie Wood
More from the Fit&Well Awards 2021
Be sure to check out the winners of our other categories!
Get the Fit&Well Newsletter
Start your week with achievable workout ideas, health tips and wellbeing advice in your inbox.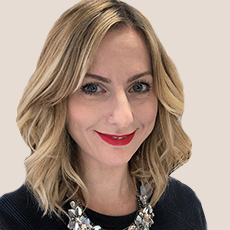 Stephanie is Editor of GoodToKnow and was previously the Editor of Fit&Well. With 15 years experience, she has worked for titles including Woman&Home, MSN and Stylist, covering all aspects of women's lifestyle including health and fitness. Her preferred way of staying fit and well is sport: she regularly plays tennis and has been a keen netballer since her school days. She plays with her London-based team, Cool Runnings, and is also a qualified Level 2 Netball Coach. Stephanie recently started strength training, and can now regularly be seen hobbling around her local area as DOMS kicks in. Happily, she's since discovered the joy of recovery days. As a result, her top fitness tip is: invest in a foam roller!