Benefits of a glass of wine are "the biggest myth since being told smoking was good"
No, light drinking won't improve your heart health, according to the latest science. Here's what will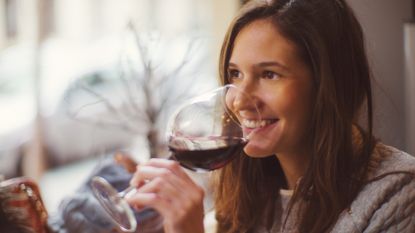 (Image credit: Getty Images)
It's a real pleasure sharing a glass of wine with friends over dinner, or having a beer during a catch-up with old pals at the local bar. This pleasure has often been reinforced by frequent headlines extolling the virtues of sensible alcohol consumption, with studies claiming a glass of wine, for example, was good for your heart or immune system.
However, the latest research says otherwise, with scientists claiming these benefits are "the biggest myth since we were told smoking was good for us".
Cardiovascular benefits can come from aerobic exercise, such as running or walking on one of the best treadmill entries, or even encouraging circulation through a series of stretching exercises. However, when it comes to dietary options, alcohol only ever increases our risk of heart diseases rather than reducing it.
The research, published by scientists from the UK's Anglia Ruskin University (opens in new tab), studied evidence submitted by 350,000 UK residents aged between 40 and 69. They examined data reaching back seven years, finding even light drinking increased our risk of cardiovascular disease.

The researchers studied people who drank less than 14 units of alcohol per week, the limit recommended by the UK's Chief Medical Officers. For context, a pint of beer or large glass of wine would be roughly two units, depending on strength. For those moderate drinkers, each additional 1.5 pints of beer at 4% abv is associated with a 23% increased risk of suffering a cardiovascular event.
Lead author Dr Rudolph Schutte said: "suggesting health benefit from low-to-moderate alcohol consumption is the biggest myth since we were told smoking was good for us."
Although wine drinkers suffered from lower levels of coronary heart disease in particular, other cardiovascular risk factors were still high. Biases exist in old research, such as using non-drinkers as a reference group when many do not drink for reasons of existing poor health.
The only answer is to drink less and take other measures to safeguard your heart health, such as moving more. It doesn't have to be strenuous exercise or a dynamic HIIT session: something as simple as a 30-minute walk a day could do you the world of good.
Research (opens in new tab) found walking was "the first step in cardiovascular disease prevention" and computer/mobile-based programming was very effective at increasing an individual's step count. Our best fitness trackers list is a great place to start, encouraging you to get out and walk more to turn back those nights in front of Netflix, on the sofa with a glass of wine.
Matt Evans is an experienced health and fitness journalist and is currently Fitness and Wellbeing Editor at TechRadar, covering all things exercise and nutrition on Fit&Well's tech-focused sister site. Matt originally discovered exercise through martial arts: he holds a black belt in Karate and remains a keen runner, gym-goer, and infrequent yogi. His top fitness tip? Stretch.