Build stronger arms and upper body muscle in just 20 minutes
This short dumbbell routine works your arms, chest, shoulder, and core to build lean muscle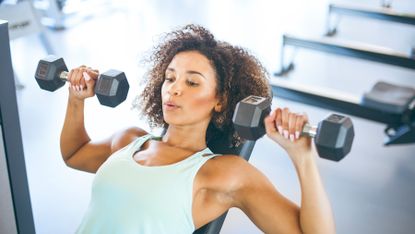 (Image credit: Getty)
Your upper body plays a vital role in your mobility, allowing you to do everyday movements like bending, twisting, and lifting. And you don't need much to build strength in this area, as this 20-minute, two-dumbbell routine shows.
The workout was designed by Anna Engelschall, best known by her YouTube handle, growingannanas. Aside from weights, the only other equipment you'll need is one of the best yoga mats to soften the surface.
Engelschall uses two sets of dumbbells for this routine; two 10lb dumbbells and two 3lb weights. If you're doing this routine at the gym, grab the four weights before you start. However, this is less ideal if you're training at home.
If you don't want a whole weights rack taking up space, it's worth considering a set of the best adjustable dumbbells. These combine several weights, so you can quickly pick s different load and challenge yourself with stronger weights as your training progresses, a concept known as progressive overload.
When working with weights, it is always important to ensure your form is correct and safe. Watch Engelschall as she demonstrates the movements before mirroring them yourself.
Watch growingannanas' 20-minute arm workout
This workout routine is set in periods of 30 seconds of work followed by 10 seconds of rest, but Engelschall urges that every body is different—if you need a longer rest period take one and make the workout your own.
The 20-minute routine works on a series of arm strengthening movements such as shoulder presses, kneeling Arnold presses and lateral hold and curls, all designed to work your arms, shoulders, and chest in a short amount of time.
If your goal is to develop lean muscle around your arms, it's worth keeping in mind that you can't spot target fat. Instead, you'll need to boost your metabolism (the amount of energy you burn through the day) using a heart rate-raising high-intensity HIIT workout for fat loss.
As this is a weighted arm strengthening workout, you'll probably feel the effects of delayed-onset muscle soreness (DOMS) the following day. This is normal and is the result of tiny tears in your muscles that have happened during your workout.
Your body uses protein to help repair, strengthen and grow your muscles, so it's important to eat several types of protein throughout the day. However, it's also worth keeping topped up with a post-workout shake using the best protein powders for weight loss.
Lois Mackenzie is a fitness writer producing news, features, buying guides and reviews for Fit&Well and sister site Coach. She is an avid runner and hill walker, and can often be seen sporting her trusty waist lead as she trains for her first marathon with her two border collies in tow. Lois has a Master's in Digital Journalism from Strathclyde University and was previously a senior SEO reporter at Newsquest Media Group.