Build stronger legs and glutes with these five moves
This five-move leg workout is accessible and devilishly effective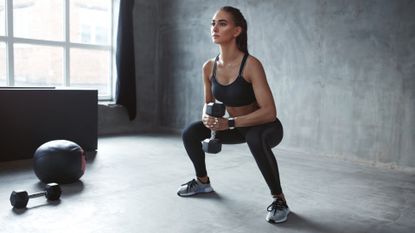 (Image credit: Getty)
You don't need a fully-equipped private gym to build muscle at home. With this efficient and effective workout, you can grow your glutes and strengthen your legs with just a pair of dumbbells and a 36-minute commitment.
We think the best adjustable dumbbells (opens in new tab) are the top option for home workouts as they allow you to change their weight to suit your strength level. However, for this session, a fixed-weight pair of dumbbells, kettlebells or even two filled water bottles will work—so long as they're heavy enough to make each exercise challenging.
The workout has been crafted by Krissy Cela (opens in new tab), co-founder of the EvolveYou (opens in new tab) training app. It uses just five exercises, with each one performed for three sets of 10-12 repetitions. Perform all three sets of one exercise before advancing to the next one, and leave 60 seconds of rest between each set to allow your muscles to recover so you can hit each set with intensity.
Two of the exercises—reverse lunges and split squats—are performed on one side of the body at a time. For these movements, complete all repetitions on one leg then switch sides and launch straight into the prescribed repetitions on the other leg. After both sides have been completed, take a 60 second rest.
Watch Cela's video below to find out which five exercises await you, and mirror her technique to make sure you're performing each one with perfect form.
Watch Krissy Cela's single dumbbell glute workout
You should be able to finish this workout in about 36 minutes. If you're finding the exercises too difficult, try increasing the rest times to 90 seconds or lower the weight you're lifting.
Cela's session is a bodybuilding-style workout. This means that, while it will still raise your heart rate and burn calories, the focus is on building bigger, stronger muscles.
It primarily targets your glutes, but thanks to the inclusion of squat and lunge variations it will also activate leg muscles such as your hamstrings and quads. This is because these moves are compound exercises (opens in new tab), recruiting multiple joints and muscle groups.
If you want to try this workout for yourself, we recommend using it as a daily resistance training session. You'll also want to give your legs at least 24 hours to recover after completing it, so why not try switching up your training with this chest and back workout (opens in new tab) or give some cardio a go courtesy of our running plan for beginners (opens in new tab)?
Harry Bullmore is a fitness writer covering everything from reviews to features for LiveScience, T3, TechRadar, Fit&Well and more. So, whether you're looking for a new fitness tracker or wondering how to shave seconds off your 5K PB, chances are he's written something to help you improve your training.
When not writing, he's most likely to be found experimenting with a wide variety of training methods in his home gym or trying to exhaust his ever-energetic puppy.
Prior to joining Future, Harry wrote health and fitness product reviews for publications including Men's Health, Women's Health and Runner's World. Before this, he spent three years as a news reporter with work in more than 70 national and regional newspapers.