Can your smartphone help improve your mental health?
We know about the negative impacts of tech, but there are ways your phone can protect your wellbeing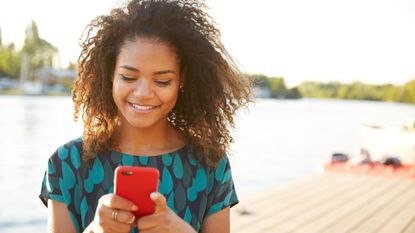 (Image credit: Getty Images)
We all know that our smartphones, social media feeds, and news apps can negatively impact our mood and mental health. Despite (or, perhaps, because of) this, Apple is rumored to be working on new technology to diagnose anxiety and depression and detect cognitive decline.
Of course, the company has been working health-related features into its devices for several years now. For example, the Apple Watch is one of the best running watches thanks to its integration with Apple Fitness+ alongside a wide range of sensors designed to keep tabs on your health.
While these fitness tracking and health monitoring features are impressive, they are easy to understand. The heart rate sensor keeps tabs on your heart rate, an approximate measure of your overall health. Similarly, the built-in pedometer counts your steps so you can see how active you are throughout the day.
Mental health conditions are more challenging to assess or diagnose. According to The Wall Street Journal, that's why Apple has teamed up with researchers at the University of California to study how they might go about analyzing stress, anxiety, and depression.
These projects are still in their early stages, so don't expect to see related features rolling out any time soon. If you are invested in the Apple ecosystem, our Apple Fitness+ review found that the subscription workout app makes the best use of the company's tech to help you exercise at home or while traveling.
However, there are other ways you can use your smartphone to improve or look after your mental health.
There's growing evidence for the benefits of meditation, with a meta-study revealing that a regular practice helps improve anxiety, depression and reduces pain. You don't have to use technology to learn how to meditate, but smartphone apps like Calm and Headspace make it easy to build a habit.
The link between exercise and mental health is well-established too. For example, one meta-study established that 30 minutes of exercise three times a week helped significantly reduce anxiety and depression. Similarly, another study found that exercise led to 43% fewer days of poor mental health.
So, if you want to get fit and feel great, it's worth installing one of the best fitness apps to start a varied and achievable workout routine. Many fitness apps also include meal plans, recipes, and even some guided meditations and yoga sessions.
James is a London-based journalist and Fitness Editor at Fit&Well. He has over five years experience in fitness tech, including time spent as the Buyer's Guide Editor and Staff Writer at technology publication MakeUseOf. In 2014 he was diagnosed with a chronic health condition, which spurred his interest in health, fitness, and lifestyle management.
In the years since, he has become a devoted meditator, experimented with workout styles and exercises, and used various gadgets to monitor his health. In recent times, James has been absorbed by the intersection between mental health, fitness, sustainability, and environmentalism. When not concerning himself with health and technology, James can be found excitedly checking out each week's New Music Friday releases.