I tried Apple Fitness+ to see if an app could replace my current workout routine
My time with Apple Fitness+ was an experiment to see if a single app can solve my fitness woes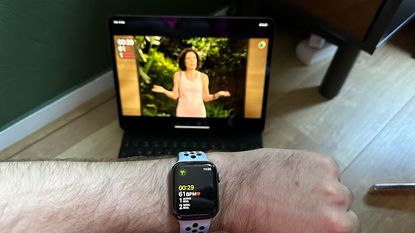 (Image credit: Callum Booth)
Apple Fitness+ is an excellent, reasonably-priced option for home workouts. The service is available on your iPhone, iPad, or AppleTV, covers a large range of exercises, including HIIT, yoga, and resistance training. The production is fantastic and the trainers keep you motivated, but the basic filters make it hard to find the perfect class. The beginner-friendly app is a great way to move your body without the gym, but you'll need to go elsewhere for more advanced workouts.
Reasons to buy
+

Tight integration with Apple devices, including the Apple Watch

+

High-quality, accessible workouts perfect for beginners

+

Most classes have modifications to increase the intensity
Reasons to avoid
-

Not an option for Android users

-

You also need an Apple Watch for the full experience

-

Basic workout filters make it hard to find classes
The iPhone-friendly workout platform Apple Fitness+ certainly seems like an excellent option for at-home workouts. There are high-intensity sessions, yoga classes, and weightlifting routines.
And as an avid exerciser and tech enthusiast, I'm always hunting for the best workout apps to combine these two hobbies. My aim is to streamline my workout routine, find new ways to stay fit, and have fun.
So, when I came across Apple Fitness+, I knew I had to put it through its paces. Rather than simply reviewing the service, I wanted to challenge myself: could Apple's exercise app replace my current workout routine?
What is Apple Fitness+?
Apple Fitness+ is a virtual workout platform launched by Apple in December 2020. It lives inside the iPhone's Fitness app and has many activities, including high-intensity interval training (HIIT), dance, yoga, strength workouts, and Pilates.
You can follow along to most of the sessions using the workout video, but there's also a series of audio sessions for when you're out walking or running with a set of workout earbuds on and can't look at the screen.
Initially, you needed also to own an Apple Watch to use the service, but Apple has since opened it up to anyone with an iPhone, iPad, or Apple TV. However, if you have one of the company's smartwatches, your health stats, like heart rate and calories burned, will also show on the screen.
You'll need to take out a monthly subscription, which costs $9.99. Whether this is good value depends on how you like to exercise (as a gym membership will set you back far more), but the cost is roughly in line with other workout apps like Fiit or Centr.
Apple Fitness+ seemed a good fit as I exercise six days a week. Primarily, I do yoga, go running, and practice Brazilian Jiu Jitsu (BJJ), but I also like variety to keep my workouts interesting. Unfortunately, this is where I bumped into a problem.
The trainers and production are incredible
I'll put it bluntly: I've never attended virtual workout classes as downright impressive as the Apple Fitness+ sessions. The sets are spacious, the workouts gorgeously filmed, and the diverse array of trainers are encouraging and expert in their instruction.
It feels entirely professional—a far cry from many (though not all) YouTube trainers. If you've used a Peloton Bike before, the quality may not surprise you, but you'll still be impressed at how seamlessly Fitness+ integrates with your other Apple devices.
I always trained with an Apple Watch on my wrist, so I could see the real-time data on the screen, which is clearly designed to motivate you to get the most from your workouts. And I could see the data in the Fitness app alongside other activities from other apps, which was a huge upside.
This high-quality experience made exercising a joy, making me excited to either find new trainers or get further acquainted with those whose classes I enjoyed. But it did highlight another possible sticking point for anyone considering Fitness+ over the competition.
There are a limited number of exercises on the app
While some of my workouts are available on Apple Fitness+, something like BJJ isn't. This isn't surprising, as it's a more technical practice, but it does hamper my goal to replace all my workouts with the app.
The lack of BJJ seems reasonable, but I was surprised how many other everyday activities aren't there either. There are no swimming courses, jump rope sessions, or advanced weightlifting routines.
The counterargument is that Apple has prioritized workouts that people can do at home—but then it's still hard to explain the inclusion of the rowing, treadmill, and cycling classes when you'd need expensive equipment like one of the best rowing machines or an exercise bike.
Sure, some people have those machines in their homes, but as a city dweller, I need to hit a gym to use that equipment. But you know what? It's fine; I can adapt my routine.
It's strange Apple Fitness+ doesn't have a Mac app
I'm lucky to have an Apple Watch, iPhone, Apple TV, and iPad. When I'm ready to exercise with Fitness+, I can use all the above devices. If I want a big-screen experience, I can use the Apple TV app or take my iPad while away from the house.
But you know what I can't use? My MacBook laptop. It simply isn't supported. Considering how much Apple Fitness+ requires you to be entirely inside the company's device ecosystem, it seems strange to exclude its popular computers.
My iPhone and iPad were good enough to get the workouts started. But given that you can even access alternatives like Centr, Alo Moves, and Fiit through your regular browser, the lack of web or laptop support could be a dealbreaker for some.
The app is perfect for trying new workouts
Keeping your workouts varied can be a great way to stay motivated; it's how I keep focused and driven. This is a considerable strength of Apple Fitness+. All it takes is a few taps, and you can quickly hop on a class you've never tried before.
Before the new wave of workout apps, if you wanted to do this in person, you'd have to find a studio, plan a time to go and pay in advance. Now, you can try one for a few minutes to see if it's right for you and quickly switch if you're in the mood for something else.
Although I can't use one at home, I've always wanted to learn how to use a rowing machine. It means going to the gym, but without a trainer to help, I've never really engaged with the technique or a specific routine beyond thinking, "Okay, let's row for a bit."
I gave it a go and found that the app's trainers guided me through my first sessions in a structured and professional way to perfect my rowing machine form, engage my core, and work my whole body. This was true every time I tried something new.
Apple Fitness+ is great for beginners but not for progression
I've been practicing yoga, undertaking strength training, running, and doing HIIT workouts for years—and I found these classes on the app didn't push me hard enough or were as targeted as I needed.
To their credit, there are usually more advanced moves demonstrated by other trainers on the screen. But this isn't a unique feature, though, as many experienced YouTube trainers, like Juice & Toya, also show modifications or more advanced options.
However, the real problem is that progress isn't built into Apple Fitness+ as a platform. There are some goal-orientated collections, like Run Your First 10K, but a lot of what's on the app are just, well, classes.
Generally, I find that once you get over the initial beginner gains in strength and fitness, the only way to keep improving is to have specific and target progression plans based on SMART fitness goals and use the progressive overload training technique.
This means setting an achievable but challenging target, giving yourself a deadline, logging data, and measuring your results. Apple Fitness+ can't really help you here, but that's part of the compromise when developing a platform designed to have the broadest appeal.
The filtering options need huge improvement
Currently, the options for filtering classes on Apple Fitness+ are dire. You can select a trainer, time, or background music, but that's it. This means your ability to focus on a body part or select an intensity is borderline non-existent.
It also means it's hard to customize your workouts to your needs. I live in an apartment, so I need HIIT classes without loads of jumping (so I don't disturb my neighbors). But there's no quick way to find a low-impact session.
Likewise, I often want to stretch my chest and lower back as part of an active recovery workout during a yoga class, but I can only find that by scrolling for ages and reading each session's description.
This seems relatively easy to address, but it's also a prevalent problem with many virtual workout apps. For instance, we found the same filtering issues during our Echelon Smart Rower review.
But it can be done. Chris Hemsworth's workout app, Centr, has excellent filtering, where you can choose classes by a trainer, time, target area, workout type, and even the equipment you have at home.
Did Apple Fitness+ replace my whole workout routine?
Sadly Apple Fitness+ couldn't replace my existing training plan, but that doesn't mean it isn't still an excellent option for anyone with an iPhone or Apple Watch. The seamless integration and convenience make it easier to create a regular habit.
Unlike some similar apps, including Peloton, you don't need much equipment, as most sessions use your body weight alone or need a few accessories like dumbbells, kettlebells, or a yoga block.
It's well-suited to beginners, too, with accessible workouts that aren't designed for fitness enthusiasts but help you get some movement in your day without heading to the gym.
This is also its biggest drawback; the app is fun in short bursts for anyone further into their fitness journey, but it can't replace specialist classes or personalized trainer-designed progression plans.
Still, it's much safer than using ChatGPT to create a workout plan, as you know that experts have designed and vetted the routine. But, for now, I'll need to keep searching for that perfect blend of fitness and technology.
Callum Booth is a journalist with over a decade of experience. He was previously the Managing Editor of The Next Web, an Amsterdam-based global tech news site owned by the Financial Times. Callum's reporting has been cited widely—including by VICE, the FT, and the BBC.
He regularly writes about the intersection between technology and fitness, including fitness trackers and the gamification of exercise, and has been a keen Apple Watch wearer for many years. Callum also produces The Rectangle newsletter, which takes an irreverent look at consumer tech and internet culture, and co-hosts the Smug Book Club literary podcast.