Clean your workout gear at home: Sanitise your yoga mat, activewear & more
Your home workout kit is probably really gross: from your gym shirt to your yoga mat, here's how to sanitise your gear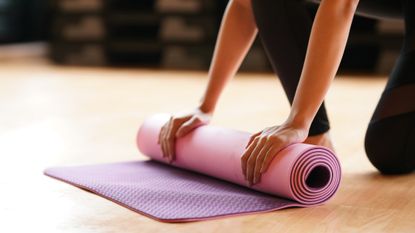 (Image credit: Getty Images)
Thanks to the COVID-19 global health crisis, more of us are working out at home than ever before. Whether running, HIIT, yoga or lifting weights, lots of us have purchased exercise equipment we can use in the comfort of our own homes.
However, there is one problem: after a sweat-heavy session, many of us are just rolling up our mats or putting our dumbbells to one side ready for next time. We're not cleaning them afterwards, and our exercise equipment quickly becomes a haven for bacteria.
Men's Health (opens in new tab) reported the average dumbbell used in the gym has 362 times more germs than an average toilet seat, which is absolutely gross, but makes sense if you consider these dumbbells are shared among everyone else. However, in order to prevent risks of infections and to maintain basic hygiene, (most) gyms sanitise their equipment on a regular basis.
We, on the other hand, don't often clean our kit, especially if we're used to using shared equipment at the gym. According to a recent report by the in-house hygiene experts at ShowerstoYou (opens in new tab), up to 41% of people surveyed said they wore their dirty gym gear up to four times before washing it. We're willing to bet your exercise equipment doesn't get cleaned very often either.
Germs can live, at normal temperatures, for up to 48 hours (opens in new tab) on metal surfaces like bars and dumbbells. On porous surfaces like yoga mats, the risks are similar to clothes, with the mats become havens for infectious bacteria like Micrococcus and Staphylococcus.
To stay hygienic after working out, wash clothes between uses, especially if it's been a sweat-heavy session. If you're using specialist workout clothes made from moisture-wicking fabrics, try not to use additional fabric softener, as this can create a waxy build-up on clothes which can prevent the fabric from wicking away sweat the way it should.
To clean your exercise equipment, standard alcohol-based antibacterial spray is fine for hard surfaces like plastic or metal, like those used for weights.
For softer surfaces like yoga mats, harsh chemicals in alcohol-based cleaners like Lysol can potentially be damaging. Instead, you can make a spray of either white vinegar or dishwashing liquid combined with water to spray the mat down between sessions without alcohol, wiping it clean with a washcloth. For PVC and rubber mats, you can use a sponge and dish soap instead for a more vigorous clean.
The good news is your personal exercise equipment is unlikely to pass on COVID-19 infections as long as you're following proper safety procedures, like washing your hands on a regular basis.
If you handle your exercise equipment with clean hands, wipe it afterwards to prevent bacteria from growing on your kit, and wash your workout clothes between uses, you'll maintain a more hygienic environment than you ever did in the before times. No more handling those toilet-seat dumbbells at the gym.
Liked this?
Matt Evans is an experienced health and fitness journalist and is currently Fitness and Wellbeing Editor at TechRadar, covering all things exercise and nutrition on Fit&Well's tech-focused sister site. Matt originally discovered exercise through martial arts: he holds a black belt in Karate and remains a keen runner, gym-goer, and infrequent yogi. His top fitness tip? Stretch.