Eight minutes and four moves to build functional full-body muscle without weights
Get moving and strengthen your whole body with this short bodyweight routine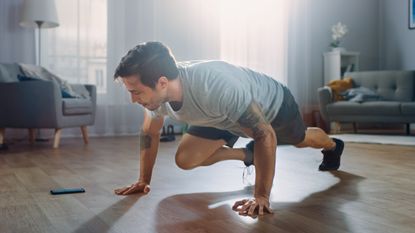 (Image credit: Getty)
We've all heard the phrase "movement is medicine", but does it ring true? Well, it would appear so.
Just 15-20 minutes of vigorous exercise each week can lead to a lower risk of heart disease and cancer, according to a 2022 study published by the European Heart Journal.
In some cases this was achieved via a series of once or twice-daily two-minute bouts, so even a little exercise can help a lot.
This quick workout from fitness instructor Tanya Poppett is a great way to squeeze some extra movement into your day. It works your whole body with just four moves, only takes eight minutes, and you don't need any equipment (though a yoga mat is always a welcome addition for added cushioning and comfort).
To give it a go, perform the four exercises—prisoner step-ups, push-up climbers, Cossack squats and bear plank box taps—in turn for 30 seconds each, leaving a 10-second break to transition between them and catch your breath. Repeat this four-move sequence for three rounds to complete the workout—simple!
Watch Poppett's videos below to learn how to perform the four moves. Take a moment to practice your technique, then you're ready to go.
Watch Tanya Poppett's full-body bodyweight workout
The positive impacts mentioned above aren't the only benefits you can expect from this workout.
Each move is a compound exercise, meaning they work multiple joints and muscles at the same time. This makes them a great tool for time-efficient training, allowing Poppett's session to hit your whole body in a short timeframe as well as building strength in your legs, chest, arms and shoulders.
It will boost your mobility and mood too, while also providing a comprehensive core workout by challenging your midsection muscles to support your spine and help you stay balanced during exercises like the bear plank box taps.
So, if you have 10 minutes to spare, we think this session is well worth your time.
If you want more short bodyweight routines to sprinkle into your weekly plans, take a look at our collection of five-minute workouts for building strength without weights.
Harry Bullmore is a Fitness Writer for Fit&Well and its sister site Coach, covering accessible home workouts, strength training session, and yoga routines. He joined the team from Hearst, where he reviewed products for Men's Health, Women's Health, and Runner's World. He is passionate about the physical and mental benefits of exercise, and splits his time between weightlifting, CrossFit, and gymnastics, which he does to build strength, boost his wellbeing, and have fun.
Harry is a NCTJ-qualified journalist, and has written for Vice, Learning Disability Today, and The Argus, where he was a crime, politics, and sports reporter for several UK regional and national newspapers.