How this guy got ripped like Chris Hemsworth after "letting himself go" during the pandemic
YouTuber Erik Conover documents working out like like Thor star Chris Hemsworth in a candid new video - with EPIC results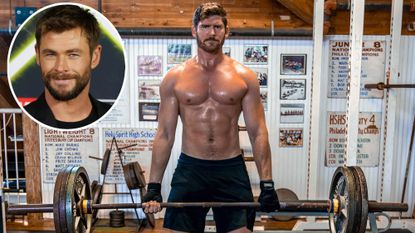 (Image credit: Getty Images/Centr)
All of us were affected by the pandemic, while some of us even lost our health and fitness motivation while stuck at home.
Erik Conover, a New York-based YouTuber, was one of them - admitting that he started comfort eating and fell out of his fitness routine while gyms were closed in the US.
The video maker previously went viral in 2019 after training like Thor star Chris Hemsworth for 90 days - and even working out with the muscle man himself - via the star's Centr app (which has a spot on our list of the best fitness apps). That particular challenge saw Conover not only gain muscle, but also get super ripped abs.
However, Conover has recently admitted that when the pandemic hit last year, he lost his motivation - eventually putting the weight he had lost back on and losing the muscle mass he had gained.
"I was eating like s**t and I even let my grooming and my personal appearance go - I just didn't care," he says in a candid new video post shared this earlier month, which you can watch below.
He also revealed he had gone through a break-up at the same time, heartbreakingly confessing: "It was one of the lowest times in my 31 years on earth."
Hoping to regain his pre-pandemic muscles and turn his life around, Conover signed up for Centr Power, Hemsworth's new muscle building program. Previously only completed by the Hollywood star and his fitness team, this saw Conover workout with Chris's personal trainer, Luke Zocchi, over a 10 week period - and the results are pretty epic.
The training program - which is happily now available to all via the Centr app - mainly focuses on weights, but also includes cardio activities such as running and jump rope.
As Conover explains in the video, it's based on five key principles:
Compound movements: These are exercises that work several muscle groups all at the same time, such as deadlifts with barbells - which Conover can be seen doing plenty of in the video.
Volume: Do enough reps to get to the point where they experience hypertrophy, meaning your muscles are physically getting broken down so they can regrow and come back stronger.
Intensity: The tempo at which the exercises are performed is also vital - this doesn't look like a workout where you can take it easy!
Rest and recovery: - an important aspect of any training program, as this allows the muscles time to recover from the activity.
Training to failure: Something Conover demonstrated by not being able to complete the set reps of pull-ups during his very first workout - which contributed to him describing the session as "demoralizing".
Conover not only trained like the actor, but also ate like him. To cope with the demands the intense training regime put on his body, he almost doubled his daily calorie intake to 4,000 calories.
Eating up to seven times, meals would consist of lots of lean proteins, vegetables, healthy carbs and healthy fats. One example dish Conover shared in the video consisted of chicken, lentils, spinach, broccoli and mushrooms.
One shot inside his fridge also reveals an extensive stash of protein shakes, which can be an easy way to up your protein intake whether you're looking to gain muscle and/or lose weight. Check out our pick of the best protein powders for weight loss for some of the best options.
So what was the end result? In 10 weeks, the YouTuber gained 8lbs of muscle, upping his lean body mass from 168lbs to 18.7lbs and reducing his body fat mass from 16.8% to 11.2%. Posting his transformation on Instagram Erik and said: "I can confidently say that I am the strongest I've been in my entire life."
Get the Fit&Well Newsletter
Start your week with achievable workout ideas, health tips and wellbeing advice in your inbox.
Sarah is a freelance journalist who writes about fitness and wellbeing for the BBC, Woman&Home and Tech Radar. During lockdown she found her love of running outside again and now attempts to run around 50 miles a month. When it comes to other fitness, she loves a sweaty cardio session – although since she's been working out from home she's sure her downstairs neighbors aren't too happy about it. She also loves to challenge herself - and has signed up to do hiking holidays, intense bootcamps and last year she went on her dream activity holiday: paddle boarding around deserted islands in Croatia. On her rest days, she loves to recover with a simple yoga flow session – the perfect antidote to her active fitness schedule.