Forget sit-ups! Use these three moves to strengthen your abs
This bodyweight workout will boost your balance and develop your core muscles in less than 10 minutes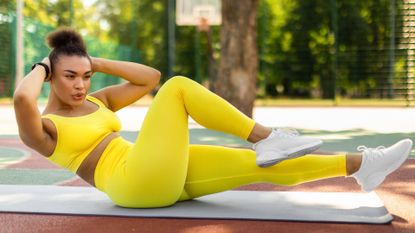 (Image credit: Getty)
This three-move abs challenge will help you get moving on even your busiest days. It takes less than 10 minutes and doesn't require any equipment either, meaning you can easily squeeze it into your lunchbreak or use it as a way to wake up.
The only gear you might want is a yoga mat (opens in new tab) to protect your spine against unforgiving floors, but this is optional. It's a great routine, as developing your core muscle (opens in new tab) helps improve your posture, balance, and circulation.
The workout comes from Krissy Cela (opens in new tab), co-founder of the EvolveYou training app, as a way to test your midsection strength. She suggests you do the three exercises as a circuit for two rounds (or three, if you want to push yourself and have the time).
To get the benefits of this ab-focused workout, it's essential to do each move with the right technique. So, before you start, perfect your form by following Cela's demonstrations to get the most from your training and avoid injury.
Watch Krissy Cela's three-move abs workout
Cela's short workout is a great fit for anyone interested in the phenomenon of "exercise snacking". This is an approach to fitness that encourages you to take part in short bouts of exercise throughout the day rather than setting aside 60 minutes for an extended session.
This offers a time-efficient way to undo the damage of sitting (opens in new tab) while still improving your cardiorespiratory fitness. It may also be easier to stick to than committing to lengthy workouts, increasing your motivation and making training of your schedule.
As an abs workout (opens in new tab), it holds plenty of other benefits too. Strengthening the muscles around your stomach can boost your balance, plus it helps improve stability during other exercises, like it you're looking to learn how to do squats (opens in new tab).
If you're interested in the idea of exercise snacking and want to find other short workouts that could fit the format, we've got you covered. These five-minute workouts (opens in new tab) will help you build muscle all over without weights, while these beginner yoga exercises (opens in new tab) help improve your mobility.
Harry Bullmore is a fitness writer covering everything from reviews to features for LiveScience, T3, TechRadar, Fit&Well and more. So, whether you're looking for a new fitness tracker or wondering how to shave seconds off your 5K PB, chances are he's written something to help you improve your training.
When not writing, he's most likely to be found experimenting with a wide variety of training methods in his home gym or trying to exhaust his ever-energetic puppy.
Prior to joining Future, Harry wrote health and fitness product reviews for publications including Men's Health, Women's Health and Runner's World. Before this, he spent three years as a news reporter with work in more than 70 national and regional newspapers.