Grow your glutes with this 20-minute bodyweight workout
Give this four-move equipment-free workout a go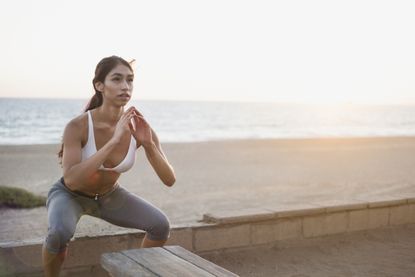 (Image credit: Future)
You don't need weights to grow your glutes, just a selection of the best bodyweight exercises and a willingness to put in work. While we do think the best adjustable dumbbells are a top tool for building muscle at home, you can still get a great workout without any equipment.
Someone who undoubtedly agrees with this is personal trainer Kelsey Wells (opens in new tab), who recently took to Instagram to share a glute and hamstring workout from her PWR Zero Equipment strength-training programme (available as part of the popular Sweat App (opens in new tab)).
This session takes a mere 20 minutes and is made up of just four exercises; double pulse squats, glute kickbacks, pop-squats and glute bridges. Each movement is performed for between 45 seconds and a minute, then you move straight on to the next exercise until you've completed all four – this is one round. Rest for a minute then go again, completing four rounds in total.
Before you dive into this session, take a look at Wells' video below and mirror her form to make sure you're performing each exercise correctly.
Watch Kelsey Wells' four-move bodyweight glute workout
This session can be included as part of larger leg workout plans, or used as a standalone daily workout. You're probably going to want to give your legs and glutes the following day off though, to allow them to rest and recover before you take on your next lower body workout.
The idea of using bodyweight exercises to build strength and muscle may seem odd, as these fitness goals are often associated with brawny bodybuilders. However, there is plenty of evidence to show that training sans-equipment can have a multitude of health benefits.
Research published in the International Journal of Exercise Science (opens in new tab) found that interval-style bodyweight training "can enhance cardiorespiratory fitness", while a study in the Journal of Strength and Conditioning Research (opens in new tab) found that push-ups alone are adequate for building upper-body strength. So, if you want to save money and take your at-home training to the next level, we strongly recommend starting a bodyweight workout plan (opens in new tab).
Harry Bullmore is a fitness writer covering everything from reviews to features for LiveScience, T3, TechRadar, Fit&Well and more. So, whether you're looking for a new fitness tracker or wondering how to shave seconds off your 5K PB, chances are he's written something to help you improve your training.
When not writing, he's most likely to be found experimenting with a wide variety of training methods in his home gym or trying to exhaust his ever-energetic puppy.
Prior to joining Future, Harry wrote health and fitness product reviews for publications including Men's Health, Women's Health and Runner's World. Before this, he spent three years as a news reporter with work in more than 70 national and regional newspapers.