Gyms reopen: 'I went on the first day and THIS is what it was like'
Saturday 25th July saw gyms reopen in England - but how have they changed, did people follow the rules, and is there any cause to be anxious?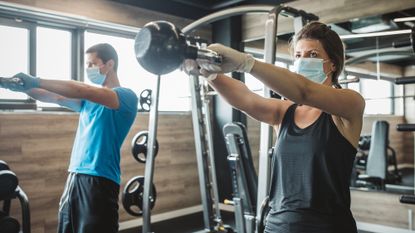 (Image credit: Getty Images)
Get the Fit&Well Newsletter
Start your week with achievable workout ideas, health tips and wellbeing advice in your inbox.
Thank you for signing up to Fit And Well. You will receive a verification email shortly.
There was a problem. Please refresh the page and try again.
It was the moment so many of us had been waiting for: the day the gyms reopen.
I was there at the doors of my local Fitness First on Saturday morning (25th July), excited to get back inside - but also unsure of what to expect.
Fitness addicts like myself will have been watching the news eagerly in recent weeks, waiting for that all-important go-ahead. When bars and restaurants opened, yes it was exciting. When riding on public transport became acceptable again, I'll admit, I was pretty happy (riding my bike everywhere was getting really boring).
But the gym reopening? This had me doing a mini salsa dance around my dining room table.
A trip to the gym is essentially my me-time. It's 60 - 90 minutes where I can be totally selfish and work on myself. My phone goes on aeroplane mode, I prep my workout, and then it's time to focus, break a sweat and get those feel-good endorphins flying.
I'm not alone in this thinking. A 2018 survey by Generation Active found that 46% of respondents considered a trip to the gym as precious 'me time', with 66% reporting they felt happy and energised leaving the gym after a sweat session. But when lockdown kicked in, gym-lovers like myself had to adapt.
And adapt I did. However by around week six, live Instagram workouts were a snore-fest, my knees were shot from running like a maniac, and I'd had enough of staring at Piers Morgan's face on GMB as I did yet another round of kettlebell squats in my front room.
Added to this, research by Nuffield Health found that exercising at home had its issues for many people. Of those questioned, 18% said they'd knocked into furniture (ouch!), 10% were laughed at by housemates or family members (how kind…), and 9% were laughed at by passers-by through windows.
So walking back into the gym on Saturday 25th July felt GREAT - thought I did have some feelings of anxiety and nerves. However, after a spritz of hand sanitiser and a temperature check on the door, I was on my way.
Of course, there are all sorts of new rules to follow, and one of the key ones was something we've all become familiar with: social distancing. The first thing I noticed was the floor stickers and marking tape; nothing OTT, but regular signs enforcing 'distance' were dotted around. Thankfully my gym is pretty spacious, so there was plenty of one-metre-plus space wherever I decided to exercise. I wondered how smaller spaces might manage, though.
Nothing had changed equipment-wise. However, where machines were placed in close proximity (such as rows of treadmills), it was an 'every other machine' in use policy. This naturally meant that less equipment was available but as the manager rightly pointed out, if we want to keep gyms open, rules need to be adhered to.
Cleanliness was taken seriously too. Everyone was encouraged to wipe down their equipment before and after use, using disposable anti-bacterial wipes which were scattered throughout the gym. And happily, I did notice that everyone was following this wipe-down rule. I also spied a couple of cleaners walking around, spritzing cleaning solution on weights and bars every so often.
Prior to the opening weekend, my gym had informed me that showers were open however gym goers were advised against using them unless necessary. The pool was also open however, in accordance with government guidelines, the spa and sauna were closed.
Somewhat unexpectedly, the biggest challenge I faced was a keen fear of coughing during my workout - which, if anything, made me want to cough more. No doubt everyone has experienced the dreaded moment that you cough and people look at you like you're contaminated.
Later that day, a friend messaged me: 'Was it busy?' On reflection, it felt fairly busy for a Saturday morning post-lockdown, however rumour has it that only 25 people clocked in across the entire day. Perhaps nerves got the better of some?
Moving on. Sunday came and I opted for a spin class in the infamous Red Room at Barry's Bootcamp in central London.
The class was smaller than usual and rather than every treadmill being used, it was every other treadmill. Being honest, I'd love it if this was a regular thing. Once, during a particularly sweaty class prior to lockdown, I'm convinced the person running next to me slyly released some pent-up gas. Hey, we've all been there. I just don't want to smell it.
The instructor was masked during the workout but he was still as clear as usual on the mic and had the best playlist going throughout.
When it came to using dumbbells, it was just a case of not sharing. Simple really. I don't really fancy sharing my dumbbells anyway so I was fine with that.
Barry's really did reiterate social distancing with endless floor stickers. However, they were written in typically Barry's style: 'physical distance makes the heart grow fonder' made me laugh.
However, after class in the relatively small changing rooms and reception, social distancing just couldn't be 100% enforced. It's not the gyms' fault, but avoiding people a hundred percent of the time was challenging.
That said, to anyone who's feeling nervous or a little wary of returning to the gym, from my experience I can tell you there's no need to be. Like everyone, gym owners do not want to see a second coronavirus wave and the return of lockdown, so they're doing absolutely everything they can to ensure hygiene and safety is a priority.
Of course, there is a major onus on gym-users too. It's up to all of us to adhere to social distancing and cleanliness, so be prepared to do just this. Yes, it will feel different for a little while - but after 14 weeks without the gym in my life, I'll take it.
Get the Fit&Well Newsletter
Start your week with achievable workout ideas, health tips and wellbeing advice in your inbox.
Lucy is a freelance journalist specializing in health, fitness and lifestyle. She was previously the Health and Fitness Editor across various women's magazines, including Woman&Home, Woman and Woman's Own as well as Editor of Feel Good You. She has also previously written for titles including Now, Look, Cosmopolitan, GQ, Red and The Sun.
She lives and breathes all things fitness; working out every morning with a mix of running, weights, boxing and long walks. Lucy is a Level 3 personal trainer and teaches classes at various London studios. Plus, she's pre- and post-natal trained and helps new mums get back into fitness after the birth of their baby. Lucy claims that good sleep, plenty of food and a healthy gut (seriously, it's an obsession) are the key to maintaining energy and exercising efficiently. Saying this, she's partial to many classes of champagne and tequila on the rocks whilst out with her friends.