Healthiest foods for breakfast: 7 of the best ways to start your day
Try something different for breakfast every day of the week with our handpicked selection of healthy options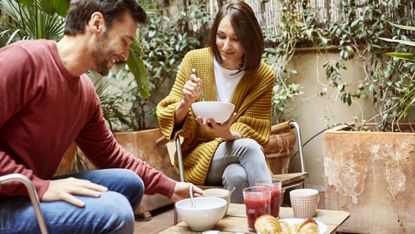 (Image credit: Getty Images)
Starting your day the right way begins with selecting the healthiest foods for breakfast.
Breakfast got its name for breaking the overnight fast whilst we sleep. During the night, the body aims to repair itself, which can be an energy-demanding process. It is therefore important to top up your energy stores and replenish your body with essential nutrients after some shut-eye.
Breakfast is particularly important for those who suffer with low blood sugar, particularly during the morning hours. If planned sensibly, breakfast can help with satiety to fuel your body adequately for the day head. If you do not suffer with blood sugar swings, there is no right or wrong time to eat breakfast, contrary to popular opinion.
The ideal breakfast is one that will keep your energy levels stable throughout the day by releasing steady amounts of glucose into the blood (glucose is a type of sugar and the body's primary energy source). An example of a balanced breakfast combines protein, fibre and healthy fats to keep you satiated, which contrasts with sugar-laden breakfasts - such as pastries and most cereals - that can spike our blood glucose levels, leading to crashes in energy and hunger pangs throughout the day.
Here are my top 7 healthiest foods for breakfast to help you start your day the right way…
1. Porridge
It won't come as a surprise that porridge is on the list. Oats are a complex carbohydrate full of slow-releasing energy and beta-glucans which can support heart health. Combine with milk or a plant-based milk alternative to give a creamy texture to your porridge oats.
There is ample opportunity to pimp your porridge with added nutrition in the form of fruits and fats. Whether it's a handful of blueberries, a sprinkling of pumpkin seeds, or a drizzle of almond butter, rest assured you can find various ingredients to suit your taste buds when it comes to building your morning bowl.
2. Chia Seed Pudding
Chia seeds are rich in antioxidants, fibre, and omega-3 fats. Chia seeds also offer a beneficial source of protein, which can be useful for vegans who struggle to meet their daily requirements.
What's impressive about chia seeds is that they are hydrophilic, which means that they can absorb up to 12 times their weight in liquid as soon as you add water to them.
Chia seed puddings often consist of chia seeds, coconut milk and mixed berries. The berries are a source of anthocyanins, beneficial plant compounds which have been shown to have antioxidant properties. Anthocyanins are also responsible for giving berries their unique colour (e.g. blue for blueberries, black for blackberries and red for raspberries). The colour infuses into the puddings beautifully, making berry chia puddings an appetising way to start your day.
3. Peanut butter on toast
A quick and easy option for you; spread a layer of peanut butter on some wholegrain toast and top with a sliced banana to get some good nutrition in and keep your blood sugar levels stable.
Peanut butter is high in protein and monounsaturated fats, whilst the wholegrain toast and banana offer dietary fibre which can feed your gut bacteria and keep your digestive system healthy and regular. This is a sure-fire breakfast to have when you are on-the-go and looking for something quick that will keep you satiated throughout the morning.
4. Omelettes
Omelettes allow for plenty of creativity and variety; you will be less likely to get bored of this breakfast because you can mix it up from day-to-day.
Whether you are going exclusively plant-based and sticking to onions, peppers and mushrooms, for example, or wanting to add in some meat, fish or dairy, you can choose your favourite ingredients and build onwards from there.
Top tips: if you are adding cheese into your omelette, try an opt for less-processed varieties such as feta, goat's cheese and parmesan. Add some seasoning for added taste and phytochemicals from rosemary to mint or spices such as cumin and paprika.
5. Scrambled egg, smoked salmon and sliced avocado
Eggs offer a tasty and inexpensive source of protein. On average, we should be aiming for at least 20g protein per meal, however your requirements do vary dependent upon your body weight and how frequently you exercise.
For those looking to increase their daily protein consumption, this breakfast is the ideal choice. 50g of smoked salmon will provide approximately 10g protein and 3 eggs will provide 18g protein, topped with half an avocado for a delicious dose of healthy fats.
You can also build around this dish with plenty of vegetables such as spinach, rocket, tomatoes and beetroot to gain a wealth of micronutrients and added fibre. It is recommended that we consume 30g fibre a day, so the more plants we can add to our plate, the easier it is to hit this daily quota.
6. Buckwheat pancakes
Everyone loves a sweet treat for breakfast, on occasion. Did you know that you can enjoy what feels like a dessert first thing in a morning, but with health benefits too?
Buckwheat pancakes offer the solution, as they are a great alternative to the traditional American-style stacked pancake.
Buckwheat is an extremely nutritious pseudo grain, which is also gluten-free and a complete source of protein.
Some of the healthier choices include making the buckwheat pancakes with cinnamon, banana, eggs and serving alongside with a spoonful of yoghurt and fresh fruit. This provides an extremely balanced breakfast full of fibre, protein, vitamins, minerals and healthy fats. It also contrasts with the heavily added sugars which are common in shop-bought pancakes (which are often drizzled in sugar syrups).
7. Smoothies
Smoothies are an ideal breakfast choice for those on-the-go because they are quick to prepare and can be enjoyed on the morning commute to work in a reusable bottle.
Packed with fibre, smoothies usurp juices for this very reason. Juices strip away a lot of the beneficial fibre, causing swings in blood sugar. Smoothies, on the other hand, retain the fibre, keeping you fuller for longer and helping to feed our gut bacteria which can keep our immune systems healthy (research now links 70% of the immune system within our gut and the gut microbiome is shown to play a role here).
An ideal smoothie option is one that contains a small portion of fruit (i.e. a banana or handful of strawberries), non-starchy vegetables (for example spinach, kale or carrot), milk or milk alternative and protein powder. Perfectly balanced and a delicious, convenient way to begin your morning.
Get the Fit&Well Newsletter
Start your week with achievable workout ideas, health tips and wellbeing advice in your inbox.
Lauren Windas is a registered nutritionist & naturopath, a co-founder of ARDERE, a private nutrition clinic, and a Master Practitioner in Eating Disorders & Obesity. She works individually with clients in her private clinic to assess their nutrition and long-term health goals, with a particular focus on helping those with chronic illnesses.